The Best Wine Sulfite Removers, According To Reviewers
We only recommend products we love and that we think you will, too. We may receive a portion of sales from products purchased from this article, which was written by our Commerce team.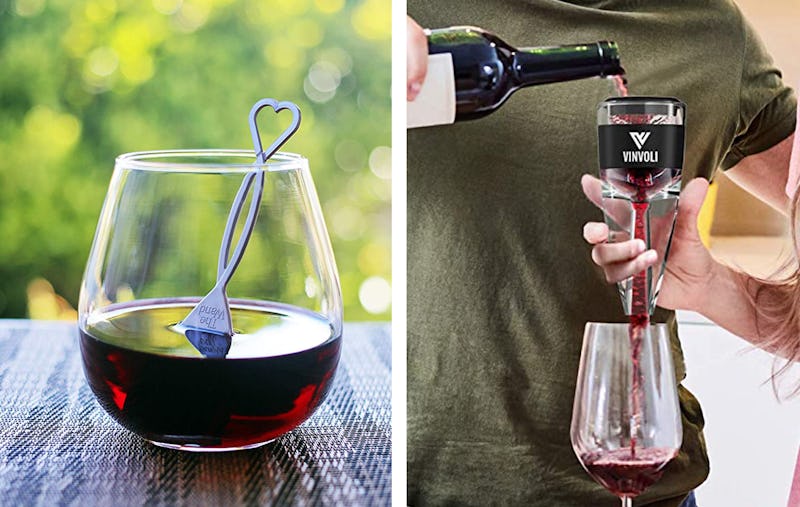 Almost all wines naturally contain small amounts of sulfites, but some winemakers also add sulfites to preserve the wine while it's in the bottle. While many people tolerate sulfites, those who are sensitive may find it hard to enjoy a glass of vino without suffering from headaches and other side effects. Luckily, the best wine sulfite removers can filter or neutralize significant amounts of sulfites in a quick and convenient way — in case you're at a party or restaurant — and with minimal influence on taste and aroma.
If you're sensitive to sulfites, you might experience headaches after drinking a glass of wine, but other potential side effects include flushing, stomach pain, digestive issues, and — in those with asthma — respiratory irritation. But keep in mind: There are other compounds naturally found in wine that cause similar reactions, like histamines and tannins, which is why I've included filters that remove those as well. Of course, a general alcohol intolerance might also be what's triggering your headaches and allergic reactions — if that's the case, a sulfite remover won't help. (And a word to the wise: Hives, swelling, and trouble breathing might indicate a severe allergic reaction, in which case you should see a doctor.)
In this roundup, I've included a variety of products that remove sulfites from wine. All of them are easy to use (and most of them are portable), so you'll just need to decide which method is most convenient for you and whether or not you want to reduce histamines and tannins while you're at it.
The best wine sulfite removers can help you get back to swilling your Spanish Tempranillo quickly — without the unpleasant side effects.
This article was originally published on