The Best Citronella Candles On Amazon, According To Reviewers
We only recommend products we love and that we think you will, too. We may receive a portion of sales from products purchased from this article, which was written by our Commerce team.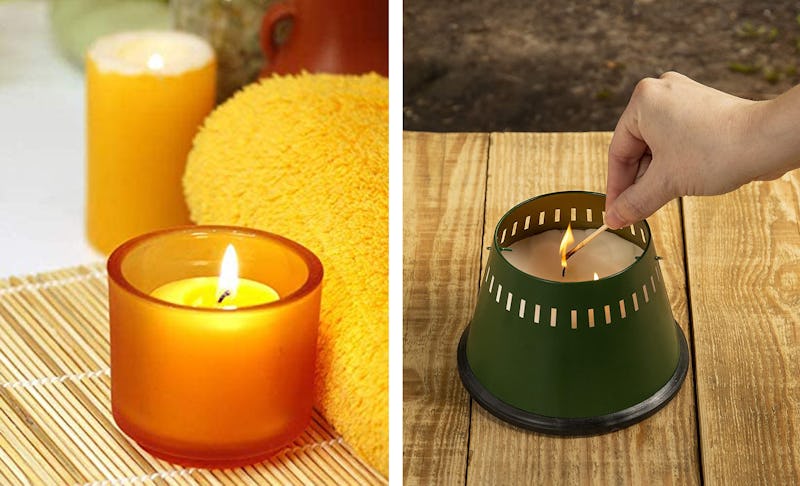 Amazon
Especially popular for patios and backyards, citronella candles are a generally nontoxic, affordable, and attractive method to keep bugs at bay. And the best citronella candles burn for a long time and come in a scent (yes, there are some options here!) that you enjoy. To find the right candle for you, here are a few things to keep in mind.
Fragrance
Citronella has a distinctive fragrance similar to lemongrass, and in candle form it can have a mild or more intense level of citronella depending on what you prefer. If you'd like to downplay the smell of citronella, look for a candle that combines it with other powerful fragrances, such as pine, mint, or rosemary.
Percentage Of Citronella
Though citronella candles aren't exactly a remedy for mosquitoes, they are a great place to start and can be made even more effective by adding a natural eucalyptus bug spray to the mix.
More effective citronella candles contain concentrations of at least 5% of the oil, and this is considered on the high end for popular citronella candle options. That said, many manufacturers won't list the citronella percentages in their blends.
Burn Time
A few factors will dictate the true burn time of a candle, including size, the number of wicks, and how and where you set your candle. A three-wick candle may burn more evenly than a single-wick candle, and it will also be more fragrant. Most candle manufacturers will list an estimated burn time. Generally speaking, larger candles burn longer, but it's helpful to know that votive candles belie their size by burning for seven to nine hours per ounce of wax, which is a bit better than the five to seven hours of burn time per ounce in a larger candle.
In a hurry? These are the best citronella candles:
1. The Best Overall: Murphy's Natural Mosquito Repellent Candle
2. The Best Mosquito Candle: Repel Insect Repellent Citronella Candle
3. The Most Stylish: Geelywax Citronella Candles
4. The Best Votive Candles: Candle Charisma Votive Citronella Candles
5. The Best All Natural: Farm Raise Candles Mintronella
With all this in mind, below are the best citronella candles. Each one is highly rated on Amazon, and I've included a variety of candles with different scent blends and burn times to suit your space.