The 5 Best Humidifiers For Sinus Problems
We only recommend products we love and that we think you will, too. We may receive a portion of sales from products purchased from this article, which was written by our Commerce team.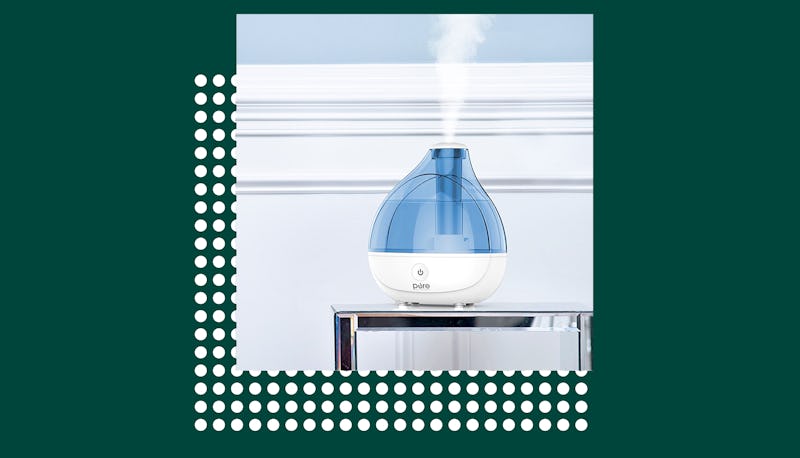 Bustle / Amazon
Sinus pain can be agonizing. Unlike a common cold, which at least has the decency to pass when you sleep it off and take the right medications, managing chronic sinus pain is a bit trickier. Luckily, investing in one of the best humidifiers for sinus problems can help.
"Unlike acute sinusitis, which is usually caused by infection, chronic sinusitis often has more complicated symptoms, and the causes can be multifactorial or difficult to determine," says Dr. Vinh Nguyen, a family medicine physician at MemorialCare Orange Coast Medical Center in Fountain Valley, California. 
Nguyen says sinus problems aren't always related to infections. "Abnormal anatomy of the nose or the sinuses can contribute to chronic sinusitis. These include nasal polyps, sinus polyps, or a deviated septum.  Environmental allergies are also much more common in people with chronic sinusitis. Also, a small number of people have chronic sinusitis, because of immune system problems. If you have chronic sinus pain or congestion, you should see your doctor to get a further evaluation."
So, what can you do to help? Well, for one thing, make it a habit to sleep with a cool-mist humidifier in your room.
"Adding moisture to the air that you breathe using a humidifier can help to relieve sinus congestion by loosening up the mucus secretions of the nasal passages," Nguyen says. "We recommend cold mist humidifiers for sinus congestion and cold symptoms. Warm mist humidifiers have not been shown to reduce symptoms, and may result in burns."
This list of highly-rated cool-mist humidifiers include options for large rooms, medium-size rooms, and anyone who travels a lot and needs relief on the go. There's even a humidifier that doubles as an essential oil diffuser. Trust us: your sinuses will thank you.
Is a cool-mist or warm-mist humidifier better for sinuses?
If you're looking for a humidifier for your sinus problems, choose a cool-mist humidifier. While both warm- and cool-mist models successfully add moisture to your air, cool-mist humidifiers have been shown to help cold symptoms, whereas warm-mist humidifiers have not.
Do humidifiers help with sinus problems?
Because congestion can lead to even more discomfort in your sinuses, keeping your air moisturized via a humidifier can help with sinus problems. That said, if you have persistent sinus issues or pain, you may want to consult with your doctor to get personalized advice.
What can you put in a humidifier to help with congestion?
If you're using your humidifier to help with congestion, keeping it bacteria-free is going to be paramount. Some experts recommend putting a bit of vinegar in the tank or perhaps a cleaning tablet in order to ensure your humidifier stays clean. Other humidifier models will allow you to include essential oils and, while these may add scent to your air in a pleasant way, there's little research to suggest essential oils in humidifiers benefit those with sinusitis.
This article was originally published on