The 5 Best Melatonin-Free Sleep Aids
We only recommend products we love and that we think you will, too. We may receive a portion of sales from products purchased from this article, which was written by our Commerce team.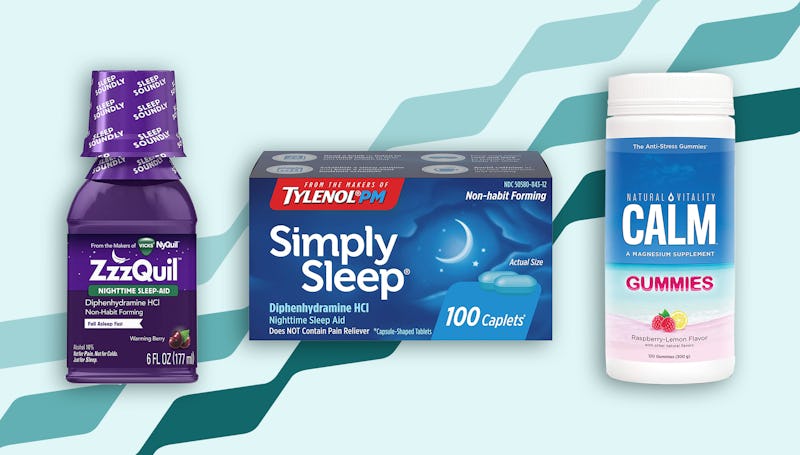 Amazon/Bustle
Given that 80% of adult Americans struggle to fall asleep at least one night every week, you're not alone if you can't get your doctor-recommended seven to nine hours. Between long-term stressors and a hectic lifestyle, sometimes you need a little help, and the best melatonin-free sleep aids are up to the challenge. But, first a little background.
Melatonin gets all the credit for being the end-all, be-all of sleep aids, but it doesn't work for everyone. For one, according to the Mayo Clinic, it tends to work best for short-term use and to address what doctors call a "delayed sleep phase" (read: when you don't get tired in the evening on your own). In addition, those who are pregnant, suffer from certain preexisting medical conditions, and children and early teens should avoid melatonin when looking for sleep solutions. Some people may experience side effects when taking melatonin for an extend period of time, ranging from mild anxiety, headaches, and irritability to even a reduction of its effectiveness over time.
So what's an exhausted person supposed to do to get some good REM if they want to avoid melatonin? Luckily, there are plenty of sleep aids without melatonin that work just as well. As you peruse this list, you'll notice options ranging from sleep aids with magnesium to those with antihistamine. And, to truly lend a hand with sleep, I've gathered up a fantastic nighttime tea and a sleep-promoting pillow mist that can help you get a better night's rest, as well.
Keep scrolling to check out the best sleep aids without melatonin below.
Editor's note: Consult with your doctor, especially if you're experiencing chronic sleeplessness, if you suffer from other conditions, or take regular medication, in order to receive specific medical advice.