The 5 Best Printers For Infrequent Use
We only recommend products we love and that we think you will, too. We may receive a portion of sales from products purchased from this article, which was written by our Commerce team.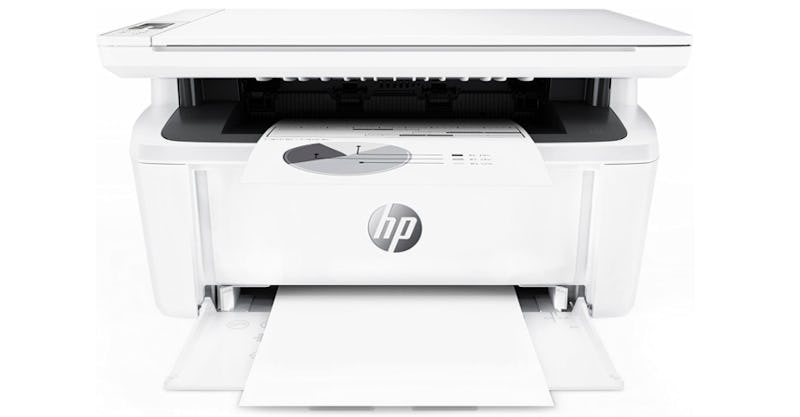 Amazon
While many things have gone paperless these days, there are still times when you need to print something, and when that happens, you want a printer that works right away — even if you haven't used it in months. The best printers for infrequent use will be reliable and easy to maintain, with ink that doesn't dry out between printing jobs.
What To Consider When Shopping For Printers For Infrequent Use
When choosing the best printer for infrequent printing, you have three style options. Here are the pros and cons of each:
Laser printers: If you're looking for low-maintenance, efficiency, and reliability, these fit the bill. They use long-lasting toner that doesn't dry up, so you can go for months between print jobs without worrying that the ink has dried up or clogged. However, laser printers do tend to be bulky and usually cost more upfront, and most of them only print in black and white — although you can pay more for color printing.
Inkjet printers: Ideal for printing high-quality color images and photos, these are more compact and affordable. However, inkjet cartridges can dry up if not used regularly. To prevent that (along with last-minute printing frustrations), you'll want to run a test page now and then.
Ink tank printers: Another good option for photo and image printing, these use high-capacity ink tanks that continuously supply ink a little at a time to prevent drying out, making them a low-maintenance color printing alternative that may be more practical than inkjet printers for occasional use. Keep in mind — these do tend to be more expensive.
Beyond that, you'll want to consider extra features like a built-in scanner or copier, and whether you want wireless capabilities to print from your phone, tablet, or even cloud services.
Whether you're signing hard copies of documents, printing out theater tickets, or looking to frame your favorite photos, these are the best printers for infrequent use on Amazon that'll be ready and waiting whenever you need them.
This article was originally published on