The 8 Best Professional Manicure Tools, According To A Nail Technician
We only recommend products we love and that we think you will, too. We may receive a portion of sales from products purchased from this article, which was written by our Commerce team.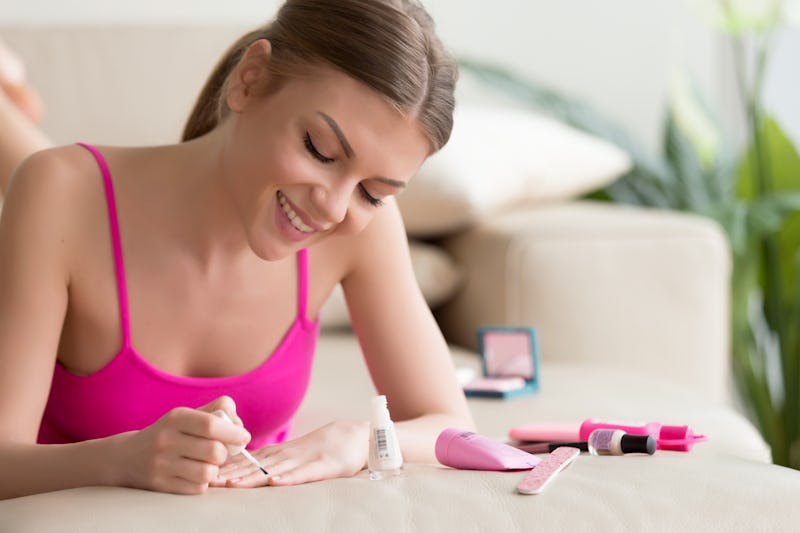 fizkes / Shutterstock
Doing your nails at home can save you money and make for a relaxing night in — but getting similar results as you would at a salon will require adding some of the best professional manicure tools for your kit. In an email interview with Bustle, Metta Francis, a London-based nail artist and technician, offered some advice for selecting high-quality tools to prepare your nails for at-home manicures. Whether you're giving yourself a full-blown manicure or simply want to keep your nails filed, there are some things to keep in mind while you shop.
The Expert
Metta Francis is a London-based, multi-award winning nail artist and technician. She is also the founder of Nails by Mets, a mobile nail salon that offers nail services and hosts nail pop-ups and parties across London.
What To Look For When Shopping For Professional Manicure Tools
According to Metta, there are a few essential tools you'll want in your kit to get your nails ready for any home manicure. First, she explains that "a great pair of nail clippers will help you easily trim your nails to the perfect length and shape." Next, she explains, you should opt for a crystal or glass nail file to "smooth the edge of the nail." And finally, Metta writes, "a gentle cuticle pusher paired with an effective cuticle remover and cuticle oil will also help to remove any cuticle and dead skin on the nail, and push back the skin."
Manicure Tools You Should Avoid If You're Not A Pro
While certain tools are key for achieving a salon-quality manicure, there are others that should be left to certified nail professionals. Metta cautions against electric nail files or drills for at-home use: "Although these may seem harmless, it's hard to know how much pressure you're putting on your nails and overusing these can cause your natural nail to become thinner and weaker over time." She also recommends steering clear of sharp nail tools, including sharp cuticle pushers and cuticle nippers. "It's often tempting to buy very sharp, professional nail tools that you see being used by nail professionals on Instagram," Metta writes. "But I'd recommend staying away from these. You're more at risk of over-nipping and pushing, causing damage to the tissue and your nails."
Cleaning Your Manicure Tools
Even with the right manicure tools, remember to maintain proper upkeep and take safety precautions. According to Metta, "When using tools at home, it's important to keep them clean and disinfected." That way, you can help to prevent infection due to tools that aren't regularly sanitized. Metta explains: "After each use, wash your tools with a clean, dedicated nail brush and hot, soapy water. You can use an antibacterial liquid for this." To fully disinfect the tools, Metta says, "You can then use a disinfectant liquid to submerge the tools for the recommended time or hospital grade disinfectant wipe." To maintain their cleanliness, Metta suggests "making sure your tools are stored away in a clean container or pouch" and avoiding "sharing your tools with others."
With all this in mind, you'll find the best professional manicure tools to give yourself regular manicures at home.
Study referenced:
Alharbi, N.M., Alhashim, H.M. (2021). Beauty Salons are Key Potential Sources of Disease Spread, https://www.ncbi.nlm.nih.gov/pmc/articles/PMC8007475/
Expert:
Metta Francis, nail artist and technician and founder of Nails by Mets
This article was originally published on