The 7 Best Solo Board Games
We only recommend products we love and that we think you will, too. We may receive a portion of sales from products purchased from this article, which was written by our Commerce team.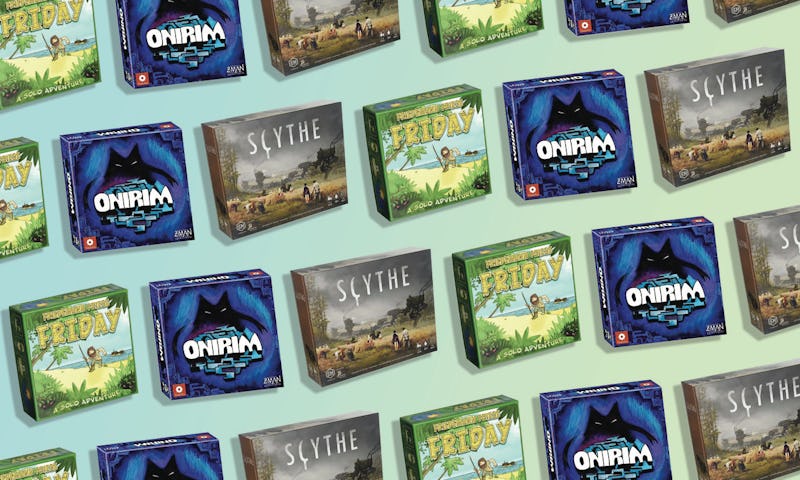 Bustle / Amazon
Everyone loves a good game night with friends, but there's nothing more satisfying than a one-person game night when you're enjoying some quiet time at home. Far from dull or lonely, the best solo board games provide all the challenge and excitement of a multiplayer board game — minus the other players, of course. That means you get to play what you want when you want it — at your own pace, without social niceties or conflicts.
Most solo board games are designed to be played with a friend or few, but offer the option for solitary play with some alterations. This makes these games a great way to practice gameplay on your own before trying them with others. As with any games, solo board games have a suggested age range, so make sure any intended players are old enough. You'll also want to think about how long you'd like to play, as some games take a few minutes (or less) to play, while others can take hours.
Many people like their games simple and easy to set up, with just a deck of cards or a few game pieces. Plenty of others don't mind taking the time to lay out a variety of boards, tokens, cards, and tiles. If you have the patience for a complicated setup, go for it — but if not, try to steer clear of anything with too many moving parts. Beyond the physical pieces of a game, you'll also want to think about your preferred type of play. Do you like intensive strategy, or creating a storyline? Do you want to play against the game, or against yourself? Do you prefer to play the same scenario over and over, or would you like to mix things up with expansion options? If you're not sure, think about which games you've enjoyed in the past, and take it from there.
In a hurry? Here are the best solo board games:
1. For True Solo Gamers: Friday
2. For RPG Enthusiasts: One Deck Dungeon
3. For People Who Like A Shorter Game: Onirim
4. For Strategic Thinkers: Terraforming Mars
5. For Anyone Who Loves Catan: Scythe
6. For True Board Game Fans: Mage Knight
7. For Word Game Aficionados: Boggle Classic Game
Regardless of your gaming needs, these incredible solo board games are sure to provide you with hours of fun — and you can play them all by yourself.
This article was originally published on