These Genius Products Are Game-Changers If Your Car Is A Mess
We only recommend products we love and that we think you will, too. We may receive a portion of sales from products purchased from this article, which was written by our Commerce team.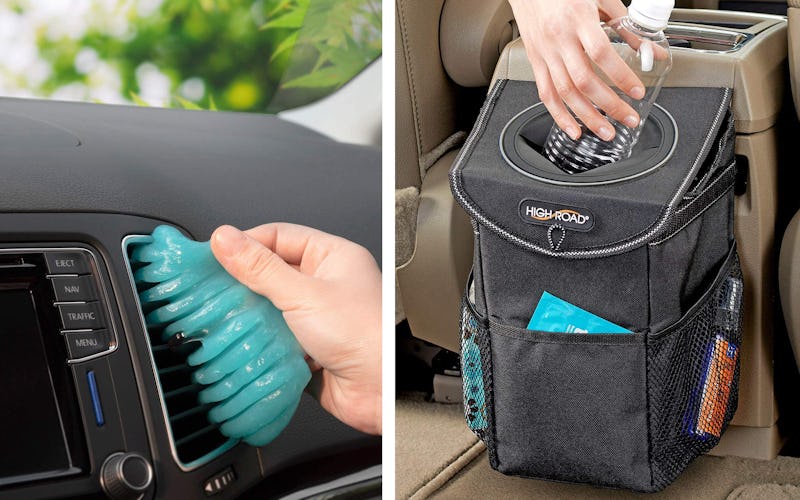 Amazon
Whether you're looking to clean the interior, the exterior, or both, the best car cleaning products get the job done quickly and without damage. Still, it's a large category filled with a huge selection of tools, so you should narrow down your needs before you start shopping. Here are the most common types of products for cleaning your car:
Sprays and wipes: You can use sprays or wipes on any non-delicate surfaces, but you'll need to figure out the material you're cleaning first. Some are best-suited for plastics and other hard surfaces (like dashboards, windows, and tires). Exterior sprays usually contain protective waxes that add shine to your car, while some interior sprays can be used on your upholstery — but only if they're specifically designed for it, so always check the label.
Vacuums: The best car vacuums are lightweight, portable, and plug right into your car so you can reach all the dirt, dust, and crumbs in the interior. They also come with accessories to help you get into tight corners.
Cleaning gels: This putty-like solution is simple and reusable. Thanks to its sticky, moldable consistency, it's a hassle-free way to tackle your vents, cupholders, and other less-than-smooth surfaces.
Air purifiers: While they likely won't clean your car on a visible level, the best air purifiers may help to get rid of airborne contaminants like odors, microbes, and allergens. They also get rid of odors rather than simply masking them.
Organizers: A good car organizer helps get your clutter in order and some designs even include a trash can, so you can keep garbage off of your seats and car floor, too.
Scratch removers: While deep scratches are best left to the professionals, there are DIY kits that let you buff out small scratches on your own. Just be sure that the product is reliable and well-rated, since lower-quality options could further damage your car's exterior.
Contact cleaner: If you're dealing with especially delicate components, contact cleaners are much safer than a traditional spray or a wipe since it blows away any dust, dirt, or residue without damaging sensitive electronics.
Now that you've narrowed down your needs, here are the nine best car cleaning solutions in all of the aforementioned categories.
This article was originally published on