The 3 Best 12-Volt Coffee Makers For On-The-Road Caffeine Fixes
We only recommend products we love and that we think you will, too. We may receive a portion of sales from products purchased from this article, which was written by our Commerce team.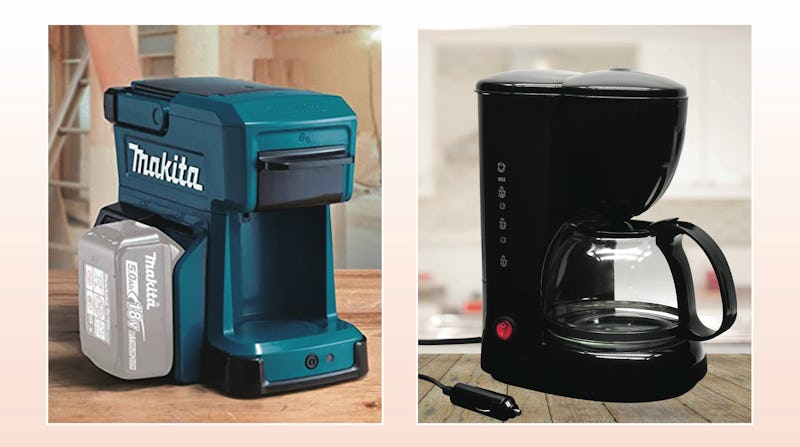 Amazon/Bustle
When you're on the go and craving a cup o' Joe, a 12-volt coffee maker is a great way to brew a fresh one from the comfort of your car. The best 12-volt coffee makers plug right into your vehicle's auxiliary power outlet (or an external 12-volt battery), brewing a hot cup or carafe of coffee in anywhere from five to 20 minutes. You can also choose from drip, single-serve, and espresso options, so you can take your java just the way you like it.
There are a few things to keep in mind when selecting a 12-volt car coffee maker. If you plan on brewing for more than just yourself, you may want to buy a machine that can produce multiple cups in one use. But if you're just looking for a quick pick-me-up on your morning commute, you can save time and car space by purchasing a single-serve coffee maker that brews one cup at a time.
You'll also want to decide if you want a portable coffee maker that has a built-in rechargeable battery. While you can still use your 12-volt car port to charge these options, you won't have to keep the coffee maker plugged into the car while using it. These cordless options are a bit pricier, but they may reduce the risk of overheating the power outlet in your car, and they're perfect for brewing at a work site or campsite.
It's also important to consider your budget and how often you'll be making coffee. Options for 12-volt coffee makers are limited, and a low-cost model may sacrifice some reliability. However, if you only plan to use your coffee maker occasionally (for camping or road trips, for instance), a wallet-friendly option will get the job done. If you want a device that can stand up to frequent use, be prepared to spend a little more money.
Whether you're looking for drip coffee, single-serve, or espresso, I've rounded up the best 12-volt coffee makers that will give you your caffeine fix wherever you (and your car) happen to be.
1. A Drip Coffee Maker For Occasional Use
This drip car coffee maker from Roadpro is a good choice to bring along on the occasional road trip or camping adventure. It brews a 20-ounce carafe of coffee in around 20 minutes, which is ideal for serving two or three people at once. All you have to do is add coffee grounds to the unit's reusable filter and let it get to work. Since this coffee maker has to remain plugged into your car's outlet while running, it could potentially overheat the jack if left on for too long. Because of this issue, reviewers noted that this coffee maker isn't always the most reliable. At the end of the day, this is an old-school 12-volt coffee maker that comes at a very affordable price, for those who have realistic expectations and only need to use it occasionally.
According to a reviewer: "Purchased for husband and I to use for light day tripping in our van [...] The coffee is hot and tasty [...] We would not expect it to last under heavy/daily use. If you consider a cup of coffee is now $3 it will pay itself off after roughly 10 pots of coffee."
2. A Single-Serve Maker That Can Stand Up To Daily Use
Makita is a respected Japanese manufacturing company that specializes in power tools, and that same level of quality applies to their coffee makers, so if you plan on using your 12-volt coffee maker daily, this cordless single-serve model is your best bet. This versatile device can brew a 5-ounce cup of coffee in just five minutes using either coffee grounds or individual coffee pods. The powerful unit is compatible with both 12-volt and 18-volt rechargeable batteries. While this pick is the priciest on the list, several reviewers attested that its dependability more than makes up for it. Whether you're taking it to a work site or an outdoor event, you can be confident that this coffee maker will deliver on time, every time.
According to a reviewer: "Just received the coffee machine today and already ran four cups thru the unit. I couldn't be any more pleased with the product, it worked like it should and made hot coffee all four times."
3. A Portable Option For Espresso Lovers
For those who relish their daily espresso, this nifty portable espresso maker from CONQUECO will bring your coffee game to a whole new level. This single-serve option makes up to 1.6 ounces of coffee at a time (or about 1.5 espresso shots), which is just enough to get you through your morning commute. Sized to fit in your car cupholder, the device runs on a lithium-ion battery that can be charged using your car's 12-volt port in as little as 2.5 hours.
Just add hot or cool water, press the button on the front of the unit, and the coffee maker will begin pumping. (Adding hot water to the coffee maker will result in near-instant espresso, but if you only have cool water, it takes anywhere from eight to 12 minutes to heat up and brew.) When you're finished, press the button again to utilize the convenient auto-wash feature. Just be sure to stock up on Nespresso or L'Or capsules — CONQUECO's model only works with these two types of coffee pods.
According to a reviewer: "This is a cool little device that actually puts out good-tasting espresso. It comes in handy when traveling (no more horrible hotel coffee!)."
Also Worth Considering: An Electric Kettle
As it turns out, there's a convenient alternative to a portable coffee maker that caters to fans of pour-over and instant coffee: Spardar's 12-volt electric kettle. Along with a 12-ounce capacity, this particular model features an LED screen that displays water temperature, making it easy to control the heat level. Although the brand states that this unit takes 20 minutes to boil the water inside, several reviewers reported it only took 10 to 15 minutes to get it piping hot. Once the water does reach its boiling point, you should wait until it cools to 194 degrees Fahrenheit before slowly opening the lid, to avoid scalding. Then, you can use the water in a pour-over coffee maker or simply stir in some instant coffee and you're all set. Perfectly sized for car cupholders, this electric kettle is a hassle-free device at a moderate price, taking you one step closer to a perfectly warm cup of coffee in your hands.
According to a reviewer: "I can plug it in to my 12 v car lighter and boil my water so I can have my instant oatmeal or my instant coffee or tea plus more. It has been a life saver, there is nothing better out there, it is a must have!"