The 3 Best Ceramic Knife Sharpeners, According To Home Chefs
We only recommend products we love and that we think you will, too. We may receive a portion of sales from products purchased from this article, which was written by our Commerce team.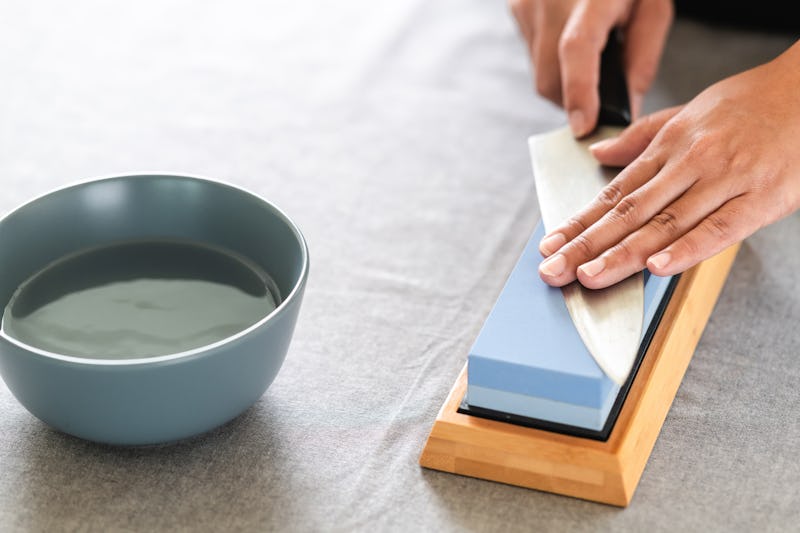 Shutterstock
Ceramic knives are razor sharp, but since they're much harder and more brittle than their stainless steel counterparts, they're prone to chipping and cracking if you attempt to sharpen them. To find the best ceramic knife sharpeners, you'll have to look for an option that's even harder than ceramic itself, namely — diamonds. And beyond that, you'll have to decide whether you prefer an electric or manual design.
Finding a diamond sharpener isn't as difficult (or expensive) as you might imagine, and they're available in both electric and manual styles, with each offering certain advantages and drawbacks. The best electric ceramic knife sharpeners work quickly and can take some of the guesswork out of getting the perfect angle during sharpening, while the best manual sharpeners — like whetstones — allow you to control the speed and pressure yourself for a more customized experience. That being said, ceramic knives should never be twisted or bent — which can be a challenge with manual options since you're generally relying on your personal dexterity to get the angle just right.
Whichever style you choose, note how much grit the sharpener offers. Similar to sandpaper, these numbers indicate the level of coarseness, and the options on this list range from a grit of 325 for repairing dull, chipped blades to a grit of 1,200 for refining and polishing edges.
A word of warning if you're looking at cheaper multi-stage sharpeners: They often include only one diamond slot, with others being made with materials like ceramic and steel, which can make it easy to accidentally pass your knife through the wrong slot and damage it. For that reason, I've left those options off. Finally, simple accessories like blade protectors and a good knife block can help you maintain your ceramic knives for years. Without further ado — these are the best ceramic knife sharpeners on Amazon.
1. The Electric Sharpener That's Easy To Use
One of the best electric ceramic knife sharpeners out there, this option from Shenzhen features two diamond wheel cartridges: a 600-grit wheel to repair dull and chipped blades and an 800-grit wheel that puts a fine edge on them for improved performance. Each sharpening stage requires the knife to be passed through two V-shaped slots to give the blade a traditional, symmetrical beveled edge of 20 degrees, and the raised sharpening slots allow the full length of the blade to make contact with the wheels, from tip to handle. The Shenzhen can be used to sharpen both ceramic and stainless steel knives, and while electric sharpeners aren't always compatible with short paring knives, reviewers are pleased that this one is.
One thing to note: It doesn't offer as fine a grit as the other two options on the list, so you might not get an edge that's quite as polished. That being said, this is probably the most foolproof option on the list and the best for beginners.
One reviewer wrote: "One of my ceramic knives had some nicks in it. A few strokes through the coarse wheel removed them, then a couple strokes through the fine finishing wheel took it back to original factory sharpness."
2. The Whetstone That's Budget-Friendly
If you prefer to have a bit more control over your sharpening, this two-stage whetstone is an affordable buy that'll get the job done. The surface is made with industrial-grade monocrystalline diamonds, and one side features 325 grit for coarse sharpening of dull, damaged knives, while the other features an extra-fine 1,200-grit to finish off the edges. The flat surface ensures even contact with the blade, and the company uses technology to ensure even wearing, which minimizes the risk of the stone warping over time (remember you'll want to take special care to keep ceramic knives from getting bent). The open sides make it relatively easy to sharpen shorter blades, but the manufacturer only recommends dry sharpening for all blades. This pick is compatible with other materials and comes with a handy storage case and a guide that helps you get the perfect angle while sharpening.
One reviewer wrote: "I have several natural sharpening stones, but I needed to hone the edge on my ceramic kitchen knives, and that requires something much harder [...] Using the coarser 325 grit surface, I was able to establish an edge easily on the ceramic blades, and had no difficulty polishing that edge on the 1200."
3. The Whetstone Set That's Worth The Splurge
For those who are serious about sharpening their ceramic cutlery, these whetstones from the Diamond Machine Technology (DMT) Store offer three stages of sharpening and have special micronized monocrystalline diamond surfaces that offer uniform, precision-sharpening by hand. The stones have three levels of grit — 325 to buff out damaged blades, 600 to tackle dull blades, and super-fine 1,200 for providing refined, polished edges. Depending on the damage to your ceramic knife, you can start at any point and work your way to the finest stone, and the sharpeners can be used either wet or dry.
Manual sharpening requires a gentle touch to prevent chipping on ceramic blades, but it can actually be easier to get a fine edge when working with a flat surface, versus the vertical surface of electric models. Plus, due to the open edges of each stone, it can easily sharpen small and short blades, like those found on paring knives. The DMT sharpeners also work on a wide range of knife materials, including stainless steel, and the stones come with a wooden storage case, but no angle guide.
One reviewer wrote: "Work your way from blue to green for a razor sharp finish, even on ceramic knives. Takes a dull knife to sharp in a minute or two. I sharpened all my kitchen knives."
Also Nice To Have: A Universal Knife Block
Keeping your ceramic blades protected is an easy way to extend the life of your knives. The genius of this universal knife block lies in the fact that it doesn't have compartments specifically sized for certain knives (which can be troublesome if you happen to own two chef's knives or two paring knives, for example). Instead, the block uses flexible rods that hug blades of all sizes, so you can be sure you'll have space for anything in your knife collection.
One reviewer wrote: "Product as advertised, but better than expected!! Love the compact design and the ability to place any size knife in any direction you want. The work really great with a set of ceramic knives I bought."