3 Food Bloggers Share Their Favourite Iftar Recipes To Try This Ramadan
Looking for inspiration for your evening meals? Look no further.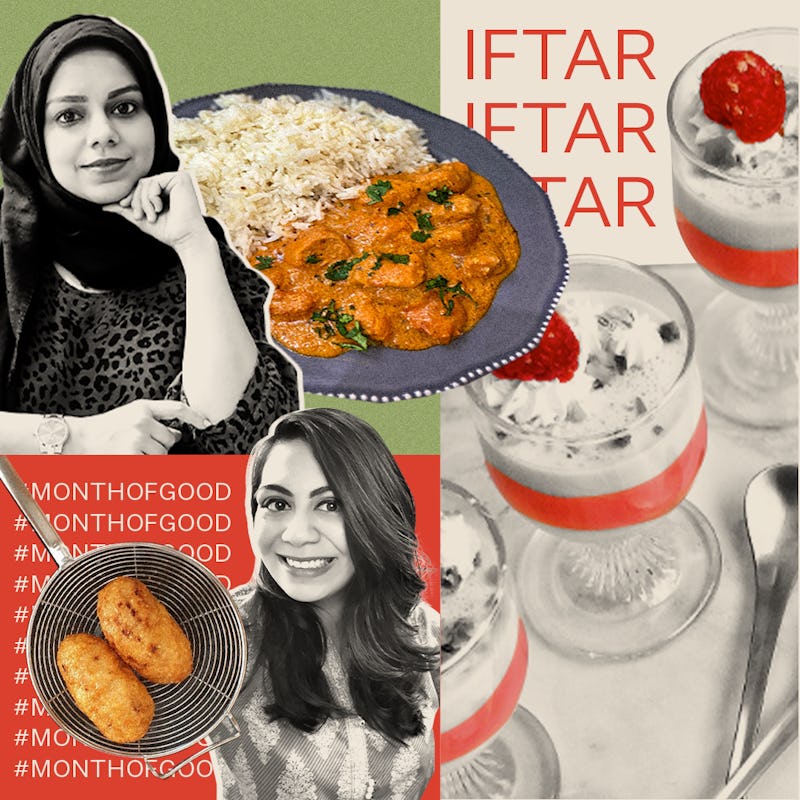 This month, Muslims around the world are observing Ramadan, the holiest month in the Islamic lunar calendar. It's a spiritual time of year, when Muslims fast from sunrise to sunset. This month is all about strengthening our relationship with God, our faith, and our community. Ramadan teaches us about discipline as we endeavour to do good deeds and make positive changes in our lives, with the hope to continue that way after it's all over. In addition to fasting, we place emphasis on praying, reading the Qur'an, giving to charity, and deepening our connections with our faith.
Before sunrise, we eat a meal called Suhr, to help set us up for the rest of the fasting day. At sunset, we break our fast with another meal called Iftar. During non-COVID times, Muslims would usually spend this part of the day with family and friends, coming together to mark the end of the fasting day. However, as we embrace another Ramadan amidst the pandemic, the celebrations will look slightly different for a second year running. Muslims will be spending this time with those in their household or perhaps even by themselves.
Whichever way you are celebrating, it's likely that you're looking for some inspiration this Ramadan when it comes to cooking your evening metals. With this in mind, we have spoken to three popular food bloggers to hear about their favourite recipes to make for Iftar. Between them, these foodies have more than 90,000 Instagram followers and this year they're taking part in Instagram's #MonthofGood campaign, which is empowering people to explore, inspire, and express good online throughout Ramadan. As part of the campaign, users have been encouraged to use the #MonthofGood hashtag to show kindness and "pay it forward." Below, Anisa, Fizzah, and Asmah spread kindness and share the love through their love of good food.
Fizzah Sayed: Iraqi Kubbay
"Ramadan is such a special time for all Muslims, not just because of the spiritual benefits this month has to offer but also the sense of community and unity we are able to form through food. You'd think that the whole point of fasting was to forget about food all together, but the opposite is true. Abstaining from eating and drinking for 19 hours or so per day offers us a chance to practice gratitude and to understand how special the act of coming together to eat really is.
During Ramadan, we only get to eat twice a day: once during Suhoor, the time before sunrise and morning prayers, and once during Iftar, the time after sunset and evening prayers. This means the food we consume has to strike the right balance between being nutrient-filled but also unhealthy enough to feel like a delicious treat.
One of my very favourite Ramadan recipes has to be my mum's famous Iraqi Kubbay (pronounced 'kub-bae'). If there is one dish that reminds me of my childhood, it has to be this one. Kubbay are a Middle Eastern staple food, especially during Ramadan. They contain spicy minced meat with sultanas on the inside, covered with sticky rice and fried with breadcrumbs making the outside crunchy and inside moist and juicy. As this is my grandmother's version of this recipe, it feels all the more special for me."
Check out Fizzah's recipe for Iraqi Kubbay here. For more recipes, follow Fizzah on Instagram @thelondonhaloodie and on her blog here.
Anisa: Butter Chicken Curry
"Butter chicken has been my go-to recipe for years. I remember as a child my grandma used to make this. I have fond memories when I visited her, as soon as the front door opened, the explosion of spice smells would hit my nose. I knew straight away she was cooking up my favourite! I would walk into the kitchen as the pot was simmering away gently, she would finish the dish off with a generous knob of butter, with a sprinkle of coriander, so fragrant and aromatic. And of course I make it now for my kids in much the same way my grandma did for me.
Ramadan is a special month for Muslims and butter chicken is a perfect Iftar meal the whole family will love and look forward to after a day of fasting. It's a delicious, silky smooth curry that's aromatic and has a beautiful colour that looks so inviting on any dinner table. A charming and special dish that makes you feel like royalty when you're eating it. For me, the creamier – and the more buttery – the better! The thickness makes it even more indulgent, especially when you scoop up a piece of chicken in lots of creamy curry with your naan bread. Just heavenly!"
Check out Anisa's recipe for butter chicken here. For more recipes, follow Anisa on Instagram @Anisagrams and Youtube @CookwithAnisa.
Asmah Sacha: Gujrati Agar Agar Dessert
"During the month of Ramadhan, Muslims refrain from food and drink each day, from dawn until sunset. We then celebrate the opening of each fast with the Iftar meal, and alongside dates and Zam Zam water, tables all around the world are filled with cultural foods that are comforting and exciting all at once. The feeling of enjoying cold water, sweet fruit, and hot soup in the company of loved ones as the sun sets outside the window is unparalleled.
With the long fasting hours, it is always a perk if the dishes we serve up are quick to prepare. So, for this, I have dug deep into Grandma's recipe book for a traditional, Indian dessert with a modern twist. This is the definition of Ramadhan recipe in my house: no Ramadhan has gone by without the 'Ghas' (i.e. agar agar or china grass) dessert making an appearance. It is colourful and made with cupboard essentials, and best served cold. This means it is perfect for an Iftar meal as it is quick, refreshing, sweet, light, and, of course, so pretty to serve."
Check out Asmah's recipe for Gujrati Agar Agar Dessert here. For more recipes, follow Asmah on Instagram @ahalalfoodjourney.