The 3 Best Outdoor Standing Fans
We only recommend products we love and that we think you will, too. We may receive a portion of sales from products purchased from this article, which was written by our Commerce team.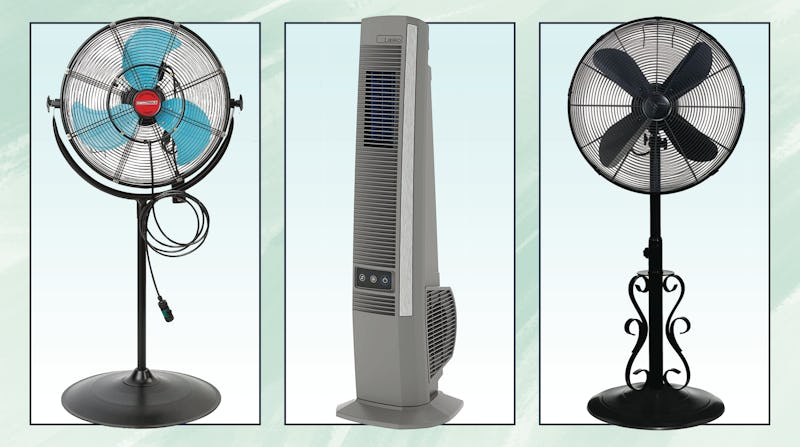 Bustle/Amazon
A good fan can make time spent in the backyard refreshing and comfortable, but when you're looking for one that can stand up to outdoor use, there's more to consider than just adjustable speeds and oscillation. Available in both tower and pedestal styles, the best outdoor standing fans are graded for outdoor use and will offer the features you want, whether that's high-velocity power, misting capabilities, or style that'll fit in with your outdoor decor.
Features like water-resistant fan blades, a UV-protective finish, or a wet rating (which means the unit can handle ice, snow, and rain) will give your unit durability, so you can use it for many years to come. Likewise, an inline ground-fault circuit interruptor plug (GFCI) can help prevent the risk of electrical shock, which is especially important in potentially wet or damp locations.
The next consideration is style and functionality. If you want something understated for your outdoor area, a tower fan will take up minimal space on your patio and will be great for up-close cooling (but will offer less coverage to your outdoor area). On the other hand, pedestal fans have a more classic look and offer more powerful airflow. You may also want to consider high-velocity power to move a large volume of air quickly over a large area — while these powerful outdoor standing fans tend to be somewhat loud, they excel at moving stagnant air, and can even keep insects at bay. Similarly, if you live in an especially hot and dry climate, misting fans provide an additional cooling effect by dispensing a fine mist of water along with wind.
Ready to to beat the heat? Keep scrolling for the best outdoor standing fans on Amazon.
1. The Best Outdoor Standing Fan
Lasko's outdoor tower fan is both UV- and weather-resistant, so you'll be able to use it outside for many seasons to come. The fan's internal oscillating blades circulate air around your living space, while the outer housing remains stationary, so it won't distract you or your guests. The Lasko has four speed settings, including a quiet "night breeze" mode, and the straightforward control panel makes it easy to adjust speed and oscillation. (Keep in mind, though, that the airflow may be a little less powerful than a pedestal fan.) There's an inline GFCI and three-prong grounded plug, making this a safe pick for outdoor use. The fan weighs just under 16 pounds, and the built-in handle on the back makes it easy to transport.
According to a reviewer: "We purchased this fan for use on our back patio and it didn't disappoint. It has performed exactly as promised. Today our central air conditioning went out and we moved the fan indoors where it did a great job as well."
2. The Best High-Velocity Misting Fan
Offering both high-velocity and misting action, this industrial outdoor standing fan is water- and dust-resistant, and the motor, housing, and blades are rated for all-weather use. In fact, along with a GFCI plug, this option can even stand up to rain, sleet, and snow, which means you won't have to bother with moving it inside if the weather unexpectedly changes. The pedestal fan's industrial-strength three-speed motor produces a powerful airflow, giving it great coverage for large areas, but several reviewers noted that it's on the loud side. The fan's 20-inch head tilts and oscillates 180 degrees, but there's no mention of whether it's height-adjustable.
To engage the misting functionality, simply attach a standard garden hose to the included tube adapter, and a 10-inch misting ring will disperse cooling air at the same high-output speed. The 26-pound fan's sturdy base prevents tipping, and this option is available in 20-, 24-, and 30-inch styles.
According to a reviewer: "Fantastic, great purchase. Best summer purchase. Lower summer temps by 20°."
3. The Best Design-Savvy Option
Not only is this stylish outdoor pedestal fan from Deco Breeze wet-rated for use in humid climates, but it boasts a GFCI plug and is built from cast metal that's coated in UV-protective paint to resist fading. The fan's 18-inch head oscillates and tilts to your preferred angle, which is a nice feature if you don't want wind blowing directly at you, and the three speed settings allow you to dial in on your ideal speed, whether you want a soft breeze or powerful wind. Although it doesn't tilt, you can adjust the fan's height from 40 to 51 inches, and the weighted base keeps its stable in windy conditions. This option weighs a sturdy 18 pounds, and the Deco Breeze collection includes a variety of fan styles to match different decors, including the sophisticated option pictured here.
According to a reviewer: "This DecoBreeze fan is great. Very sturdy and it can stay outdoors!! I've run through a lot of cheap indoor fans that I would haul in and out of the house each time we wanted to sit outside in the heat and bugs (that's living in the south). I finally bit the bullet and bought an outdoor fan. I'm glad I chose this one. It has all the features, including style, that we wanted."