9 Recipes Guaranteed To Level Up Any Picnic
Sausage rolls, scotch eggs & other classic picnic dishes, made fancy.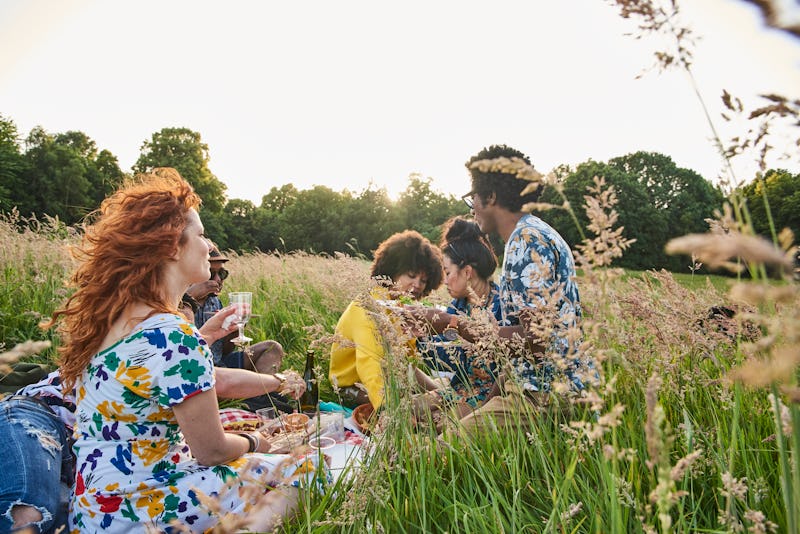 Flashpop/Getty
Dear reader, we may be in the midst of a cold and rainy spring, we may finally be able to eat inside, and we may be well and truly sick of park meet ups, but would it really feel like the start of a British summer if we didn't have at least one picnic? The answer is no, no it would not. So, it's time to dust off that hamper, pick up some gins in tins, and head to your closest grassy area.
When it comes to packing for a picnic, it really is dealers choice. For some, it'll just be about throwing a few bags of crisps in a bag. For others, it's a more lavish affair. But whatever your spread of choice, there are some picnic staples that we can all agree on: sausage rolls, scotch eggs, sweet treats, and the like.
With this in mind, I've gathered together a list of recipes that promise to give a new lease of life to your classic picnic dishes. Ham and cheese sandwiches, you say? Why not jazz it up by trying mozzarella and salami baguettes with sun-dried tomatoes?
Now all you need to do is dig out the Tupperware and get ready to wow your pals with your culinary delights. Just don't forget to pack your cagoule.