The 10 Best Tarot Cards For Beginners
We only recommend products we love and that we think you will, too. We may receive a portion of sales from products purchased from this article, which was written by our Commerce team.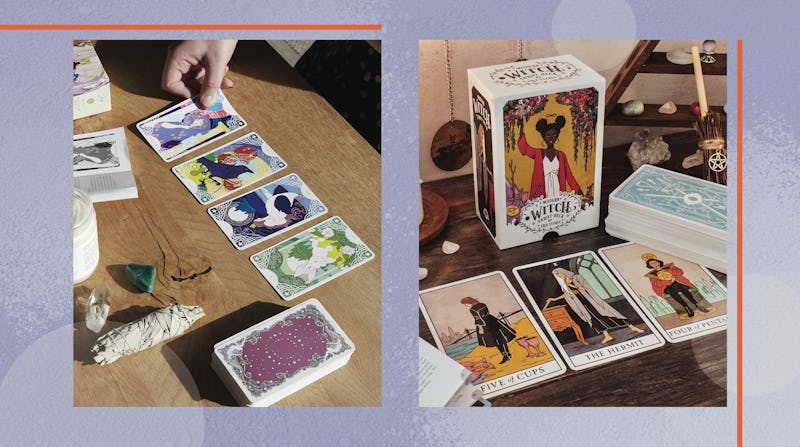 Bustle/Amazon
The ritual of tarot can help you become more in touch with yourself on a deeper level, but finding the right deck is key. "What tarot does is give you information about what is to come and it is best used for understanding yourself, your emotional structure, why you make the choices you do, and how to make better ones so that all of your outcomes improve," says Alane Hathaway, professional tarot card reader and founder of At The Rising Moon, who spoke to Bustle about what to look for when shopping for the best tarot cards for beginners. (Hint: it's all about what resonates for you).
What To Consider Before Buying
How Do I Get Started With Tarot Cards?
Tarot cards have four suits (called the minor arcana) that represent the elements in our reality which indicate the energetic impulses we have within, Hathaway explains.
Pentacles (known in some decks as Coins or Discs) represent earthly matters such as health or finance.
Swords symbolize the mental energy of communication, the examination of our feelings through analysis of them.
Cups represent the emotional world, the thing that gives us the ability to love and thrive but can also confuse us.
Wands stand for the energy of fire and the actions we take within this reality to make our future.
In addition to these suits, tarot cards feature graphics on the card, called the major arcana, that represent bigger life events and concepts.
Once the cards are shuffled, they are laid out in a pattern called the spread, and different spreads carry specific meanings. The reading of the spread has been described as a tool with which to get in touch with your own self-knowledge, or as Hathaway explains it, to access a higher level of consciousness that is outside of a linear time structure in order to understand your journey.
More Tips On Tarot Cards For Beginners
Set yourself up for tarot success by following a few beginner ground rules. "Do daily draws at the beginning of your day," Hathaway suggests. "At first it is best to limit yourself to a three-card spread. This is the first spread all students learn. The first card represents past energies, the second the present energy, and the third the upcoming energy. If you don't like the upcoming card, you would work on your approach to the energy of the present and understanding of the past in order to influence the upcoming energies in a direction that better serves your personal goals."
Hathaway recommends keeping a daily record of your draws to help deepen your understanding of the cards. "I personally journal and it's helpful to do so that you can go back and revisit your thoughts on various cards to expand your personal understanding of them," she says. "However, if you don't like to write, you can photograph your morning draw and use voice memos on your phone to record your thoughts."
What Tarot Cards Should A Beginner Use?
Hathaway suggests trusting your instincts when buying your first set of tarot cards. "Look through a selection of them and pay attention to the decks you are drawn to, as the artwork on the cards often will reflect your best and most accurate approach to your inner world," Hathaway says.
When choosing a deck for beginners, one that comes with a companion guidebook can enhance your understanding of tarot. Hathaway specifically recommends Tarot Made Easy: Your Tarot Your Way, by Barbara Moore, which comes with a highly instructive companion guidebook, as well as The Energy Oracle Deck by Sandra Anne Taylor. Hathaway says, "In tarot when you've mastered the cards, the meaning becomes more fluid and is informed by the surrounding cards, which is why there are so many different spreads."
With all this in mind, keep scrolling to choose the best tarot card deck for your beginner's practice.
The Expert
Alane Hathaway has been providing tarot guidance for more than 20 years. She is the founder of At The Rising Moon, and her services include personal tarot card readings and energy reads. Hathaway also has a popular YouTube channel called Cronecast AtTheRisingMoon where she provides readings and lessons on zodiac signs, manifestations, and more.