Is The iPhone 11 Actually Water Resistant? What You Need To Know
Plus, how it compares to the iPhone 12 models.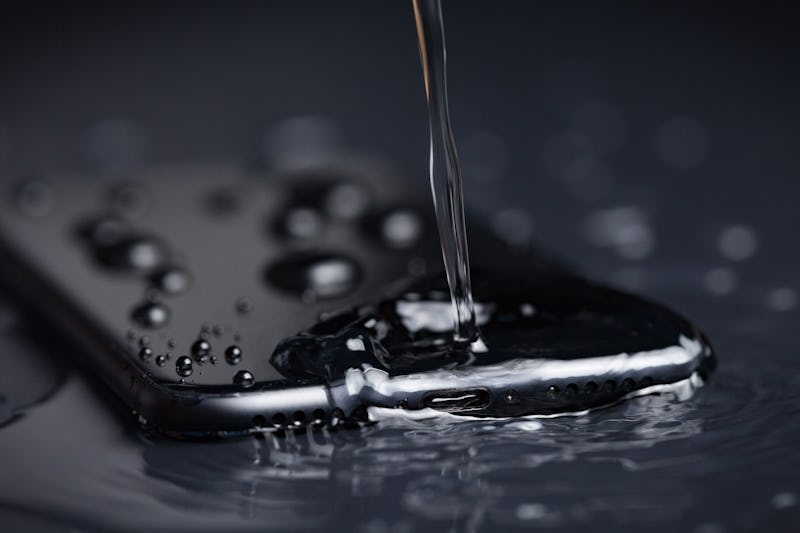 Shutterstock
The year 2019 brought us TikTok, thick eyebrows, and most importantly, the water-resistant iPhone 11. Although it seems like forever ago, TikTok has only gained momentum, natural eyebrows are here to stay, and the water-resistant features of the iPhone 11 were game changing for us devoted Apple customers out there. If it seems like Apple produces a new iPhone every other day, you're not alone — considering they have dropped the iPhone 12 since, and rumors are circulating about the iPhone 13 — but we can't help to not pay ode to the one that saved you cash (a lot of cash) when you accidentally dropped your phone in the toilet at that one bar after a few too many G&Ts. Apple's iPhone 11 may be appealing for lots of reasons, including improved camera functionality and the fact that all three iPhone 11 models are water-resistant. If you're especially drawn to the water resistance features of these iPhone models, it might be helpful to take a closer look at what water resistance actually means — and how much water you can really get on the phone.
According to Apple's technical specifications, the iPhone 11, iPhone 11 Pro, and iPhone 11 Pro Max all have a water resistance rating of IP68. Gadget Hacks, a website that reports extensively on smartphone features, explains that you can break down the ranking into three parts. "IP" stands for "International Protection Marking," which simply means that the ranking is an international standard used to assess how much a device can protect itself from dust and water. The "6" in the ranking refers to the phone's dust protection rating (a 6 means total dust protection), while the "8" ranks the phone's water resistance, Gadget Hacks said.
An "8" water resistance rating means that your phone can be underwater (at a depth of at least one meter or around 3.3 feet) for up to 30 minutes without being damaged. However, as Gadget Hacks explained, this is simply the minimum requirement for an 8 rating.
According to the iPhone 11 specs on Apple's website, the iPhone 11 can be submerged in a maximum depth of two meters (around 6.6. feet) for up to 30 minutes, and the iPhone 11 Pro and Pro Max can be underwater for up to 30 minutes at a maximum depth of four meters (around 13 feet). Therefore, even though they both have the same water resistance rating of IP68, the Pro versions of the iPhone 11 can resist water damage at greater depths. Since then, Apple improved the specs on their newest version: the iPhone 12. The iPhone 12, iPhone 12 mini, iPhone 12 Pro, and iPhone 12 Pro Max can be submerged for 30 mins at a maximum depth of six meters (almost 20 feet).
Of course, in addition to being resistant to damage if they're submerged in water — whether it's an accidental drop in a toilet bowl or swimming pool — the phones are resistant to damage from spills as well, Apple says. The company indicated in a newsroom release that their new devices are "protected against accidental spills from common liquids such as coffee and soda."
However, the company also noted that it's important to remember that "splash, water, and dust resistance are not permanent conditions" and that "resistance might decrease as a result of normal wear." Apple says that means you should always make sure to refer to your phone's user manual for guidance on how to clean and dry the device if it's exposed to liquid. It's also not a bad idea to consider purchasing a water-resistant iPhone case or accessory to further prevent water damage. LifeProof cases are said to be waterproof and can possibly make your iPhone 11 untouchable, if you're someone that doesn't want to take any chances. "I live on 47 forest covered acres. I drop the phone and it lands in snow, no leakage. Drop it in a puddle due to snow melting, no damage or leakage. In the summer. we get a lot of dust, again no dust in my phone nor any damage," one customer wrote. "No matter what season it is, my phone stays safe. Would recommend LifeProof Fre to everyone."
Finally, it's also crucial to remember that, according to Apple's Newsroom release, liquid damage isn't covered by the company's warranty. So, even though your iPhone 11 may be very resistant to water damage, you'll still want to be careful. After all, "water-resistant" is not the same as "waterproof," so there's a limit to how much water your phone can handle and how long it can handle it for.