Here's How You Can Donate To Organizations Fighting Against Trump's Birth Control Rule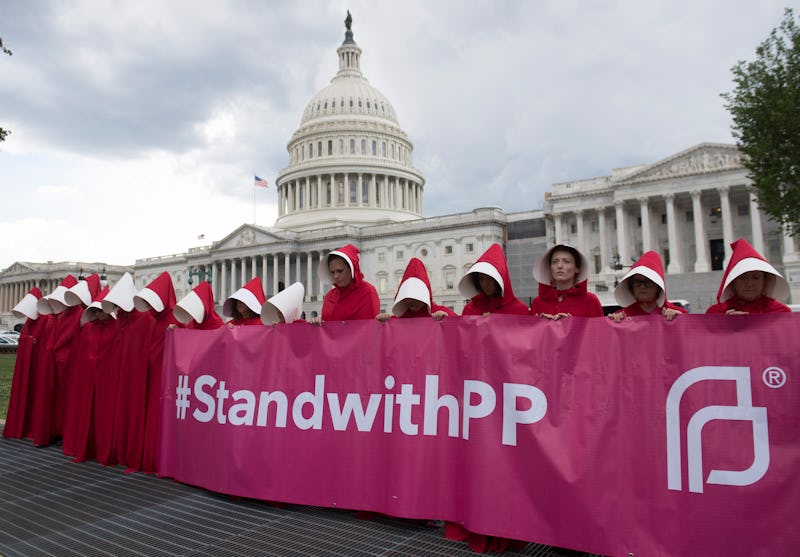 SAUL LOEB/AFP/Getty Images
On Friday, the Trump administration announced their plan to cut back on the contraception coverage mandate that was set during the Obama administration. Under the Affordable Care Act (ACA), employers were required by law to include birth control coverage in their health insurance plans. Now with the new rule, in effect immediately, employers or schools can legally opt out of providing coverage, making access to birth control much harder for women everywhere.
As you can imagine many people are furious — and rightly so. For many women, birth control is an essential part of their health care.
"Millions of women have gained access to birth control through the Affordable Care Act, and all of them have been put at risk of losing this vital piece of their health care," Anne Davis, consulting medical director for Physicians for Reproductive Health, says in a statement shared with Bustle. "Every day, I see the impact that birth control access has had on my patients' health and well-being. The contraceptive coverage benefit under the Affordable Care Act has done so much to reduce the barriers to birth control that my patients frequently faced. Let's not go back to the days when patients couldn't afford the birth control that helps them live healthier lives."
Cecile Richards the President of the Planned Parenthood Federation of America said in a statement shared with Bustle.
"The Trump administration just took direct aim at birth control coverage for 62 million women. This is an unacceptable attack on basic health care that the vast majority of women rely on. With this rule in place, any employer could decide that their employees no longer have health insurance coverage for birth control. We're talking about a fundamental right — to be able to decide whether and when you want to have children. Birth control is not controversial — it's health care the vast majority of women will use in the course of their lifetime."
Under the ACA, birth control was recognized as preventive health care. Because of that, health insurance plans were required by law to cover birth control without a co-pay. Under the new rules, any employer can opt out of contraceptive coverage for religious or moral reasons. It also eliminates the guarantee that women continue to receive birth control if the employer decides to opt out, regardless of their beliefs. In other words, if an employer says they want out, that's it. It's up to the women to figure out how they can afford their own contraception.
If this outrages you, the good news is there are many major organizations out there that are fighting back against the administration's new birth control rule. Here are some of organizations fighting against Trump — and where you can donate to show your support.