This Mini Women's March With Dolls Is Feminist AF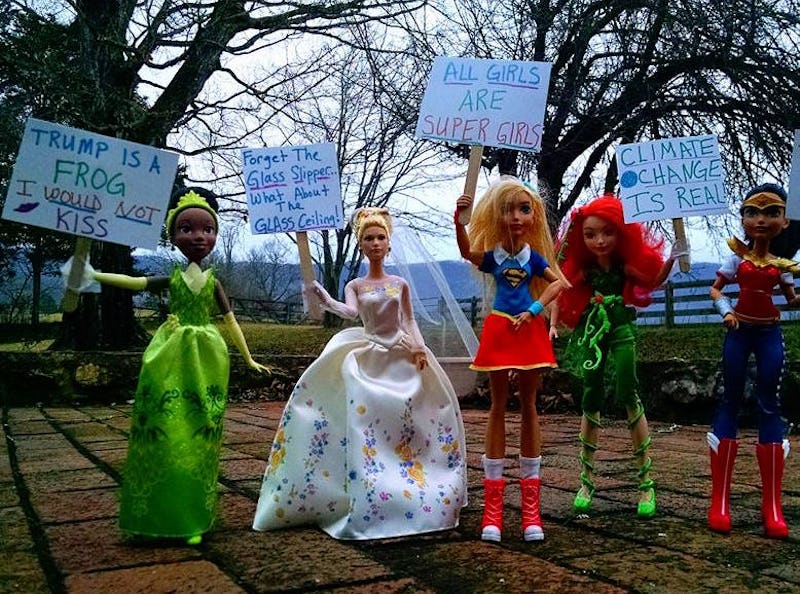 Courtesy of Wendy and Mark Redfern
The Women's March on Washington was the largest organized protest in U.S. history, inspiring marches of solidarity around the world. On Saturday, Jan. 21, one Virginia-based family found a unique way to participate by holding their own mini Women's March with their daughter's dolls. In less than a week their playful protest has gone unexpectedly viral, showing that a powerful feminist statement can come from your very own backyard — literally.
Wendy and Mark Redfern debated going to the Women's March in Washington, D.C. after the election results were announced, but worried it would be a bit much for their 4-year-old daughter, Rose. But since, as recent studies suggest, it's never too early to teach children about gender equality and female empowerment, the couple found a fun and creative way to get involved with the movement. "When the day of the march arrived, we were watching the coverage on the news, and were absolutely exhilarated by what we saw happening and developing around the world," Wendy tells Bustle. "I guess it was Mark who first thought, Why don't we create some protest signs for Rose's dolls and take some photos?' And it evolved from there."
The couple spent about a half an hour brainstorming clever slogans for the signs each doll would carry. "As we looked at each of Rose's dolls, we just started throwing out ideas about what these characters might say and care about, as well as what issues we feel are important for the future of our daughter. Environment, equal pay, worthiness of respect, and not allowing our bodies to be objectified," Wendy says. "The whole thing lasted only about a half hour, as we were expecting company and really just messing around on a Saturday afternoon together."
Along with the Redfern family, the mini marchers were an eclectic mix of superheroes and princesses:
Rose helped tape the doll's signs together, and even though she is only just starting to learn to read and write, she wanted to craft her own sign as well. "One is a drawing she did of the three of us and the other is some scribbling she did that she said was a message of love," Wendy explains. Rose's signs have a positive message everyone can get behind.
The Redferns, who publish the indie music magazine Under the Radar, are strong believers in the power of protest and that one should feel free to stand up and speak out. By making a march for their daughter, they hope to instill the understanding that she too can make a difference.
"Parents have to lead by example. It is our duty to guide our children through these interesting times," Wendy Redfern notes. "Each family has the right to go about that as they see fit. We feel it's important for our daughter, even at a young age, to understand that she never has to stand by and stay quiet about the issues that she feels strongly about. Her voice is important and valuable."
Amen to that.
Though Trump's first week in office has been notably difficult, casting a shadow over the next four years, the Redferns will continue to strive to make the world a better place for their daughter.
"My hope for the future is that amidst all of the chaos in our government, we, the people of this country, discover our voice, feel empowered by our actions, and continue to peacefully protest those things we feel strongly about," Wendy adds. "But more specifically, my hope is that we care for our planet. Nothing else matters if we lose this."