23 Trader Joe's Essentials That Are Perfect For Super Bowl Sunday
Mac and cheese bites FTW!
by Caroline Burke and Lauren Grant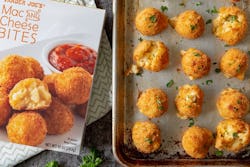 Trader Joe's
The Super Bowl is almost upon the world, and regardless if you enjoy the sport or not, there's one thing everyone looks forward to on that faithful Sunday: a day filled with delicious food. Of course, some might view a football-focused event as one defined by tasteless wings or soggy nachos. But if you do a tiny bit of planning, you can go to Trader Joe's and get all the Super Bowl items you need to make your party one to remember.
As a grocery store chain, Trader Joe's (also known to many as "TJ's") is beloved, appreciated for its many unique sauces, pre-made meals, and yummy appetizers. That's why it's the perfect companion to any Super Bowl event. From turkey meatballs to buffalo chicken dip, you can get pretty much anything and everything you want for the big day, at a pretty reasonable price. To make things even better, TJ's offers a bunch of recipes to spark your imagination, most of which require three ingredients or less, and most of which are bound to make your friends (or just you) totally content on Super Bowl Sunday.
When you're tired of ordering takeout and paying way too much for food that isn't even that good, these Trader Joe's food choices await you. Here are some of the best options to consider for the Super Bowl in particular:
This article was originally published on