6 Ways To Get The Whole Family Off Their Cell Phones Just In Time For The Holidays
Helpful tips for bridging the digital divide.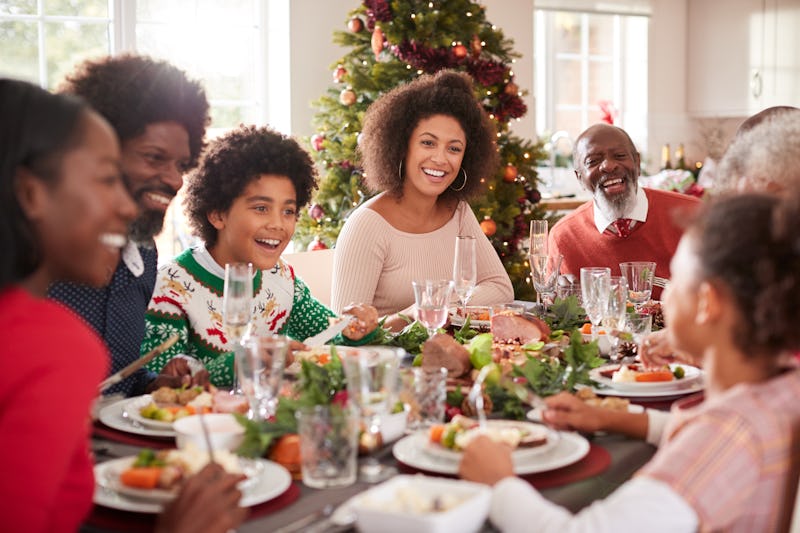 Shutterstock
Ah, yes, the classic holiday scene: A family gathered in the living room, boughs of holly strung around the perimeter, a fire crackling in the fireplace, and everyone glued to their cell phones. That last part is obviously a joke... but not really. If you're looking for ways to get your family members off their phones and bring all the generations together, look no further than Amazon. From board games to outdoor goods, you're sure to find the perfect way to celebrate the holidays without a viral video in sight. Plus, Amazon has worked hard to bring their customers deals on all the things to make this magical, multicultural season special for everyone. Read on for unique gift ideas that bridge the gap between a family's multiple generations.
Let The Games Begin
If you're looking to get everyone unplugged, there's really nothing better than a captivating board game or the latest hilarious card game to get the whole family involved. Plus, it's kind of a double win if you think about it: You can give someone a cool new game as a present, and then everyone gets to enjoy it. From puzzles to arts and crafts, checking out the toys and games section on Amazon will totally inspire you for your holiday game night.
Host A Spa Night
If you want to be the favorite child, parent, cousin, or grandparent, why not host a spa night? Think the latest and greatest premium beauty products such as face masks, foot soaks, and nail polish in every hue. The best part? You might be able to keep the leftover goodies from the party. Oh, and I highly suggest a generous assortment of snacks, your favorite holiday rom-coms, and a pajamas-only dress code.
It's Time To Spoil Spot
While this family member might not technically be on their phone, pets need love too, right? Plus, there's nothing like putting a festive sweater on your pup to get everyone into the holiday spirit. Amazon has a huge variety of pet supplies — think food, apparel, furniture, and everything in between. And why not wrap a tasty treat for Fido and put it under the tree? Seriously, though, what would our families be without our pets? We might as well spoil them as though they're our firstborns.
Help Teens Forget About Phones
OK, maybe teens can't totally forget about their phones, but if you want to come close to witnessing this phenomenon, try gifting the latest fashion trend. It works like a charm. With everything from athletic gear to formal wear, you're sure to find something on Amazon that'll get even the most sullen teen to stop scrolling for a minute.
Don't Leave Out The Babies
If you really want to catch people's attention, get some gifts for the youngest member of your family. Honestly, who can't resist tiny tennis shoes or the softest baby blanket imaginable? Amazon has a huge range of items for all things baby, including clothing, toys, and carseats.
Now, we can't promise that people won't pull out their phones to take photos when they see the cutest pair of overalls ever, but hey, it's all about flexibility, right?
Honor Your Elders
One of the best ways to celebrate the holidays is to gather with your family and share your favorite food. If your grandparents are anything like mine, all they really want to do is see you and have a tasty, home-cooked meal. It's all about quality time without the phones, right? If you're looking for some inspiration for your next meal, check out Amazon's grocery and gourmet food section. Plus, you can give the gift of improved cooking skills by grabbing the latest cookbook.
If your homemade holiday meal is extra impressive, it may be worth pulling out your phone for a quick photo. Don't forget to put it away again, though.