What Are Instagram Broadcast Channels? The New Feature, Explained
The feature will continue rolling out in the coming months.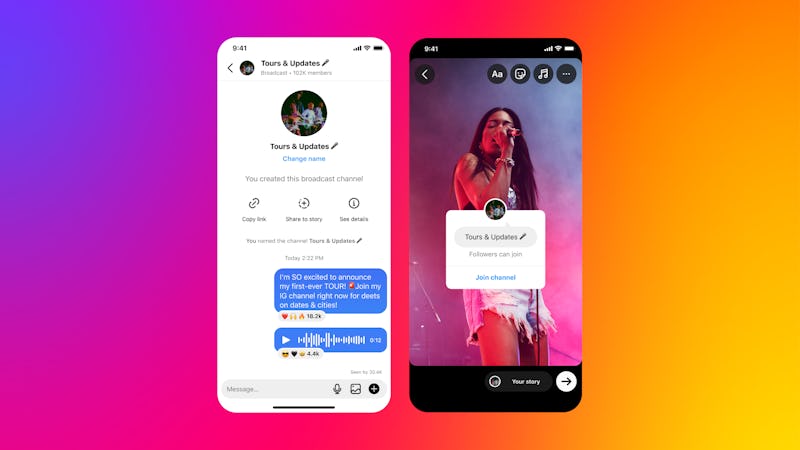 Courtesy of Meta
Have you ever wondered what your favorite celebrity's Close Friends Story on Instagram is like? Well, now you can get a taste of it — sort of. Meta announced a new Instagram test on Thursday, Feb. 16 that provides creators a streamlined way to engage with their followers directly through polls, images, voice notes, and more on a special, private DM thread. The test includes a number of sports stars, influencers, and creators, so if there's a creator whose broadcast channel you don't want to miss, here's what you need to know about the new feature.
Mark Zuckerberg announced the launch of broadcast channels via a series of IG Stories on Thursday, which he described as a way to "get messages from your favorite creators." Creators can use their broadcast channels to interact with their followers directly by opening a channel via the DM inbox. From there, followers who choose to join the channel will receive custom messages and updates from their favorite creator in the form of videos, DMs, voice notes, and polls. Only the creator behind the channel will be able to send messages, so you won't be able to reply (even though it'll feel like you're chatting with your bestie), but you can react to messages to show your support.
Broadcast channels are expected to expand in the coming months, so it's probably a good idea to familiarize yourself with the new feature before then.
What Are Instagram Broadcast Channels?
Broadcast channels are a new way of engaging with and receiving updates from your favorite accounts. Every time a creator posts in their broadcast channel, the message will appear in a thread specifically for the channel in your DMs and a notification will be sent out so you never miss a moment. Basically, if you've ever wanted to exchange DMs with your favorite creators, this is pretty much as close as it gets.
Because the feature is still in testing, broadcast channels only launched for a handful of creators on Feb. 16, including:
According to a blog post announcing the new feature, Instagram will be adding even more features to broadcast channels, such as the ability to bring another creator into the channel and collect questions for Ask Me Anything (AMA) sessions via question prompts. The feature will also be rolled out to Facebook and Messenger in the coming months.
Who Can Create Instagram Broadcast Channels?
As of right now, broadcast channels are only available for a small amount of IG creators like Chloe Kim and Mikaela Shiffrin. According to the blog post, channels will "begin rolling out to more creators soon."
If you'd like to be part of the next crop of creators to have your own broadcast channel, you can sign up here (via mobile) to be considered for early access. Keep in mind that spots are limited, but Instagram will be providing early access on a rolling basis.
IG accounts with Subscriptions can open a broadcast channel for everyone by setting your audience to "all followers." You can also opt to create a paid subscription broadcast channel as well.
How To Join Instagram Broadcast Channels
In order to access the exclusive content, you'll need to join your creator's broadcast channel by tapping the invite link (which will likely be posted on their Story or feed, or pinned to their profile), and then tapping "Join broadcast channel." You can also send the invite link to your group chat, in case your besties want to join the channel with you. BTW, you'll need to be following a creator in order to receive notifications about new channel posts, though access to broadcast channels will be granted to everyone.
If an account you're already following creates a broadcast channel, you'll receive a one-time notification with the link to join.
Whether you're joining as a creator or a follower, Instagram's broadcast channel feature has something for everyone.