These Artists Are Reimagining Black History Month To Create A Better Future
Celebrating Black joy, art, and service is all part of the new tradition.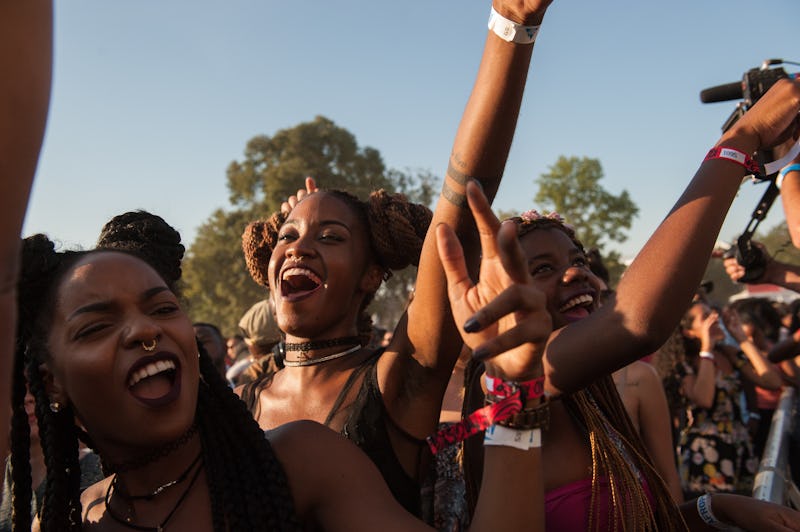 Stephanie Keith/Getty Images News/Getty Images
Most folks know that February is Black History Month in the United States. Black History Month began in 1926 and later became a month-long celebration in 1976. As anyone who has attended a public school in the United States knows, Black History Month often celebrates famous Black Americans like Martin Luther King Jr., Rosa Parks, Jackie Robinson, and Madame CJ Walker — people from the past who have made major contributions to our present-day culture. While knowing our history is important, many people are also looking beyond our past and present and celebrating Black Futures Month — a month-long observance, often held in conjunction with Black History Month, where Black people visualize the kind of world we need and want. Created by the Movement for Black Lives in 2015, according to the Daily Dot, it creates a space for art to imagine what the future may hold for Black people.
Damon Davis, a self-described Afrofuturist, tells Bustle that the idea behind Black Futures Month "is to reimagine the idea of Black History Month and change the emphasis from the history of people of color to our futures." Afrofuturism is a philosophy that reimagines the world of tomorrow, which many people see as informing Black Futures Month. (You might recognize Afrofuturistic themes from Janelle Monae's Metropolis.) Black Futures Month, which takes place in February in conjunction with Black History Month, celebrates "Black people, art, culture, joy, and organizing in service to our bold vision for Black liberation" according to M4BL.
Being Black in America today comes with its challenges due in large part to institutional racism. Black people make up 38.4 percent of the federal prison population despite being only 13.6 percent of the overall population, according to the census. And according to the CDC, Black women are three times more likely to die from pregnancy- or childbirth-related causes than their white counterparts. Black Futures Months imagines a world where these statistics are a relic of the past.
Nyanza D., an artist who was featured during the 2017 Black Futures Month, tells Bustle, "Black Futures Month to me showcases the dreams and aspirations that Black people have. Historically, Black women have not been shown in a positive light in the media and I feel that it's my job to showcase a range of positive representations through my art. I would like to teach future generations of people that Black womanhood — and 'Blackness' in general — is an entire spectrum." Nyanza D.'s art focuses on themes of body positivity. Black Futures Month celebrates the full spectrum of Black existence, including all body types.
It's important to note that celebrating Black Futures Month doesn't mean you can't or shouldn't celebrate Black History Month. Nyanza D. explains to Bustle, "I celebrate [Black History Month] all the time. Black History Month is pretty much every day when you think about it. Many people would think this is a hyperbolized statement, but it's the truth. We are the originators of everything — without us a lot of things would not exist. It shouldn't take one month for people to recognize our greatness, more people should do it every single day!"
Anthony Boyton, a Ph.D. candidate at the University of Kansas, explains to Bustle Afrofuturism's connection to Black Futures Month. "Black Futures Month is important (especially alongside Black History Month) and Afrofuturistic because it encourages us to think about, honor, reflect, and use our past (good and bad) to inform our present and future. It is Sankofa." (Sankofa is the practice of going back to our roots in order to move forward.) Boyton continues, "At its root, Afrofuturism is a way for Black people to engage in futurology, or the study of the future. This can be done through numerous artistic, literary, musical philosophical, spiritual, ontological, and other practices and strategies."
Like Black History Month, Black Futures Month is a way to educate through celebration. Much of the artwork made in honor of the month has a specific focus, like reproductive justice or farming. According to M4BL, Black Futures Month is a time to "center Black, queer, and transfeminist perspectives" by affirming, celebrating, and defending all Black lives.
With all that's going on in the world, Black Futures Month offers hope through imagination. What does the future look like to you? Is it more feminist? Free of racism and homophobia? Is it all of the above? This February, you can take the time to celebrate Black people from the past, present, and future.
This article was originally published on