9 Thanksgiving Alternatives You Can Celebrate This Week
If the day's history makes you uncomfortable, here's what else you can observe.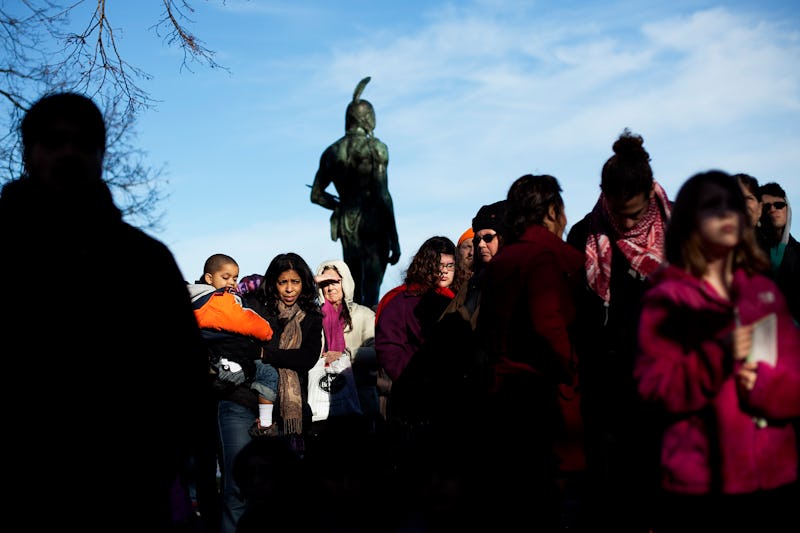 Boston Globe/Boston Globe/Getty Images
In elementary school, like many of us, I was taught that Thanksgiving was a beautiful moment in our country's history. Friendly white people sailed over on the Mayflower and befriended the Natives who taught them how to hunt and grow crops. The two groups celebrated their new friendship with a three-day feast that included turkeys, corn, and potatoes, and they all lived in harmony for years to come. It was a great story, filled with struggle and triumph. Unfortunately, that's just a myth.
Actually, the first Thanksgiving was likely a celebratory dinner in 1637 following what's now known as the Pequot Massacre. After killing over 700 men, women, and children of the Pequot Tribe, Governor John Winthrop of the Massachusetts Bay Colony declared the next day it was "a day of thanksgiving and celebration for subduing the Pequots."
So, understandably, there are some people who choose not to observe Thanksgiving, given that the real story is rarely told. If you choose not to have a Thanksgiving feast, there are other ways to spend the day, the following day, or even the week. Below, you'll find nine Thanksgiving alternatives you can check out, from National Day Of Mourning protests to The Indigenous Peoples Sunrise Ceremony.