What A "Local Lockdown" Really Means For The UK
Why & how the government is carrying out local lockdowns.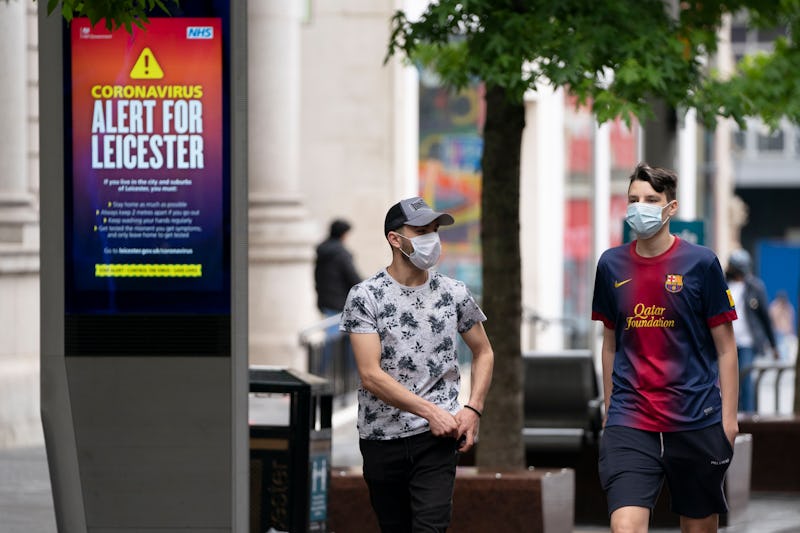 Xinhua News Agency/Xinhua News Agency/Getty Images
With the introduction of "social bubbles" and nonessential shops, pubs, and restaurants reopening, the UK is beginning a journey into a new normal. But some places might not be transforming quite so quickly. The city of Leicester, and some surrounding boroughs, were the first targeted areas to be subject to localised rules, and now millions of people in parts of northern England are facing new restrictions which ban separate households from meeting each other. So what is a local lockdown and what will it look like for areas that are subject to one?
What Is A Local Lockdown?
Local lockdown happens when a specific area starts getting increased cases of coronavirus and may have to adhere to separate rules or have extra support put in place to help stop the spread. It could mean the extension or reintroduction of certain lockdown measures, curbs on travel in and out of the area, and heightened testing and contact tracing within a specified geographical location.
What Does A Local Lockdown Look Like?
As the gov.uk website states, if it is deemed necessary that a specified area go into lockdown, government minister have the power to:
close businesses and venues in whole sectors (such as food production or non-essential retail), or within a defined geographical areas (such as towns or counties)
impose general restrictions on movement of people (including requirements to 'stay at home', or to prevent people staying away from home overnight stays, or restrictions on entering or leaving a defined area)
impose restrictions on gatherings – limiting how many people can meet and whether they can travel in and out of an area to do so
restrict local or national transport systems – closing them entirely, or introducing capacity limits or geographical restrictions
mandate use of face coverings in a wider range of public places
The first of the UK's targeted lockdown occurred in Leicester, where restrictions including the closure of non-essential shops and schools for most pupils were reintroduced at the end of June following a spike in COVID-19 cases in the region. As of August 26, most of these restrictions have now been lifted but certain businesses (casinos and indoor gyms, for example) remain shut. People from different households are not allowed to meet in a home or a private garden, but they can meet in a public outdoor space. The restrictions are due to be reviewed again on August 31, and a full breakdown of what is and is not allowed can be found on the gov.uk website.
As of August 26, local lockdowns are also ongoing in areas across the north of England, including Manchester, Lancashire, and West Yorkshire. These restrictions mean people from different households are no longer allowed to meet in homes or private gardens and they cannot visit pubs and restaurants together. A full breakdown of what is and is not allowed can be found on the gov.uk website.
While not officially on lockdown, Birmingham will receive "enhanced support" by the government after it was added to a watchlist that charts spikes in local areas. Cases are rising fast in the city, "with 31 cases per 100,000 last week" per BBC News. The infection rate is below Leicester, but "businesses in the city must enforce government advice to prevent a local lockdown," the council advised.
In Scotland, Aberdeen was hit with a local lockdown in mid August following an outbreak of more than 50 coronavirus cases. The strict measures saw all bars and restaurants forced to close from 5 p.m. on August 5 as well as the five-mile travel ban reimposed and a banning of households mixing. However, as of August 26, most of these measures have been lifted. Full details about the current rules can be found on the gov.scot website.
At the time of writing (August 26), Northern Ireland has not imposed local lockdowns like those in England and Scotland, but limited restrictions were implemented in Kildare, Laois, and Offaly, which meant residents were not allowed to travel outside of their county except in limited circumstances, including travel to and from work. Restaurants, bars, cinemas and gyms were also closed. Now it seems Belfast and towns such as Newtownabbey, Ballymena, Larne and Carrickfergus are facing potential lockdowns too due to a spike in cases, but nothing is confirmed.
Wales has seen a big spike in cases in Merthyr Tydfil, Wrexham, and Llangefni on Anglesey but Vaughan Gething MS said they were not going to implement a local lockdown as they had faith in their tracking and tracing system. However, on August 18, health advisors said that it may soon be necessary.
Other countries have used local lockdowns in their attempts to control the spread of coronavirus. Recently, the county of Anxin — located in Hebei province near Beijing, China — experienced a spike in COVID-19 cases. Per the BBC, officials said Anxin would be "fully enclosed and controlled" with only essential workers going out.
How Do I Find Out The Lockdown Rules In My Area?
Up until recently, the only way to find out your local lockdown rules was to follow news on the government website and news outlets. However, a new tool called the Lockdown Checker has now emerged, which allows people to type in their postcode and read up on the rules in their area. You can find the checker here, but users should be aware that this tool is not backed up by any government or health bodies so it's important to confirm the rules via a more official source.
Contributions from Niellah Arboine, Orla Pentelow, and Sophie McEvoy.
This article was originally published on