McVities Is Launching Blackcurrant Jaffa Cakes Very Soon
And frankly, they sound berr-illiant.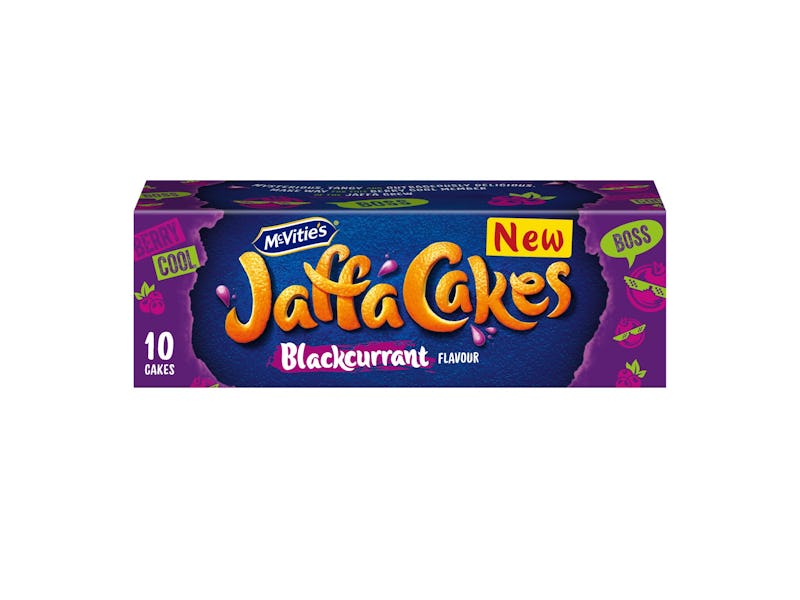 Is a Jaffa Cake a cake or a biscuit? The age-old debate may never be truly settled, but the confectionary geniuses that are McVities have a new spin on the classic that will delight fans: Blackcurrant Jaffa Cakes. Yes, really. Need to taste it to believe it? I understand. Here's where to buy blackcurrant Jaffa Cakes in the UK, and everything you need to know about the berr-illiant new flavour.
The new blackcurrant offering is described as having a "berry cool" flavour that's both tangy and "mysterious." They have a layer of blackcurrant at the centre, which is then surrounded by crackly dark chocolate and a light sponge base.
These new biscuit/cakes join the OG orange-flavoured Jaffas, along with the newer iterations of "playful pineapple, cheeky cherry and party passion fruit."
Speaking of the new treats, McVitie's brand director Emma Stowers explained: "The tangy berry flavour of our new Jaffa Cakes Blackcurrant flavour is the perfect addition to the Jaffa Cakes crew. We're excited to continue to bring new tastes and experiences to Jaffanatics and can't wait for everyone to try this new fruity, cool berry flavour. They're so delicious your sharing box may not last long!"
If you can't wait to get your hands on the Blackcurrant addition, there's good news: you will be able to very soon. The Blackcurrant Jaffa Cakes will be launching on April 25, available to buy exclusively at Tesco. The sharing boxes – which include 10 cakes – will retail at £1.20 per box.
Race you to the checkout?