Why The Queen Is The Only Person To Have Eaten British Chocolate
In 1932, Queen Elizabeth became the first and only person to eat chocolate grown on British soil.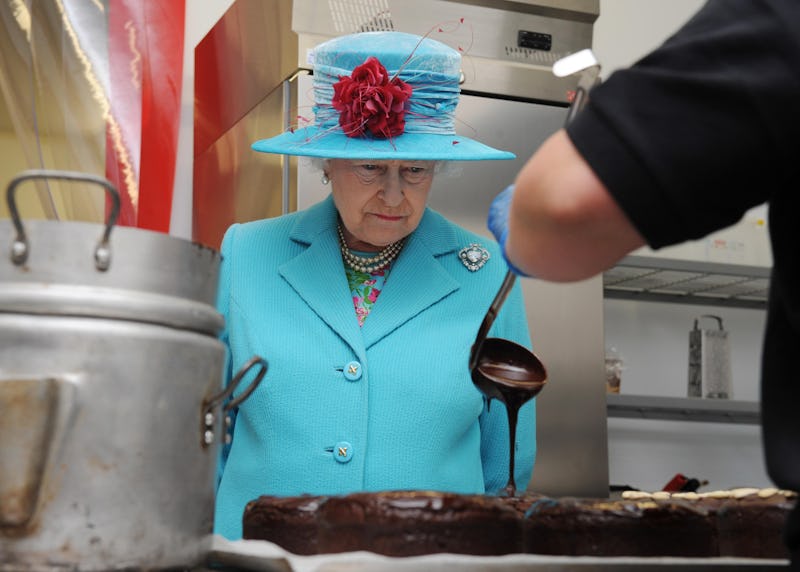 Owen Humphreys - PA Images/PA Images/Getty Images
When it comes to Britain's favourite snacks, biscuits take the No. 1 spot, but chocolate is an extremely close second — the two were separate by 1% of votes in a recent survey by the British Heart Foundation. With chocolate brands like Cadbury, Nestlé, and Mars being hugely popular, the results come as no surprise; Brits are undoubtedly a fan of sweet treats. But did you know that only one bar of chocolate has ever been made from British-grown cocoa beans? And that bar was gifted to a particular royal family member?
In a March 2020 episode of BBC Radio 4's history podcast You're Dead to Me, host Greg Jenner discovered that because of the specific temperature and surroundings a cacao tree requires, it's near impossible to grow one in the United Kingdom's temperate climate. However, a group of Rowntree's factory workers got lucky in 1932, successfully growing one in a hothouse after experimenting with pineapple plants.
Their success proved to be a limited, however, as when it came to harvesting cacao pods from the tree; there was only one. Those cocoa beans didn't go to waste though. They were made into a single tiny chocolate bar, which was presented to Queen Elizabeth II when she was a princess. As tourist site Visit York notes, this makes the queen the only person to have tasted 100% British chocolate. So jealous.
The queen is apparently quite fond of chocolate. As former royal chef Darren McGrady told Reader's Digest, Her Majesty said yes to "anything we put on the menu that had chocolate." Her preference, however, is for dark chocolate. "She's not a big fan of milk or white chocolate," McGrady went on to say, noting that the queen prefers bars that are 60% cacao or higher.
The chef also revealed that Her Majesty's absolute go-to snack is Bendicks Bittermints, a minty fondant covered in 95% dark chocolate. The product earned a Royal Warrant in 1962, which makes a lot of sense if it's the queen's ultimate fav.