Model Neelam Gill On The Woman Who Taught Her To Speak Her Mind
"That's the way she raised us — to be there for other people, to stand up for what's right, to not forget others."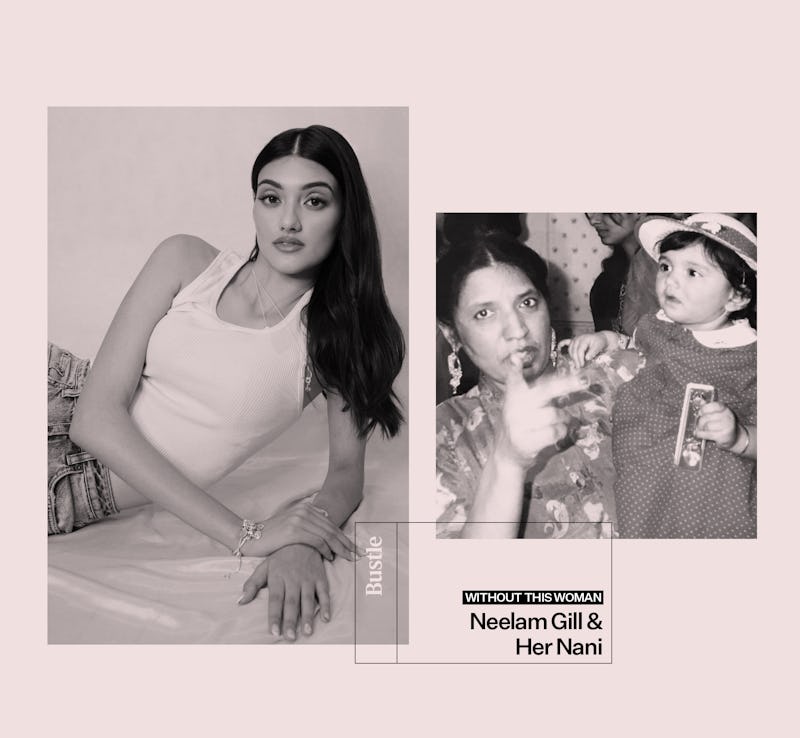 Bustle's "Without This Woman" is a series of essays honouring the women who change — and challenge — us every day. This entry is a special edition for Mothering Sunday, which the U.K. will celebrate on March 14. In partnership with Pandora, It's our wish to celebrate not just mothers, but all of the motherly relationships that have shaped us into who we are today. Below, model and activist Neelam Gill shares why her relationship with her grandmother is so special.
I've been close to my Nani my whole life. In Coventry, where I'm from, she lived on the next road from me and we'd see her every day. My mum raised me as a single parent and so I used to spend a lot of time at my Nani's house. She would pick us up from school, look after us, and make us food until my mum finished work. But it was when I moved away and got older that I really realised how much she did for me.
One time, my mum was working late and I was home alone after school. I was watching those American TV shows where the characters lie on their bed and talk to their friends on the phone. I was like — I want to do that! So I called my friend, but from the house phone to her mobile. I was on there for three or four hours.
Later that month, my mum came into my room and was like, "who did you call?" I denied it till I was blue in the face, but the bill was printed and she could see the number. She started crying, saying: "How am I going to pay this?" I remember thinking I was never going to get past it. Then my Nani paid it for me. She told my mum "Don't worry. She doesn't know, she didn't mean it." I'll never forget that she did that. It just sums up her character. She's the anchor for everyone, anyone in the family who needs her. She's always there.
When you're a kid, you're just focused on playing with your friends and being young. But then you get older and you want to have certain conversations with your grandparents. You want to spend time with them, go on walks with them or ask them to teach you to cook certain things. I love to ask them questions about their life in Punjab, growing up.
My grandparents are traditional. We didn't tell them when I first started modelling because we didn't know if they would accept it. It's not a conventional career choice. Eventually, when I had a documentary out with the BBC, my uncle sat them down and told them. He said "This is what Neelam has been doing in London. She's the first Indian [A-List] model." That's when they realised it's a real job, and something that I could make a career out of.
She's very proud of me, both she and my Nana — which means "grandad" in Punjabi. But they still have such a sense of normality, which I really appreciate. They know work doesn't define me. They're more proud of the person I am, of me having good morals, instead of what I've achieved.
They find it funny that my job is to be glamorous because, when I go home, I'm such a low-key person. I'm always in my trackies, no makeup, just chilling. It's really grounding, even just going to their house. Nothing's really changed there. They have all the family pictures, every grandchild, photos of them when they're in Punjab, when they just got married.
My Nani has always been a very honest person — if she sees something she feels is wrong, she speaks up. That's been instilled in me.
My grandparents are both immigrants, they lived in a village in Punjab. When they moved here they worked really hard to make a good life for themselves. My Nani worked so many jobs —hard labour jobs. She worked in a factory for most of her life. They tell me stories about facing a lot of racism in the workplace. Moving to a different country and building a life is not easy. They learned to stick up for themselves and that has transferred down to me.
The most important thing she's taught me is how to be a good human being. My Nani has always been a very honest person — if she sees something she feels is wrong, she speaks up. That's been instilled in me. When I started modelling, if I saw something wrong I would say it. Now activism and using your voice are more welcome. When I first began, I didn't know if people would listen to what I had to say.
But that's the way she raised us — to be there for other people, to stand up for what's right, to not forget others. That's why it's really important for me to speak about certain issues. You reach a level in your career and it's easy to ignore things if it doesn't directly affect you. But when you have such a big platform, why wouldn't you speak up?
This interview has been condensed and edited for clarity.
Shop Pandora's Mother's Day Collection