Here's Barack Obama's Review Of Michelle's New Memoir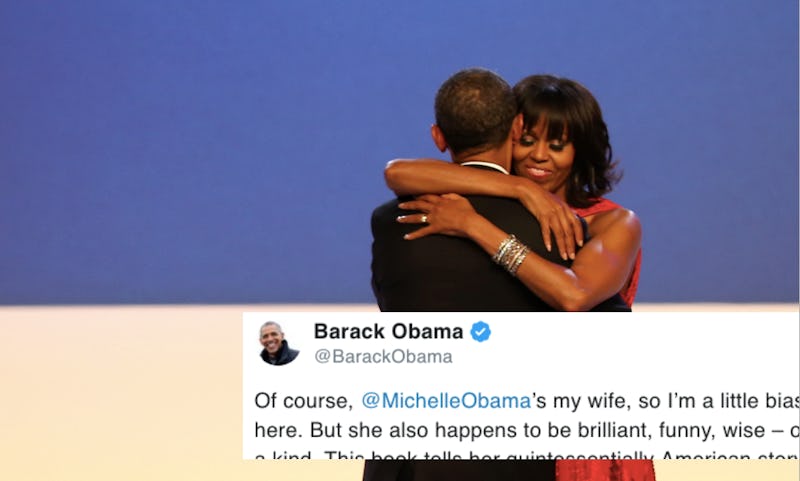 Mario Tama/Getty Images News/Getty Images
Sometimes you can't help but promote your loved one's creative endeavor. In a similar fashion, Barack Obama tweeted about Michelle Obama's memoir, Becoming, on Tuesday, praising both her and her new book.
"Of course, @MichelleObama's my wife, so I'm a little biased here. But she also happens to be brilliant, funny, wise — one of a kind," Obama wrote. "This book tells her quintessentially American story. I love it because it faithfully reflects the woman I have loved for so long."
Michelle's new memoir is replete with personal anecdotes and admissions, according to actual reviewers. At one point in her book, she talked about her miscarriage and how heartbreaking that experience was. "A miscarriage is lonely, painful, and demoralizing almost on a cellular level," Michelle wrote in Becoming. "When you have one, you will likely mistake it for a personal failure, which it is not. Or a tragedy, which, regardless of how utterly devastating it feels in the moment, it also is not."
"What nobody tells you is that miscarriage happens all the time," she wrote, "to more women than you'd ever guess, given the relative silence around it." At other points in Becoming, Michelle got into how the Obamas went for couples counseling, how she had no plans for running for public office, and how she conceived Sasha and Malia through in vitro fertilization, among other things.
Now, for those Michelle fans out there, it might be disappointing news that the former first lady expressed no intention of running for public office. In Becoming, Michelle did write that she found inspiration in other forms of political activism.
"We all play a role in this democracy," she wrote in her memoir. "We need to remember the power of every vote. I continue, too, to keep myself connected to a force that's larger and more potent than any one election, or leader, or news story, and that's optimism. For me, this is a form of faith, an antidote to fear."
Michelle also wrote about one of the most challenging moments during Obama's presidency: the Sandy Hook shooting in 2012. Michelle wrote of the horrific incident, "My husband needed me. This would be the only time in eight years that he'd request my presence in the middle of a workday, the two of us rearranging our schedules to be alone together for a moment of comfort." Twenty students and six teachers were killed in the Connecticut elementary school.
Celebrity TV mogul Oprah Winfrey, like Obama, was also full of praise for Michelle's memoir. On Twitter, Winfrey said, "From the very first pages of Becoming, I knew I wanted EVERYONE to read it. I've known Michelle for 14 years, but this book is so vulnerable, I felt like she was in my ear."
On top of the positive reviews, Michelle's book seems to be doing well on Amazon, according to CNN. There have been pre-orders for the memoir, according to the report. So it looks like Obama and Winfrey aren't the only people stoked to get their hands on Becoming.