Why Banning 'Wonder Woman' Will Backfire For Lebanon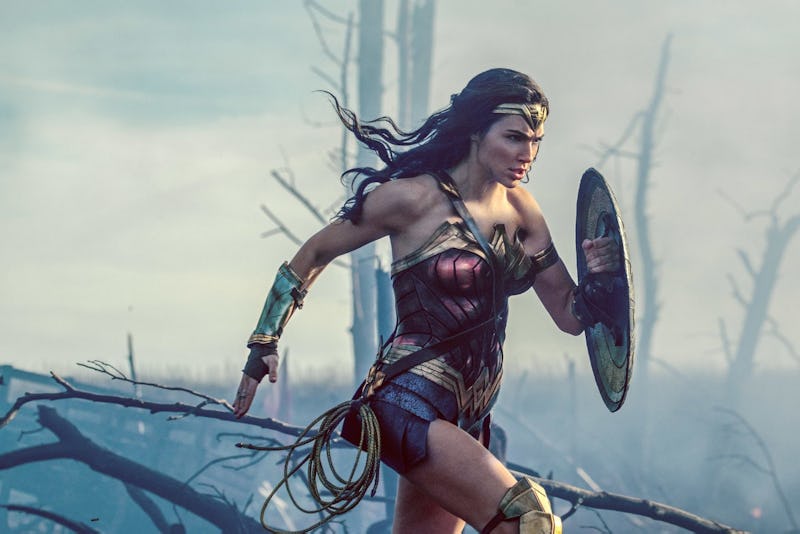 Wonder Woman
Last week, hours before a movie that is set to be one of the biggest summer blockbusters was set to premiere, Lebanon banned Wonder Woman from theaters throughout the country. The justification for the last-minute ban had nothing to do with the content of the film, but rather, the nationality of its star, Gal Gadot. Because Wonder Woman stars an Israeli citizen, Lebanon decided to ban a movie that has not only received wide theatrical praise but is being heralded for its groundbreaking depiction of women and its "wonderfully feminist" cinematic moments, as USA Today wrote.
The decision from Lebanon's Ministry of Economy to block cinemas from screening Wonder Woman came after a push from the Campaign to Boycott Supporters of Israel–Lebanon. One of the group's main organizers, Rania Masri, told the Associated Press that the eleventh-hour ban was a "joyous moment." There was an attempt from the same group to ban Gadot's other foray as Wonder Woman when she appeared in Batman v Superman: Dawn of Justice, but it was not successful.
While some have pointed to the fact that Gadot served in the Israeli Defense Force (IDF) — military service is mandatory in Israel, regardless of sex — and that Gadot has shown support for the IDF, Masri made it clear that Gadot's nationality was the prime concern, rather than her views or beliefs. "First and foremost she is Israeli," Masri told the Associated Press. "We don't distinguish between a good Israeli and a bad Israeli." Discriminating against Gadot because of her place of birth and her upbringing in Israel was a priority.
It is frustrating to see blind hatred towards Israel, and as an American and a writer deeply committed to freedom of expression, it is chilling to see creative work banned because of the origin of someone involved. The Wonder Woman ban is both ignorant and xenophobic.
However, it is not surprising.
For one, Lebanon is still technically at war with Israel — and Lebanon refuses to recognize Israel's sovereignty. During the summer of 2006, Israel and Lebanon were engaged in a military conflict that resulted in a stalemate. As Newsweek noted in its report on the ban, Lebanon already "bans Israeli products, its citizens are not allowed to travel to Israel, and tourists are barred from entering Lebanon if their passport bears an Israeli stamp."
Outside of Lebanon and the Middle East, bans directed companies, groups, and, sometimes, even people with ties to Israel — not just the government but also institutions and cultural centers that are based in Israel — can be key tactics in the Boycott, Divest, and Sanctions (BDS) movement. The group behind the Wonder Woman ban in Lebanon does not appear to be formally affiliated with the official BDS movement, but its tactics echo it. According to the BDS movement's website, supporters call for:
withdrawing support for Israel and Israeli and international companies that are involved in the violation of Palestinian human rights, as well as complicit Israeli sporting, cultural and academic institutions.
However, how "complicit" is defined is often quite vague, as well as what it means to be "involved in the violation of Palestinian human rights." Though companies are often the focus, boycotts may manifest themselves in targeting artists or scholars because of their nationality.
For example, in 2014, the prestigious Edinburgh Festival ultimately canceled the scheduled performance of a hip-hop opera company based in Jerusalem, The City, after pro-Palestinian groups led a campaign to boycott performers from Israel. It had nothing to do with the content of the performance (not that even concerns over that would necessarily be a solid defense).
American rapper Matisyahu was scheduled to perform at the Rototom Sunsplash reggae festival in the summer of 2015, but the organizers said he could only perform if he denounced Israel and endorsed Palestinian statehood. Rototom announced Matisyahu's performance would be canceled because he did not openly speak "on Zionism and the Israeli-Palestinian conflict to pacify the BDS people," organizers said in a statement, as reported by Rolling Stone. At the time, Matisyahu told Rolling Stone:
I support peace and compassion for all people... My music speaks for itself, and I do not insert politics into my music. Music has the power to transcend the intellect, ideas and politics, and it can unite people in the process. The festival kept insisting that I clarify my personal views, which felt like clear pressure to agree with the BDS political agenda. Honestly it was appalling and offensive, that as the one publicly Jewish-American artist scheduled for the festival, they were trying to coerce me into political statements.
After facing a wave of backlash, Rototom ultimately invited Matisyahu back to perform.
The boycott tactics can go both ways, with many proponents of BDS encouraging non-Israeli artists to not perform in Israel. For example, in 2013, Rihanna faced pressure from BDS groups not to hold a concert in Tel Aviv, and earlier that same year, Alicia Keys faced pressure to cancel her concert in Israel. Neither artist, ultimately, did.
It is worth noting that the Wonder Woman boycott has not been universally well-received in Lebanon. In fact, Lebanese blogger Elie Fares denounced the ban against a "movie that has absolutely nothing to do with Israel in any way, where Israel is not even mentioned or alluded to, and in which the lead actress does nothing to even propagate the idea of her homeland."
Comments like the above make me hopeful because criticism reflects room for change — and there are other reasons for optimism.
After all, Lebanon's ban on Wonder Woman is not this superhero's first. As Jill Lepore, author of The Secret History of Wonder Woman, noted in an article for the New Yorker, the comics featuring the superhero were "banned, on account of indecency" within a year of their publication. Perhaps, it won't be long before people recognize that the Lebanon ban is just as unfounded as the initial attack on the Wonder Woman comics.
In 2017, Wonder Woman may prove to be a much needed catalyst for change. I believe the ban will force a discussion about boycott tactics against Israel and Israelis and expose significant problems with this approach. Conversations that should have occurred years ago may actually happen because one of the biggest movies of the summer is now the target — and that is, indeed, a wonder.