10 Best Jeans For Short Women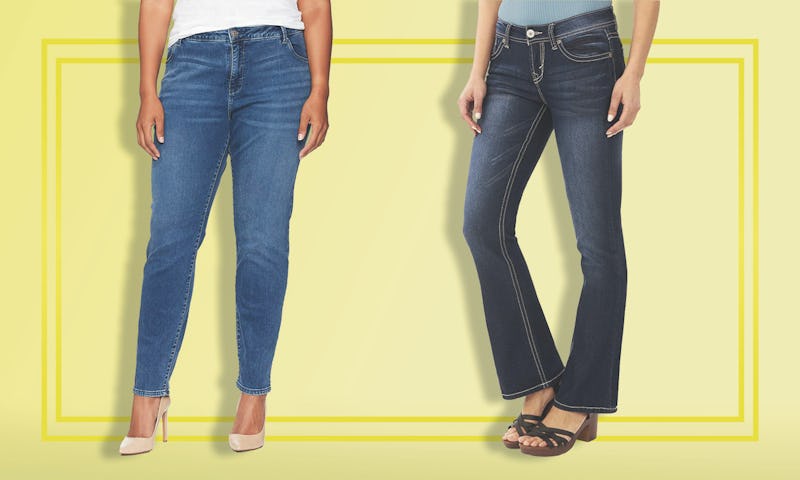 Amazon/Bustle
I'm 4 foot 11, which makes shopping for jeans a significant challenge. In the past, I've either had to budget for expensive alterations or simply accept the bunched, excess fabric at my ankle — but since the rise of the internet, the best jeans for short women are infinitely easier to find and purchase. Popular online retailers now offer a much wider selection of lengths and sizes, which is an exciting development for especially petite (or tall) people.
Please note that this is not a "which jeans will suit my body-type?" article. Style is subjective, and you should opt for whichever cut and rise you prefer, regardless of your height. For that reason, I'll be focusing primarily on inseam when outlining the best jeans for petite women; whether you prefer skinny high-waisted, a boyfriend cut, or a classic fit, length is the primary quality that makes a jean ideal for short women.
The inseam is the distance between the crotch of the pants down to the hem, and will determine how far the legs reach. (If you're not sure of your inseam, grab a tape measure and find out before you start shopping.) For women who are 5 feet 3 inches or under, a "petite" inseam is considered anywhere from 25 to 28 inches. Of course, the length will differ depending on the style; boyfriend jeans and capris will be closer to 23 inches, while bootcut and flare can be as long as 30 and still be considered "short."
If you're unsure where to find the best jeans for short women, I've researched 10 options in all different styles — and all of them have shorter inseams, so you don't have to tuck, roll, or alter.