10 Foods You Should Try This Summer That Will Help You Survive The Heat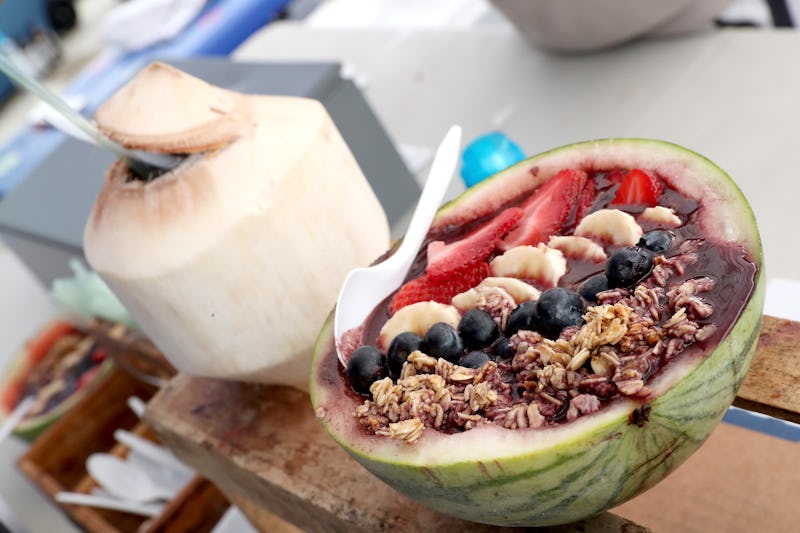 Cindy Ord/Getty Images Entertainment/Getty Images
You already know that drinking a lot of water is key to getting through the summerheatwave. However, if you're like me, chugging water can feel like a chore. The good news is, though, that there are a myriad of foods that are mostly water, and eating them in addition to drinking water can help you stay hydrated during the summer heatwave. The human body is 60 percent water, and extreme temperatures can cause excessive sweating. During a heatwave you can easily lose water faster than you can replace it, which can lead to dehydration.
"Hot, humid weather increases the amount you sweat and the amount of fluid you lose," the Mayo Clinic noted on its website. "When it's hot and humid, your risk of dehydration and heat illness increases. That's because when the air is humid, sweat can't evaporate and cool you as quickly as it normally does, and this can lead to an increased body temperature and the need for more fluids."
If you just can't seem to drink enough water no matter how hard you try, foods like fruits and vegetables are high in water content, and it's a good idea to add a few more to your diet during hot weather because you can actually get more than 20 percent of the water you need by eating versus drinking water. You can also put the hydrating foods into a smoothie so you can start your day full of H2O. Here's what you need to add to your shopping list.