This Highlighter Formula Will Be Huge In 2017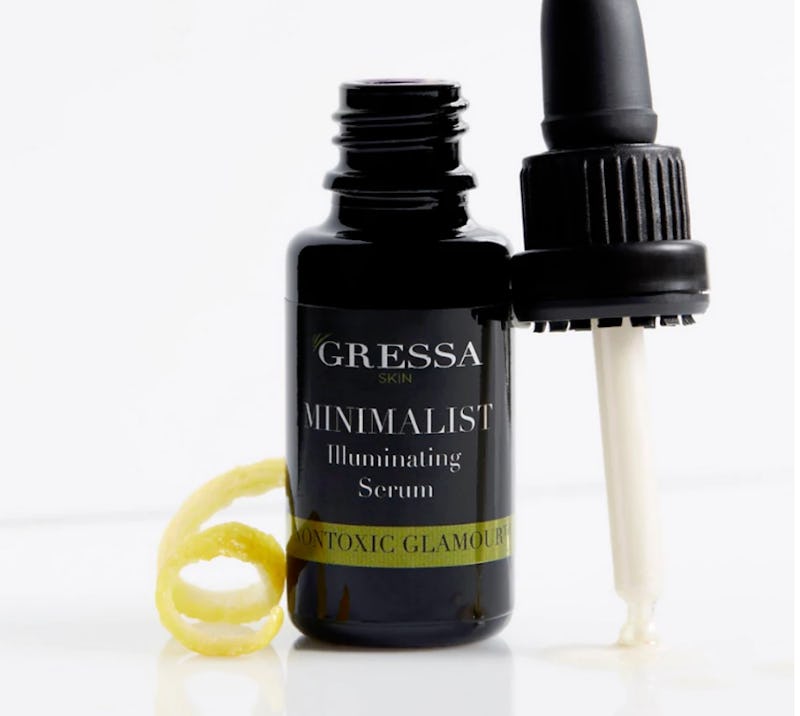 Hitting right at the intersect of skincare and makeup, serum highlighters are the jam of anyone who likes one thing that does many things, or at least tries. There's no arguing that highlighters, by themselves, are excellent, with their shine and glitz and glow. Love it, but there's also no denying they can be a little one note. Highlight serums, then, are a one-up that answers every skin need. On top of the extra abilities, most highlight serums also come with some feel-good skin action items — they're like an X-Men movie in a bottle, basically.
All the cheekbone gleam, with the added bonus of mixing into anything, so the benefits you're here for go all over. And fear not: it won't look like you dunked your face in highlighter, these guys are subtle (or at least buildable). Maya Chia's is infused with nutrient-rich botanicals like their namesake, antioxidant-packed chia seed oil; Perricone MD's carries everyone's favorite Vitamin C ester for anti-inflammatory benefits; Cover FX's can blind anyone who gets on your bad side (I'm joking, but tread carefully — it's very metallic).
It's a pick-your-poison situation, gone light bright — choose one based on your skin sitch, and apply all over to reap the benefits. Glow while you do it, because you can.
Algenist REVEAL Concentrated Luminizing Drops, $38, Sephora
Smother your face in this one. Applied to high points, Algenist's Luminizing Drops are an excellent highlighter — concentrated if you'd like, but also fluid enough to pat on for a natural-looking glow. Pat, pat, you've got highlighter all over and it looks good. Coming from a skincare brand, you know they also mean business. Add it to your moisturizer to cash in on the Algacorrecting Complex, which targets uneven skin tone.
Maya Chia The Highlight Of The Day Illuminating Face Serum, $42, Maya Chia
This little guy's getting tons of buzz, thanks to its chia seed oil and broccoli formula. Chia seed oil is uber high in omega-3 fatty acids and antioxidants, both things we should be putting on our faces more than we probably already do. This illuminating serum is an easy way to get there, with an instant gratification glow (in two colors) to reward the longview action.
COVER FX Custom Enhancer Drops, $42, Sephora
On the flip side, Cover FX's highlighting drops don't do a ton on the extra benefits side, but it is a product made for customizing what you already own. If that includes a boring, but beneficial moisturizer, turn it into a showhorse you've gotta use daily.
3 Concept Eyes Face Glow, $28, oo 35 mm
Same goes for this all over-glower, but for sunscreen. The brand also recommends it for use as a foundation mixer, eyeshadow base, and body cream mix-in — all the better to mix into your SPF.
Le Blanc De Chanel Multi-Use Illuminating Base, $48, Nordstrom
Chanel's illuminating fluid is billed as a "multitasking oil-free fluid that primes the skin perfectly for makeup... It features a unique blend of powders to reduce the appearance of wrinkles and fine lines," which is cool in itself — always a sucker for powders in liquid form, that witchcraft. Walking the walk to their talk are Witch Hazel and Licorice Extract, well known for their anti-inflammatory and brightening powers.
The Estée Edit Radiance Activator Treat + Prep + Glow, $55, Sephora
All of the things! Literally, this "Radiance Activator" has very many things in it, from hyaluronic acid, to vitamin E, concentrated plant extracts, and "mirror prism illuminators." It's like a primer that does more with a low-key, casual glow. Or sandwich it as a highlighter over foundation.
Holika Holika Aqua Petit Jelly Starter, $19, Amazon
This jelly-ish liquid is potentially the most fun texture, and it's filled with 80 percent Aqua Mint Water, made from various fruits extracts and Alaskan glacial water. Keeping skin luminous, moist and hydrated, a few dabs of the frosty pink jelly are all you need.
Perricone MD No Highlighter Highlighter, $35, Sephora
Perricone MD's color treatment serum has been around for a minute, but is definitely no less beloved for it (read: it's currently sold out at Sephora). That could be because of the product's anti-inflammatory technology and vitamin C ester, or the subtle, luminous glow it gives skin all over. Probably both.
Gressa Minimalist Illuminating Serum, $50, Amazon
Gressa's Illuminating Serum is a close relative to the Maya Chia, with its uber light texture and shimmering finish. It's also certified vegan, with a proprietary complex that blends botanical extracts with illuminating minerals.
Josie Maran Argan Enlightenment Illuminizer, $26, Sephora
This champagne fluid's formula is packed with argan oil, in the Josie Maran way. On top of the moisturizing oil, it features madonna lily and poet's narcissus to brighten and even, meaning the good vibes will continue even after the highlight wears off.
The glow isn't slowing down in 2017, it's just getting more versatile.
Images: Courtesy of Brands