10 Halloween Costumes That Are Literally Just Puns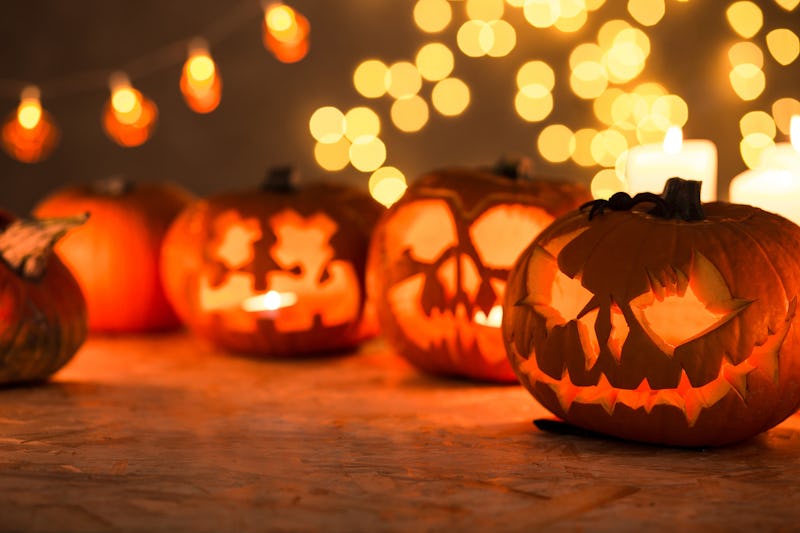 Photographee.eu/Fotolia
Though it's always hard to say goodbye to summer, the promise of pumpkin spice-flavored everything and cozy sweater weather gives us something to look forward to each fall. Even more importantly, though, the spooky season is almost upon us. That's right, grocery stores have already started lining aisle shelves with candy corn and giant bags of chocolate, which simultaneously feels like a personal attack (wasn't it just summer yesterday?) and inspiring (wait, what Halloween costume should I wear?).
While you may be looking forward to refreshing your fall wardrobe, it is truly never too early to start planning your Halloween costume. October 31st has a habit of creeping up faster than you think, and this year, why not floor your friends with a killer pun-inspired costume? It's no secret that puns are basically one of the most polarizing concepts out there — you either groan whenever you hear one or grin from ear to ear. But I'm a firm believer that puns have unfairly bad reputations. After all, what other kind of costume lets you flex your creative muscles while also making your friends laugh (or cringe) out loud? Ahead, you'll find 10 clever costume ideas to bring out your inner pun-enthusiast.
Party Animal
ASOS DESIGN Curve deep bardot mini skater dress, $35.00, ASOS;
Missguided plunge kimono sleeve jumpsuit, $40.00, ASOS;
SeasonsTrading Bear Ears & Bow Tie Costume Set, $4.88, Amazon;
Mudder Cat Ear Headband, $6.89, Amazon
This is an easy one to do in a group, especially if you're feeling a little lazy. Grab your jazziest party outfit (maybe a sparkly dress or your favourite jumpsuit), an animal-ears headband, and draw on some animal-inspired make-up based on your creature of choice.
Holy Cow!
Nothing But Love Adult Cow Kigurumi Onesie Pajamas, $19.99, Amazon;
White Feather Angel Wing & Halo Set, $20.97, Amazon
We have cows to thank for one of the best things in this life: ice-cream. Celebrate these glorious creatures by emulating this early-2000s catchphrase: pair a comfortable cow onesie with angel wings and a halo.
Queen Bee
HUHOT Women's Long Sleeve Boat Neck Striped Tee Shirts, $16.88, Amazon;
Silver Rhinestone Pointed Tiara, $7.49, Claire's;
Bee Wings with Antenna Costume Set: 2 Pc, $5.99, Amazon
The bumblebee, alongside the sacred last-minute cat costume, is a Halloween classic. Up the ante by adding a crown to your black-and-yellow striped look because, really, any excuse to rock a crown is generally a good idea. You can also stick "Yoncé" on your outfit in gold letters if you want to pay homage to the other Queen B.
Cat Burglar
UO Oversized Striped Rugby Shirt Dress, $59.00, Urban Outfitters;
Black Cat Ear Headband, $1.18, Etsy;
White Cotton standard pillowcases, $7.95, Amazon
Speaking of cats, a cat burglar costume is another easy look to put together. Pair a striped shirt or dress with cat ears and some drawn-on whiskers. Grab an old white pillow case or bag and stick a dollar sign on it to carry around as a money bag (that has the added bonus of doubling as a purse to throw your things in).
Jurassic World
T-Rex Print Nightdress, $12.90, Forever 21;
24x36 World Classic Wall Map Poster Paper Folded, $8.90, Amazon
Do you love movies? Do you also love dinosaurs? Then for this low-key costume, grab a dino-inspired shirt and walk around with a paper atlas.
Dust Bunny
Easter Bunny Set 2pc, $4.99, Party City;
Wool Shop Ostrich Feather Dusters, $13.89, Amazon
Put on some bunny ears and grab your nearest feather duster for a easy dust bunny costume.
Smart Cookie
Graduation Service Unisex Matte Gown Cap Tassel, $22.05, Amazon;
Tate's Bake Shop Chocolate Chip Cookies, $4.99, Target
Dust off your old cap and gown (or buy a new one) and buy your favorite type of cookies to carry around with you. Any costume that doubles as a snack is a win-win.
Spice Girls
Chef Designs Men's Standard Bib Apron, $5.44, Amazon
This is another ideal group costume outfit. Print off a label with your favorite spice and pin it to an apron to give off punny girl power vibes.
Schoolgirl Q
Plus Size Wrap-Front Plaid Skort, $22.90, Forever 21;
Men's Cotton Bucket Hat, $9.95, Amazon
Pair a schoolgirl-inspired plaid skirt with a bucket hat and a marker "Q" tattoo on your cheek to channel the rapper ScHoolboy Q.
Pumpkin Pi
Women's Plus Size Meriwether Crew Neck Short Sleeve T-Shirt, $8.00, Target;
Glitter Pumpkin Headband, $4.99, Party City;
If you simply can't get enough pumpkin spice in your life, draw the pi sign onto an orange t-shirt and grab a pumpkin-themed headband to sport on your head. If you're feeling particularly pumpkin-y (or just hungry), carry around a literal pumpkin pie with your look.
These costumes won't win any awards for subtlety, but that sounds like a bad award anyway. Embrace your most puntastic you this halloween with one of these costumes.