Chelsea Clinton Is Clapping Back At Trump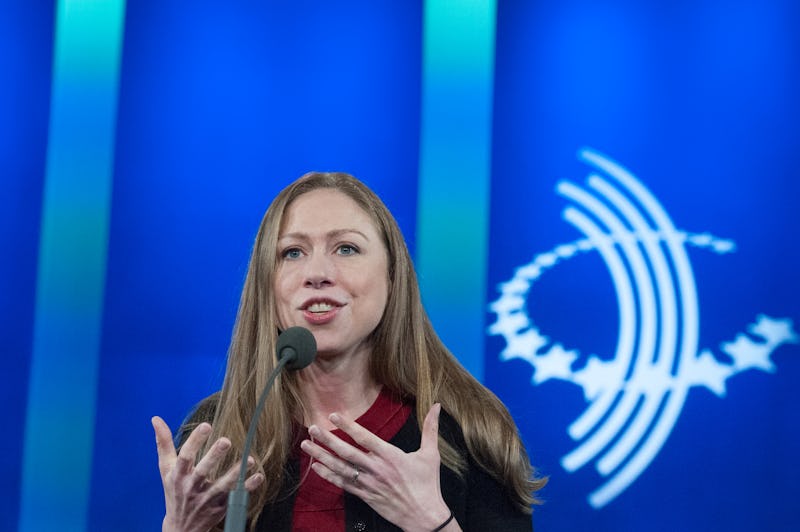 Stephanie Keith/Getty Images News/Getty Images
Following President Donald Trump's electoral victory and assent to the highest position of leadership in our country, many Americans are not happy. They've protested, called their representatives, and spoken out against Trump, doing everything they can to push back at his policies. And there's one person specifically whose denouncements of Trump have been noticeable as of late. Former first daughter Chelsea Clinton is using Twitter to call out Trump.
Clinton's tweets are pointed attacks at the president's executive orders, policies, and the false information he has spread since he stepped into office. The change in reactions is a little surprising for Clinton, who is so often seen as a calm force who gracefully took the campaign trail with her mother Hillary as she ran as the Democratic nominee. But when a president is restricting immigration and refugee resettlement, now is certainly not the time for calm resistance. Being a little angry is allowed, especially for someone who watched her qualified, capable mother lose an election to Trump.
It's interesting that Clinton is using Twitter, Trump's favorite social media site, to launch these mini-aggressions. While Trump tweets about the media treating him unfairly at all hours, Clinton is taking on his actions that she believes are harmful for our country.
1. Truth On Terrorism
Clinton responded to the news that Trump will focus counter-terrorism on Islam by reminding us who has committed recent U.S. attacks.
2. Trump's Black History Month Speech
Trump used an occasion for celebrating black history as an opportunity to complain about his press coverage.
3. Women's March On Washington
Clinton stood in solidarity with those who protested for women's rights at the march.
4. Trump's Relationship With Wall Street
Although Hillary got her fair share of complaints along the campaign trail for her ties to Wall Street, it's Trump who is deregulating the banks.
5. Trump's Immigration Restrictions
Clinton does not support Trump's travel ban and understands that people will suffer because of it.
6. Alternative Facts
Clinton might have entered her first Twitter fight with this one. She called out Trump advisor Kellyanne Conway's Bowling Green Massacre story that she used to talk about Trump's immigration order. While the incident Conway referred to did not happen, Conway felt the need to comment on Clinton's tweet to talk about Hillary's false claim about landing under sniper fire in Bosnia.
7. More On Wall Street
When Slate pointed out the hilariously flimsy excuse that Trump is using to justify his cutting Wall Street regulations, Clinton reminded us that it's a scary reality.
8. Super Bowl Immigration Commercial Commentary
Clinton highlighted a Super Bowl commercial that shared a story of a family's journey to become legal U.S. citizens by building materials supply company 84 Lumber.
9. Effects Of Immigration Ban
Clinton's tweet calls attention to some of the people whose lives are being affected by Trump's immigration order, which includes children.
10. Supporting Dems Resistance Against DeVos
When Sen. Chris Murphy tweeted that he would be speaking at 4 a.m. to oppose Betsy DeVos as Education Secretary as part of a Democrat attempt to delay her Senate vote, Clinton was grateful for his work.
Hopefully this is just the beginning of what we can expect to see from Clinton as Trump's presidency rolls along.