10 Florence Pugh Hair Looks To Reference At Your Next Hairdressers Appointment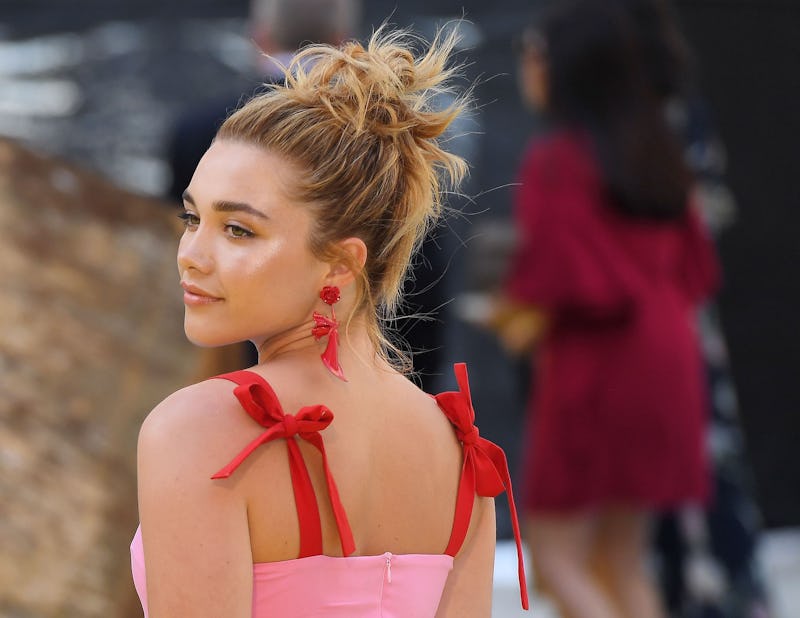 James Gourley/Shutterstock
Florence Pugh is surely a name you'll recognise, and she certainly has a face you'll know. The young actor starred in some of 2019's biggest movies, from horror Midsommar to Greta Gerwig's recent Little Women adaptation. As well as her undeniable acting talent, the star has been noticed for something else recently: her cool style and awesome beauty looks. Many have understandably been most impressed with her endless array of awesome updo hairstyles. Here are some of Florence Pugh's coolest hairstyles to try in 2020 at home, and information about the very clever stylist behind them.
Peter Lux is a celebrity hairstylist who's been known to do the hair of stars such as Millie Bobby Brown, Sienna Miller, and Hailee Steinfeld. He is also the go-to choice for rising star Florence, who seems happy to let the stylist play around with a number of different looks.
The pair appear to enjoy working together most on a good old fashioned up-do; a style Lux explains is suited to Pugh perfectly. "She looks good with her hair being up and off her face," he told Into The Gloss recently.
There are no shortage of options for Pugh, who has been spotted with hair accessories, twisted 'dos, and plaited styles throughout the press tour for Little Women. I've chosen some of the very best styles, all of which shouldn't be too hard to recreate at home in 2020.
Now if I could just steal Florence's epic statement brows, all will be right in the world...