10 Transgender & Nonbinary People On What It's Like To Date A Cis Partner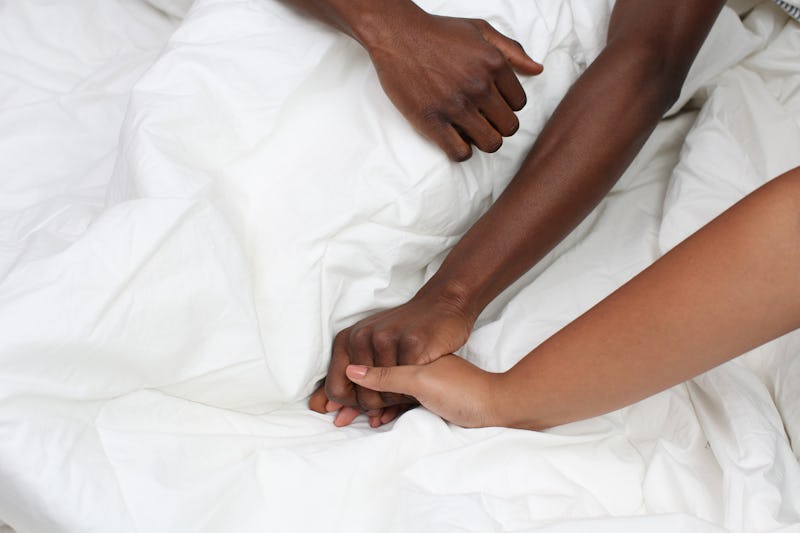 Ashley Batz/Bustle
I am 24 years old, yet I am still relatively new to the world of dating. It was just last October when I went on the first date I've ever been on. We met on a dating app, and we went out for ice cream. Before dropping me off at my house, we ended the date with a kiss — then I never heard from him again. Another date I went on ended abruptly when I brought up my gender identity: My date had not read my dating profile, where I clearly state that I'm transgender, and soon the invasive questions began. My pattern with dating cisgender men has led to experiences so similar to these in fact, that I have their excuses memorized like a skit for an open casting call.
Disclosing your trans status to a potential cisgender partner can be difficult or even dangerous, but the creation of dating apps are making it safer for more and more transgender and nonbinary people to put their identities in their profiles, eliminating potentially transphobic matches. Although this is helpful, it doesn't mean that it's still easy dating in my community.
Despite my experiences dating, I refuse to be discouraged. I asked 10 transgender and nonbinary individuals about their experiences with dating cis partners, and their stories show that even though dating someone who doesn't share your relationship with gender can be tricky, it's well worth it — as soon as you find your person.