This Swedish Crime Series Will Take You On A Race To Catch A Globetrotting Killer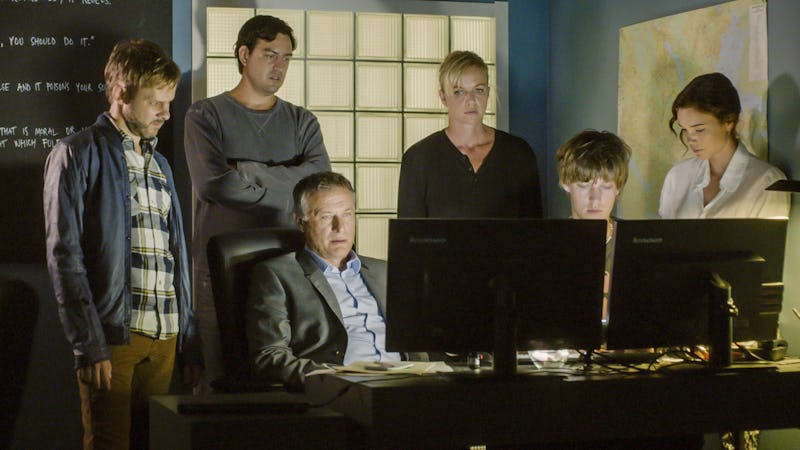 WGN America/100 Code
What happens when the hunt for a killer goes international? The WGN thriller 100 Code, premiering on May 29, will answer this question as it follows the race to catch a serial killer. The Lord of the Rings alum Dominic Monaghan stars as NYPD detective Tommy Conley, whose pursuit of a serial killer targeting young, blonde, and blue-eyed women leads him to Stockholm. Conley believes that similar crimes happening in Sweden are related to his investigation and he is ready to take charge, but Swedish investigator Mikael Eklund (Michael Nyqvist) is standing in his way. Eklund is an older detective who is focused on wrapping up his career and he's not convinced that the New York and Sweden murders are connected in any way. The pair despise each other and have several cultural clashes, until they realize the complicated case spans past their territories. Fortunately, 100 Code is not based on a true story, but the plot may seem familiar to some.
That's because, according to Deadline, 100 Code was a "cost-effective" acquisition by WGN; the series originally aired in Germany in 2015. The show only ran for 12 episodes in its original run, so fans can expect that the chase will come to an end by the finale. Nyqvist passed away from lung cancer in 2017, according to The Hollywood Reporter, but Monaghan is excited to see 100 Code make its American debut. He warned his Twitter followers that 100 Code is dark and sexy "like a rich hot chocolate." The tweet also featured a now-defunct link to a cover of Britney Spears' "Oops I Did It Again," which appears in some of the show's trailers.
Speaking with SideWalks TV about bringing the 100 Code to WGN, the actor said that Detective Conley's personality is a stark contrast to his own, but that's why he was drawn to the role. "He's quite a dark character," Monaghan said. "There's things about it that are enjoyable. I'm quite a happy person so playing someone quite dark was a challenge and I enjoy a challenge. But, it was certainly very different from the person who I naturally am. He gets to do stuff that is always fun for an actor – get in fights, get in gun fights, beat up people, jump in the ocean, and all that kind of stuff." The actor said that he also enjoyed meeting new people and trying different foods while living in Sweden during filming.
WGN released a detailed 100 Code sneak peek featuring clips from the series alongside commentary from creator/director Bobby Moresco and executive producer Henrik Bastin. Viewers get more insight into the crimes committed thanks to several scenes that detail how the killer's victims are all found strangled to death near water. Conley and Eklund's contentious partnership is also evident as they argue over withheld information. Eklund deals with a complicated relationship with his daughter Hanna (Felice Jankell), who may be in danger after confronting a man who was following her. Bastin promises in the video that 100 Code will keep viewers on the edge of their seats. "It's extremely well-acted with a fantastic script and it looks and feels every part as big as any show, but also [has] a flair of something new," he said.
In the same sneak peek, Moresco says the show is a dark, character-driven, and complicated puzzle that will continue to shift until the last episode. The buzz has caught the attention of a few fans on Twitter who are looking forward to seeing this Criminal Minds-esque plot with a Swedish twist finally come to their screens. According to the 100 Code's Twitter page, they will get to live-tweet along with Monaghan using the hashtag #100CodeWGN for the series premiere.
100 Code may not be based on an actual story, but the themes of not-so-buddy cops and heinous crimes are a real staple in American TV culture. And while there won't be any more of the series where this season came from, mystery fans may still want to set their DVRs.