11 Beauty Products Meghan Markle Has Actually Recommended So You Can Sparkle Like Markle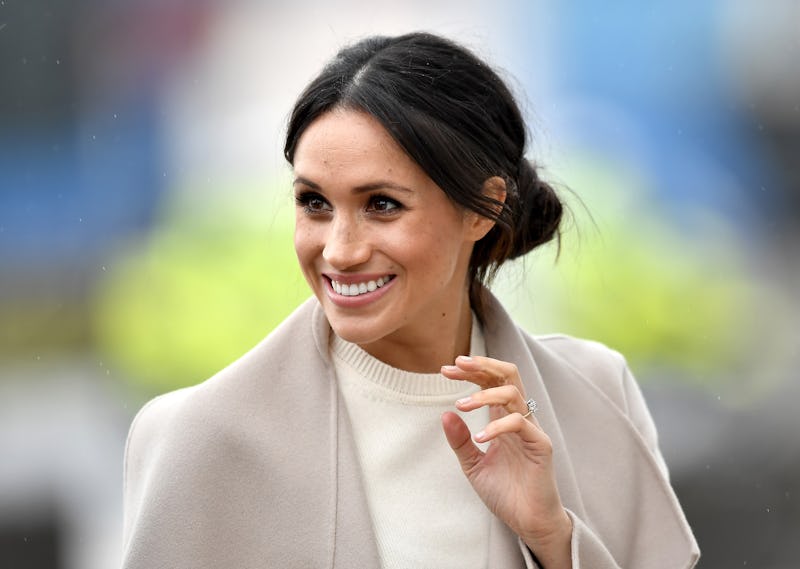 Charles McQuillan/Getty Images Entertainment/Getty Images
The Meghan Markle Effect is real, and it's not just about her fashion. While everything she wears flies off the virtual shelves, people are dying to know all about her beauty routine as well. Unlike other royals, some of Meghan Markle's favorite beauty items are already floating around, thanks to her past professions. If you want to sparkle like Markle, there are beauty items at all price points for you to try.
All eyes have been on the royals since, well, the very beginning, but something changed when Markle joined to royal bunch. The soon-to-be-Duchess was previous a founder of the now defunct lifestyle website The Tig, which talked all about beauty, fashion, and food. That coupled with her time on the screen in Suits makes her pretty well-versed in the beauty world.
While she's had to delete her social media and no longer runs the blog, her look hasn't changed very much. There's a good chance that all the products that she reportedly loved before her time in the royal spotlight are still some of her favorites.
At first glance, it doesn't look like Markle wears a whole lot of makeup. There is apparently a lot that goes into a royal look.
The best part about Markle's favorites is that the products are at all price points. From drugstore finds to well-known high-end items, there's a mix of pretty much everything on Markle's list. If you're looking to feel a little royal, these are the products to try.
1. Tea Tree Oil
"The one thing that I cannot live without when I'm traveling is a small container of tea tree oil," Markle said in an Allure interview. "It's not the most glamorous thing, but if you get a cut, a mosquito bite, a small breakout, no matter what it is, it's my little cure-all. It's inexpensive, it's small enough to carry on, and I bring it with me all the time."
2. Laura Mercier's Illuminating Moisturizer
"I don't wear foundation unless I'm filming so this is what I put on everyday after moisturizer to give my skin a dewy glow," Markle told Beauty Banter in 2016. "It's not sparkly, it's true to its name ... 'illuminating."
3. NARS Orgasm Blush
"I love NARS blush in Orgasm. I use it on and off camera because it gives you a nice glow from within," Markle told Allure in December 2017.
4. Shu Uemura Eyelash Curler
"The one product that I would never be able to live without would be a Shu Uemura eyelash curler," she says in the BirchBox video. "Even if you don't have a stitch of makeup on, if you're eyelashes are like that (motions to curled lashes), you suddenly look a bit more alive."
5. Fresh Sugar Lip Treatment
"I have searched high and low and tried every kind of lip balm but this is the very best. Soft, kissable, buttery lips. I swear by it," she told Beauty Banter.
6. Eco-Friendly Brands
According to her former hairstylist and makeup artist, Lydia F. Sellers' interview with Refinery29, Markle loves eco-friendly brands RMS Beauty and Tatcha.
7. Nivea Skin Firming Hydration Body Lotion
"I use this religiously," she told Beauty Banter. "It's honestly my favorite lotion on the market. It's so affordable, and makes my skin look and feel amazing. I would buy a case of this at a time if I could find it."
8. Biore Cleansing Cloths
When Beauty Banter asked her which beauty product she buys in bulk, she replied with, "Biore Cleansing Cloths for the face. They're great to keep in the car and on your nightstand when you have those horribly lazy nights that the thought of getting up to actually wash your face seems unbearable."
9. Charlotte Tilbury Matte Revolution Lipstick in Very Victoria
According to Hello! Magazine, Markle's favorite lipstick is Charlotte Tilbury's Matte Revolution lipstick in Very Victoria.
10. MAC Eye Kohl in Teddy
"If I'm going to amp it up for night, then I use MAC Teddy eyeliner, which is a really beautiful brown that has some gold in it," Markle told Allure in the December 2017 interview. "A makeup artist I work with often, Kayleen McAdams, turned me on to it."
11. Jo Malone Wood Sage & Sea Salt Cologne
According to Hello! Magazin, Jo Malone Wood Sage & Sea Salt Cologne is one of Markle's favorite perfumes.
There's a good chance that you might even have some of these products already hiding in your makeup bag. If not, there's no better excuse to shop.