Nine Brutally Honest Sign Ideas For The March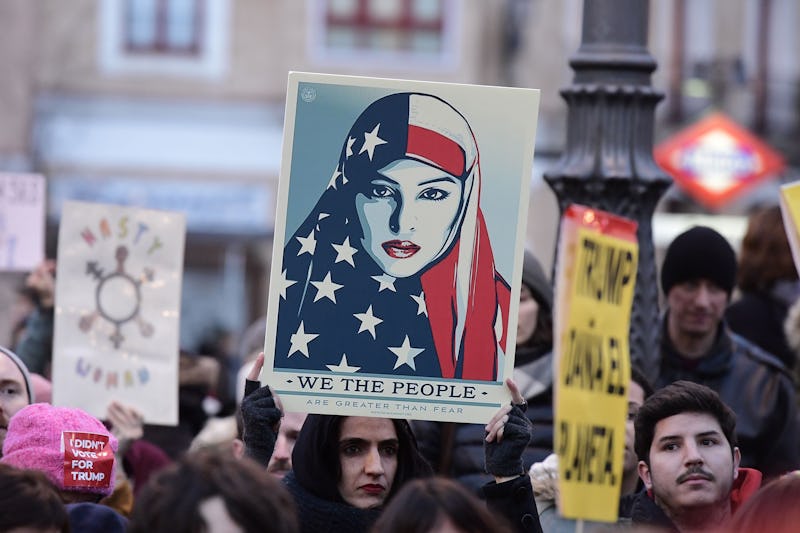 JAVIER SORIANO/AFP/Getty Images
I am a firm believer in turning pain into action, and for all of us who are watching the national travesty of Donald Trump getting sworn in as the next president of the United States on Friday, there's the potential for a lot of action. Many are planning on expressing their outrage at Saturday's Women's March on Washington, and just in case your emotional outlet happens to be through uprising arts-and-crafts, we have here 11 inspiring and brutally honest sign ideas!
A well-crafted protest sign is more than just simply writing a catchy rhyme on poster board — you want something that will stick in people's minds, make them think, and inspire them to keep fighting for what they believe in. If you can also get them to chuckle wryly while you're at it, so much the better.
To that end, here are ideas for protest signs that you can make for the Women's March, whether you're attending in Washington or at one of the sister marches taking place around the country and around the world. And whether you get wild with the puffy paint and glitter, or just have one of those giant-ass Sharpies, let your voice be heard!
You Should Express Your Anger
And There's Plenty To Be Mad About
Anger Plus Hope Is Even Better
More Importantly, You Can Draw The Battle Lines
And Let People Know Where You Stand
If You Need To, Feel Free To Get A Dig Or Two In There
The Best Digs Are Ones That Have A Political Purpose At Their Core
But Make Sure You Remember What's Really Important
So, get marching. It's time. Let's do this.