People Are Getting Real Creative With Snowmageddon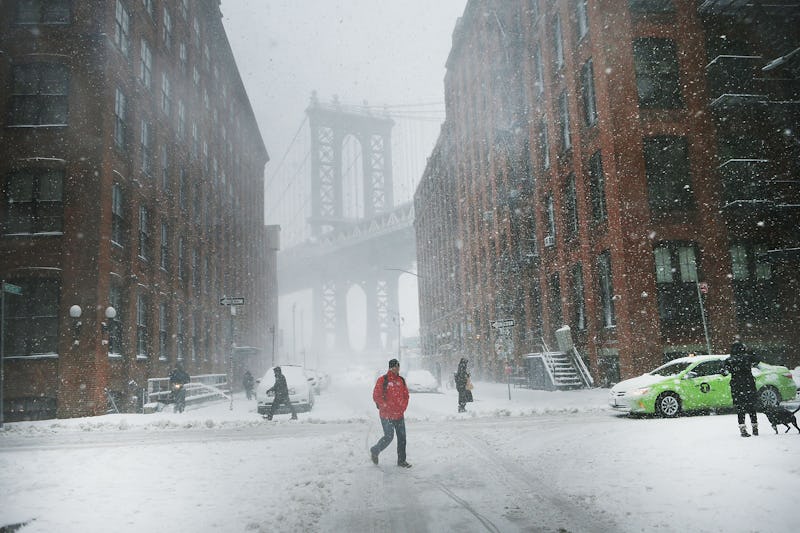 Spencer Platt/Getty Images News/Getty Images
After making its mark on the Midwest on Monday, Winter Storm Stella is now bearing down on the Northeast, where it is expected to blanket the entire corridor from New York City to Boston with up to two feet of snow. As Stella arrives, people have created "snowmageddon" 2017 memes and tweets to entertain others as they wait out the storm, hopefully from the comfort of their own homes.
Winter Storm Stella is expected to absolutely wallop the Northeast. Portions of eight states are under blizzard warnings and much of the rest of the region is under a winter storm warning. Many states have also declared snow emergencies, citing transportation, logistical, and safety issues associated with the storm.
While Stella is certainly a very serious storm, social media users are also attune to its more amusing aspects. Resultantly, they have taken to Twitter to share funny commentary on everything from grocery store chaos to meteorological predictions and much more. Thus, without further ado, take a minute to enjoy some "snowmageddon" memes and tweets as Stella makes her mark on the U.S. ‌
1. Meterological Kickbacks?
This Twitter user facetiously speculates about a meteorologist-grocery store complex, in light of the fact that groceries stores frequently sell out of food anytime a large storm is predicted.
2. A Prediction Guaranteed To Be Right
This Twitter user mocks the wide array of snow accumulation predictions for Winter Storm Stella, suggesting that meteorologists can always safely say their predictions were right if they use a large enough range.
3. Terrifying Supermarkets
This Twitter user characterizes the nature of the mad rush to acquire groceries ahead of an impending snow storm.
4. All The Milk And Bread
This Twitter user is amused by notable and amusing propensity of East Coasters to clear the shelves of milk and bread ahead of a snow storm.
5. The Snowplow Gets The Last Laugh
This Twitter user shares a clip of a poor newscaster experiencing first-hand the effectiveness of snowplows.
6. Wine Forecast
This Twitter user shares a (quite helpful!) wine forecast explaining how many bottles to buy based on where in the storm's path you are located.
7. RIP Pi Day
This high school in Harrisburg, Pennsylvania shares the news that while classes on Pi Day (aka the favorite "holiday" of many math teachers) may be cancelled, the celebration will live on in spirit.
8. In Case Of Emergency, Use The Microwave
Referring to Presidential Counselor Kellyanne Conway's recent assertion that microwaves can "turn into [spy] cameras," this Twitter user suggests that if he runs low on supplies he will use the microwave's "newfound capabilites" to call for help.
9. How Many Inches!?
This Twitter user implements a Tyra Banks meme to aptly capture the likely reaction of many when they learned just how much snow was set to blanket the Northeast on Tuesday.
10. You Never Know When You'll Need Broccoli
Writer Christoper Mimms is amused by people's penchant for stockpiling seemingly unnecessary items—like organic broccoli— ahead of an approaching snow storm.
11. Treasure Hunt
This Twitter user comes up with a very creative way to reward yourself whilst shoveling snow.
Whether you are waiting out Winter Storm Stella or following news of the storm from afar, hopefully these memes and tweets added a little levity to your day, especially in the shadow of such an ominous storm.