If You Want The Easiest Halloween Costume, These Cat Looks Will Do The Trick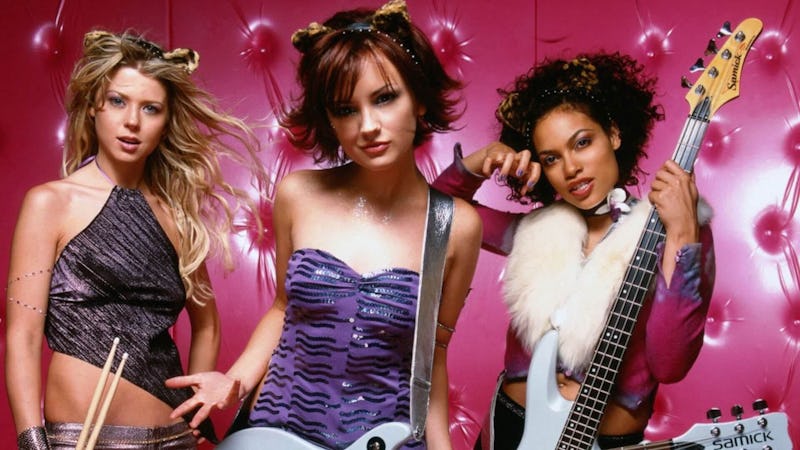 Universal Pictures
When brainstorming your Halloween costume, things can get a little too complicated on the quest for creativity. And so I pose the question, what's wrong with keeping things simple and original? The answer is nothing and lucky for you there are so many avenues for achieving easy cat costumes for Halloween 2017. This is great news considering that the cat is a classic go-to Halloween idea.
Our furry feline friends, as we know from their abundant internet fame, have quite the personality. That's what make cats so lovable. While some are curious and will leap from sofa to wall to tackle a laser beam, others just want to lazy in a sunny spotlight for the entire afternoon. I, for one, would love nothing more than to throw on a sweatshirt, paint on a few whiskers with my liquid eyeliner, tie two buns on top of my head and head out to eat candy with friends this Halloween. In fact, I just might.
And if you feel like you've dressed as a cat one too many times in your Halloween party attending days, I assure you that there is no such things as ~too many~ times. Because maybe you haven't thought to dress up as a different kind of cat! These are easy to achieve costume ideas that are so cute they might just sway a dog person to the cat side.
The Cool, Hipster Cat
Cat Print Sweatshirt, $14, Shein | Black Velvet Front High Waisted Leggings, $50, River Island | Oversize Metal Cat Eye Glasses With Slim Arms, $14, Sunglass.la | VP Leather Mila Handmade Choker, $17, Amazon | Lace Up Wingtip Ankle Boots, $39, Zaful | Line Art Matte Eyeliner, $9, LA Girl
You know the kind of cat who doesn't pay any mind to the laser beam. The kind of cat who doesn't need your love or attention because they're just fine meow-ndering on their own time. This cool cat is so cool we identify certain kind of people by that term. Turns out, even if you don't consider yourself a "cool cat", it's pretty simple to dress up like one. Bonus points: it also looks really comfortable.
The Sassy, Tabby Cat
Kerry Rib Crop T-shirt, $5, BooHoo | Mustard Satin Wide Leg Trousers, $45, Pretty Little Thing | Halloween Bell Cat Ears Headband, $10, Kohls | Leopard Faux Fur Choker Necklace Set, $15, Kohls | Long Last Liquid Eyeliner, $30, Revolve | Yellow Velvet Block Heel Ankle Boots, $40, New Look
Typically when you see cat costumes designed for Halloween it's usually a black cat. The cat that'll cast bad luck upon you if it crosses your path. But unlucky cats shouldn't be the only felines at the party. Take a tabby cat for example, they're gold and fabulous and very fun to dress up as. Strut into your next Halloween party as a sassy cat, complete with golden cat wing eye liner. Meow.
The Magic Cat
Ribbed Choker Neck Jumper, $29, M&Co | Mia Leather Look Star A-Line Skirt, $13, BooHoo | Wherefore Art Though Ro-Meow Tights, $15, ModCloth | Black Glitter Cat Ears Headband, $8, Claire's | Basic Chelsea Boots, $69, Charles & Keith
Every witch has to have a cat by her side. If you're opting not to go with witch this year, consider going as her furry sidekick. Adding sparkles and symbols to the ensemble is an excellent way to get the point across that you're not a normal cat, you're an extraordinary cat.
The Lazy Cat
Slogan Print Cat Ear Hoodie, $16, Shein | Drawstring Casual Jogger Pant, $23, Zaful | Furry Slip Ons, $29, Charles & Keith | Faux Fur Cat Ear Cross Body Bag, $19, Charlotte Russe | Valfre Bruno 3D iPhone Case, $38, Azalea
Sign me up for this costume. Slip into some furry slippers, tuck yourself into a sweatshirt with cat ears and get to trick-or-treating. This costume is so easy to put together and so comfortable to lounge around in you'll probably be spending the rest of October looking for a spell that'll turn you into a lazy house cat. Soaking up the sun all day looks like it has its benefits.
The Princess Cat
We all know who rules the animal kingdom. The lion may be King of the Jungle, but the house cat is queen of the universe. Yes, everything revolves around the whiskered ruler and it's quite obvious when it purrs or hisses. A cats wish is our command. So this Halloween, why not be a feline queen and get all the loving attention that you deserve? Slip into a dress and accessorize with cat eyed glasses and furry wedges. Just don't forget to the leave the house without your tiara.
Isobel Crushed Velvet Wrap Bodycon Dress, $14, BooHoo | Strawberry Paxton Furry Slides, $35, Dolls Kill | Metal Frame Pink Cat Eye Sunglasses, $12, Shein | Embellished Tiara Headband, $6, Charlotte Russe | LC Lauren Conrad Cat Pendant Necklace, $10, Kohl's | Banned Light Pink Leatherette Wide Eye Cat Face Shoulder Bag, $35, Unique Vintage
The Barn Cat
Blue Acid Wash Distressed Overalls, $31, Maykool | Miss Selfridge Black Turtleneck Crop Top, $22, Miss Selfridge | Urban Classic Flannel Shirt, $33, Fruugo | Top Moda Clayton Chunky Heel Bootie, $25, Nordstrom Rack | Fuzzy Cat Ear Headband, $6, Forever 21 | Matte Black Stiletto French Manicure False Nails, $8, Claire's
Being a barn cat sounds pretty idyllic. Snoozing with horses and rolling in hay, frolicking in fields and lazying around the pig pens. A country cat could be the most fun you have out on the town. Dressing up as one is as simple as sliding into your overalls or favorite blue jeans and wrapping a flannel around your waist. It's the cat tip nails and adorable cat ear headband that will pull it all together for anybody who might think you're dressed as a farmer.
The Last Minute Cat
TopShop Moto Bow Front Denim Jumpsuit, $40, TopShop | Quilted Faux Leather Biker Jacket, $95, TopShop | Cat Shape Solid Color Tote Bag, $23, Zaful | Retro Mod Super Trendy Cat Eye Sunglasses, $14, PopMap
Let's say you have to leave the house in t-minutes 10 minutes and still aren't sure what to do. Grab your sweetest jumpsuit, toss on your coolest motorcycle jacket and grab your cat eye glasses. Thankfully someone at the party will have some face paint to draw on whiskers and a nose for you.
The Cat-Woman
Black Corset Jumpsuit, $90, Miss Selfridge | Karl Lagerfeld Knit Hat, $85, StyleBop | Black Cat Flats, $60, The Pyramid Collection | Gold and Hematite Cat Stud Earrings, $32, Zappos
When you want to transform into a cat from head to toe you can. Slip into an all black jumpsuit and decorate the rest of you with cat jewelry and foot wear!
The Aristocat
Cats can be very high class. If you want to doll yourself up to the likes of a gorgeous Maine Coon cat, wrap a faux fur collar around you and strut out of your house with your nose high in the hair. Of course the velvet dress and heel get up are perfectly chic textures any furry friend would approve of. Don't forget your cat eyeliner!
Embroidered Velvet Wrap Dress, $75, TopShop | Natural Faux Fur Stole, $44, Miss Selfridge | Jayla Pump, $40, Just Fab | LC Lauren Conrad Faux-Fur Kitty Earmuffs, $32, Kohls | Bobbi Brown Long Wear Gel Eyeliner Steel Look, $27, Harpers Bazaar
The Cat Lady
You don't have to dress as an actual cat to don a cat costume. In fact, all you really need to be is cat obsessed. This is surely easy to do! Gather all the cat themed objects from your wardrobe and wear them all at once. Show off your cat person pride!
Cat Knitted Jumper, $58, Miss Selfridge | Cat Drawstring Pant, $3, Romwe; Lovesick Pink Rose Cat Ears Headband, $9, Hot Topic | Super Cat Eye Glasses, $10, Amazon | Grey Cat Embroidery Ballet Flats, $32.99, With Chic | Enchanted Forest Cat Stud Earrings, $25, Zappos
The Black Cat
There's nothing quite like the black cat when Halloween rolls around. It's this cat's time to shine in the moonlight or glow of the Jack-O-Lantern. It's pretty simple to do too. All you need is all black everything. You'll definitely be the cat's meow and anybody who crosses your path should consider themselves lucky.
Choker Lace Detail Skater Dress, $16, BooHoo | Halloween Glow in the Dark Cat Tights, $16, ASOS | Lace Cat Ear Headband, $50, Far Fetch | Despina Pump, $40, JustFab | Barry M Matte Lip Paint Black, $8, ASOS