11 Easy Couples Halloween Costume Ideas That You Still Have Time To Put Together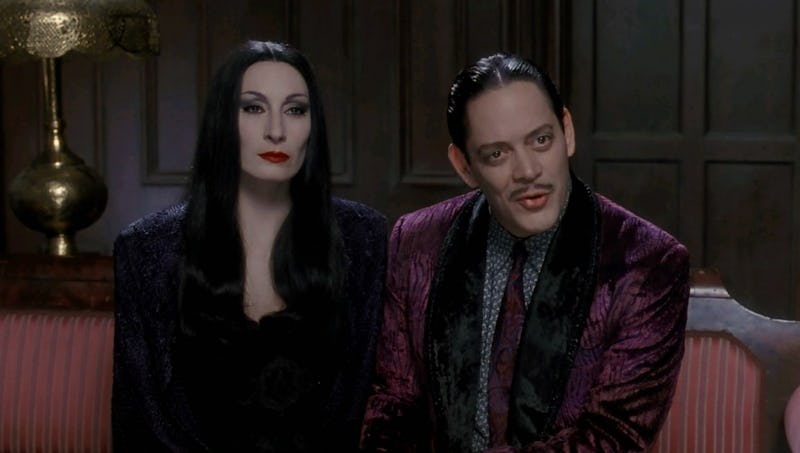 Paramount Pictures
The heat has broken, the leaves have started to turn, and Halloween is but a few skips around the corner. And, if your summer fling is still going strong, you might be in the market for a great Halloween costume to pull off together. If that's the case, check out these easy couples costumes for maximum cuteness and minimum effort.
Though Halloween didn't take off commercially in the U.S. until the '50s, the practice of dressing up for Halloween has some seriously ancient roots. What we currently celebrate on Oct. 31 is a blend of Celtic, Catholic, Pagan, and ancient Roman traditions, according to LiveScience.
Several thousand years ago, Celts ruled parts of Great Britain and Northern France, and brought with them their calendar. The last day? What is now Oct. 31. It was believed to be the last day before winter, a season of darkness and death. Similarly, Gaelic traditions celebrated Oct. 31 with Samhain, which translates to end of summer. In the Gaelic tradition, it was a day when the dead could return to earth. Lest you be attacked by a ghost, it was customary for people to dress in costumes and leave food and drink outside their doors to appease potentially grumpy spirits.
Following the Roman invasion, Samhain melded with Pomona, an end-of-harvest celebration of food and drink. Eventually, the mishmash of cultures and traditions resulted in, ta-da, Halloween!
So, here we are: in 2017, and you're looking for an easy costume. Luckily, these couples costumes are sure to, one, welcome a season of death, two, confuse angry ghosts, and three, usher in the end of the summer.
Two Peas In A Pod
Two peas in a pod, what a classic li'l couples costume. The key element to this costume? An very large hoodie that you share with your costume buddy. Be prepared to get reeeeal cozy.
Lucky 7 Lightweight Beanie, $17, Amazon
Hanes Men's Full Zip Fleece Hoodie, $20, Amazon
Romastory Fluorescent Leggings, $12, Amazon
Archie And Jughead
It's up to you whether you go classic comic strip Archie and Jughead or hyper-polished, CW's Riverdale Archie and Jughead. Either way, you gotta get your hands on that classic blue-and-yellow varsity jacket.
BCPOLO Baseball Jacket, $38, Amazon
Knitted Whoopee Cap (The Jughead Hat) Pattern, $6, Ravelry
ASOS Denim Shrunken Jacket, $76, ASOS
Cat-Dog
Everyone's favorite early-aughts Nickelodeon cartoon was, in retrospect, a bit unsettling, but it makes a great couples costume. Prepare yourselves: you will have that theme song stuck in your head indefinitely.
E-TING Cat Ears, $7, Amazon
Gosh Violet Clown Nose, $3, Walmart
Long-sleeve Turtleneck, $16, Amazon
Bob Ross And A Happy Tree
Bob Ross, a philosopher for the ages. It's a toss up which is the cuter element to this costume: Bob or one of his happy, rascal trees.
80s Guy Bob Ross Wig and Beard, $12, Walmart
Denim Oversize Cocoon Shirt, $31, Gap
Fall Maple Leaf Garland, $16, Amazon
The Martians From Sesame Street
The ability to unhinge your jaw would make this costume a lot more authentic, but I guess you can settle for pretending to discover everyone's iPhones.
Fashion Faux Fur Fabric, $17, Joann
Fashion Faux Fur Fabric, $21, Joann
Ping Pong Balls, $5, Amazon
Bob And Linda Belcher From Bob's Burgers
Love puns? Crave dinner theater? The Belchers from Bob's Burgers are your ideal costume.
Amomoma Round Eyeglasses, $11, Amazon
Fun Express Novelty Mustaches, $6, Amazon
Kitchen Professional Bib Apron (4-pack), $17, Amazon
Heat Miser And Cold Miser
Key elements: the willingness to sing the "Heat Miser/Cold Miser" song from A Year Without A Santa Claus (the prime '70s-era claymation holiday film) and a lot of glitter.
Morris Costumes Punky Pixie Wig, $13, Amazon
TrendsBlue Striped Scarf, $10, Amazon
Abbi And Ilana From Broad City
I mean honestly which get-up do you even choose? The time Ilana wore a dog hoodie? The time Abbi got her wisdom teeth out? The time Abbi dressed as Ilana?
Soulstice 'Cleaner' Shirt, $19, RedBubble
Basic Dog Hoodie, $13, Baxter Boo
Paris and Nicole
It's an excuse to wear everything you thought cool girls wore circa 2004. So hot.
Ladies Black Choker Necklace, $10, Amazon
AvaCostume Denim Corset, $24, Amazon
Pleated Ruffle Short Mini, $24, Amazon
Silent Movie Couple
A great choice for people with social anxiety and/or extremely subtle queens of shade. Be sure to bring plenty of speech cards with a host of answers.
Costume Party Dress Up Hat, $9, Amazon
Vijiv Vintage Gatsby Dress, $35, Amazon
Hero V. Villain From GLOW
What's more fun than creating an alter-ego, dousing yourself in glitter and fighting all night? Nothing.
Balera Strappy Sequin Leotard, $50, Dancewear Solutions