11 Holiday 2017 Memes About Presents That Are Way Too Relatable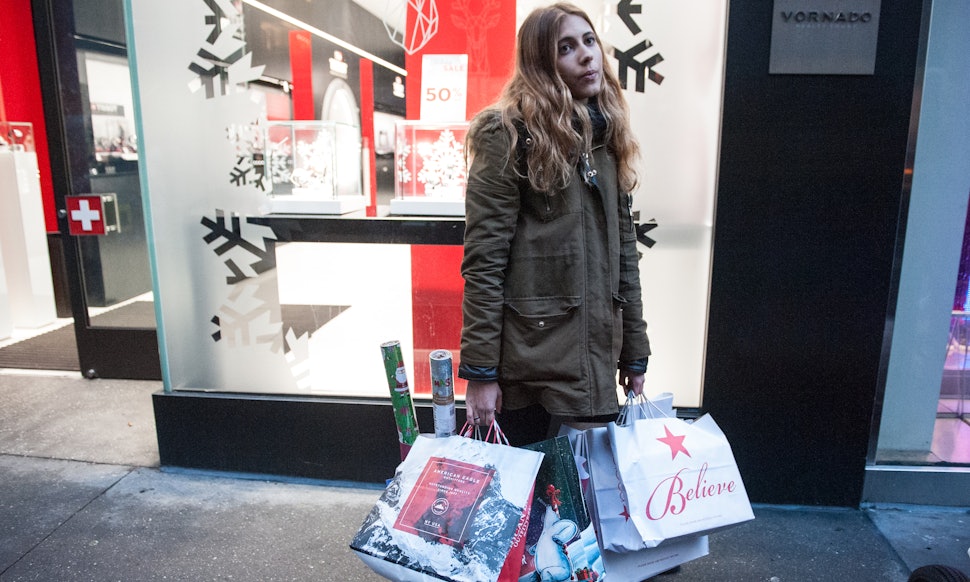 Stephanie Keith/Getty Images News/Getty Images
When the weather outside gets frightful and people gather around a fire so delightful, there's no better time to queue up your best meme sites and share some online humor cheer with your nearest and dearest. That's it, that's how the song goes. So, check out these holiday 2017 memes about presents, because 'tis the season to be jolly, right?
While giving and getting presents is one of the best things about the holiday season — friend gifts! Family gifts! Cubicle partner gifts! Secret Santa gifts! — it is also, uh, sort of the worst, especially if you're living a heavily budgeted existence like most people in the United States between the ages of 21 and, I don't know, like, 35? The stress of it all. Hence the avalanche of shopping-related memes that flood the internet as soon as the Thanksgiving leftovers have been put away.
But before you spiral into a gift-wrapped anxiety hole, let's take a moment to remember why giving gifts is even a thing in the first place. Take a breath. I promise this will make you feel better.
Though Christians tend to attribute the act of gift giving to the Three Wise Men bringing gold, frankincense and myrrh to the li'l baby Jesus, early Christians actually "borrowed" the practice of a winter festival dedicated to food, family, drinking and gift-giving from pagan communities across contemporary Europe and the Middle East. And there's a fairly straightforward explanation for how those traditions were started: in the darkest, coldest, toughest months of the year, people need to rely on one another to make it through. It was true then and it remains true now. Because while, sure, the holiday season has fallen victim to truly next level commercialization and consumerism, at its heart is a desire to brighten another person's life, if only for a few days or hours.
It's what drew ancient pagan communities to the practice and it's what fascinated the early Christians, who were not super amped that the pagan communities were worshipping a host of gods and goddesses but respected their ability to survive winter year and after year. It's why we still give presents today.
So as you prepare for the season ahead, keep in mind the very beginnings of holiday gift giving. And if your bank account is looking a little, uh, minimalist, give yourself a break and think of other ways you can brighten your friends and family's lives this year. Songs? Stories? Laughter? Um, a hug? Like a really, really, good, intimate hug?
And then maybe read through this list of memes again because laughter is really the best way to keep from crying. Happy holidays, you filthy animals!
When Christmas Shopping Is Way, Way Too Close To Black Friday Shopping
Everyone gets a hug this holiday season.
Seriously, Did I Really Need To Buy That Many Things For Myself On Black Friday? (Yes, Yes I Did)
And Then There's The Issue Of Wrapping Gifts, If You Can Afford Them
I swear to Goddess it was October like two days ago.
And The Whole Is-It-Worth-Getting-A-Tree Conundrum
Whatever, I live in a 6th floor walkup, this drawing of a tree is enough!
Then When You Get Your Gifts, You Know The Batteries Are Not Ever Included
This Is Everyone's Reaction To That Really Large Gift
The suspense! The excitement! Help! Too many emotions at once!
One Man's Trash....
...is a cat's most treasured of treasure.
Moms, You Know What I'm Talking About
But That Look Usually Accompanies This Sensation
Or, Uh, This One
Please be sure to practice personal safety measures.
Too Soon, It Will All Be Over
And we'll have to wait another year for Christmas to roll around all over again. So, enjoy it now!