11 Questions You Had About Hope Hicks, Answered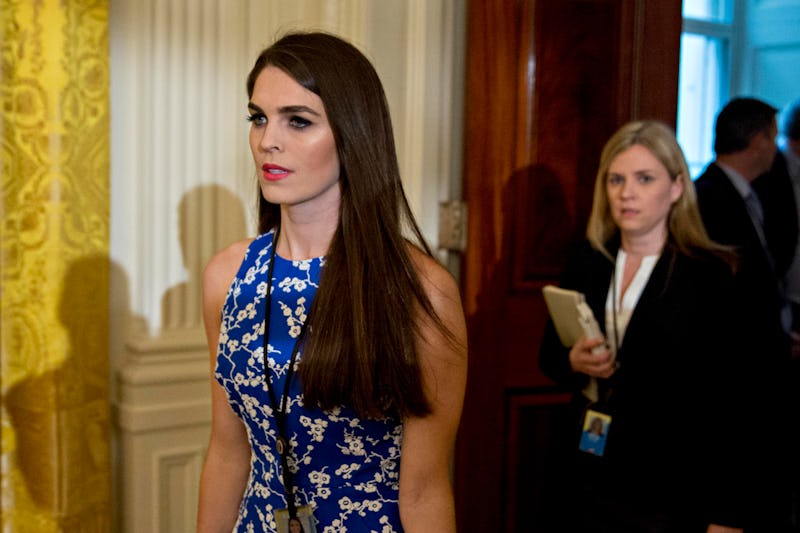 Pool/Getty Images News/Getty Images
The White House announced on Wednesday that Hope Hicks, one of Donald Trump's longtime aides, would serve as the interim White House communications director until a more permanent replacement is found. Hicks will begin her tenure just weeks after Anthony Scaramucci — who lasted only 10 days on the job — was fired. But who is Hope Hicks, and what should we know about her?
It is worth noting that 28-year-old Hicks — who started working in public relations for the Trump Organization back in 2014 — is the youngest person in history to assume the role of communications director since the position was created in 1969, during Richard Nixon's administration. During Trump's campaign, Hicks served as his press secretary, but despite having such a prominent role, she has largely shied away from interview requests and maintains discretion on her public social media platforms.
Hicks also happens to be one of the highest-paid aides on the Trump administration's payroll, and will help the administration find a permanent replacement for Scaramucci as part of her duties. People who work in communications at the Trump White House don't seem to have much luck — Sean Spicer resigned when Scaramucci was hired, and his position was precarious to begin with — but Hicks has been working with Trump for a long time.
Nevertheless, Hicks' life and career did not start and end with campaigning for Trump. Let's take a look at what else Hicks has done.
1. Hicks was a teen model.
She worked with the Ford Modeling Agency, and modeled for Ralph Lauren and Naturalizer advertisements. Hicks also appeared on the cover of The It Girl, a Gossip Girl spin-off book published in 2005.
That's not all — in 2014, Hicks started working full-time on Ivanka Trump's fashion and accessories line and even modeled her spring collection in 2015.
2. She is friends with Ivanka Trump.
Given that Ivanka personally hired Hicks to work for her, it comes as no surprise that the two women are friends. In fact. Ivanka has referred to Hicks as her "brilliant, kind, and wickedly funny friend" on Twitter, and routinely congratulates her on her accomplishments.
3. She played lacrosse in high school and college.
Hicks co-captained the champion lacrosse team at Greenwich High School in Connecticut and played club lacrosse at Southern Methodist University — where she majored in English — until she graduated in 2010.
4. She had no political experience prior to the Trump campaign.
In early 2015, Trump told Hicks that he was hiring her as his press secretary for his upcoming presidential campaign. But before stepping into this role, Hicks had exclusively worked in public relations. In fact, after graduating from SMU, Hicks worked for Hiltzik Strategies — a New York-based public relations firm that represented Ivanka Trump, among others. It was because of this role that Hicks got a job with Ivanka.
5. Nonetheless, politics and public relations both run in her family.
Hicks' parents met on Capitol Hill, where her mother was an aide for a Democratic congressman and her father was serving as the chief of staff for a Republican. Her father subsequently ran public relations for the NFL, and GQ reported that both of Hicks' grandfathers worked in public relations as well.
6. Trump has nicknames for her.
In addition to being one of his most well-paid employees, Hicks also has a close personal relationship with Trump and his family. According to POLITICO, Trump reportedly refers to Hicks as "Hopester." The New York Times also reported that he sent her a thank you note once, telling her, "Hopie — you're the greatest!"
7. She has sacrificed her social life in favor of work.
According to her mother, Hicks' extensive work on Trump's campaign led to a breakup with her boyfriend of six years. And now, as she takes on more and more prominent roles in the Trump administration, her mother told Vogue that "she doesn't really talk to anybody anymore; she has no life." However, it looks like this reported decision to forgo a robust social life has enabled Hicks to make history in her new role.
8. She briefly lived in a Trump apartment.
When she was not traveling during the campaign, Hicks reportedly lived in a Trump apartment in New York City.
9. She has rare insights into Trump's relationship with the media.
To former press secretary Spicer's reported chagrin, Hicks was the only other person in the room when Trump gave a detailed and controversial interview to The New York Times. During his campaign, she was often the first person to hear his tweets, as she routinely had to transcribe them. She was also exclusively responsible for handling media requests to speak to Trump during his campaign.
10. Her friends and former coworkers laud her professionalism.
They described her to The Washington Post as "likable, loyal and resilient." Her former boss, Matthew Hiltzik, said that she has "a very good sensibility." Moreover, her friends and colleagues don't think that working for a controversial person like Trump will negatively impact her future career prospects.
11. She was the only young woman in Trump's political inner circle.
Even during the campaign, Hicks kept a fairly low profile, but that did not change the fact that for a time, she was the only young woman among his closest aides.
Hicks has gone from being Ivanka Trump's fashion model to one of the most prominent people in the Trump administration, and it will be worth watching how she handles this latest promotion.