11 Hurricane Harvey Radar Images That Show How Seriously Dangerous It's Becoming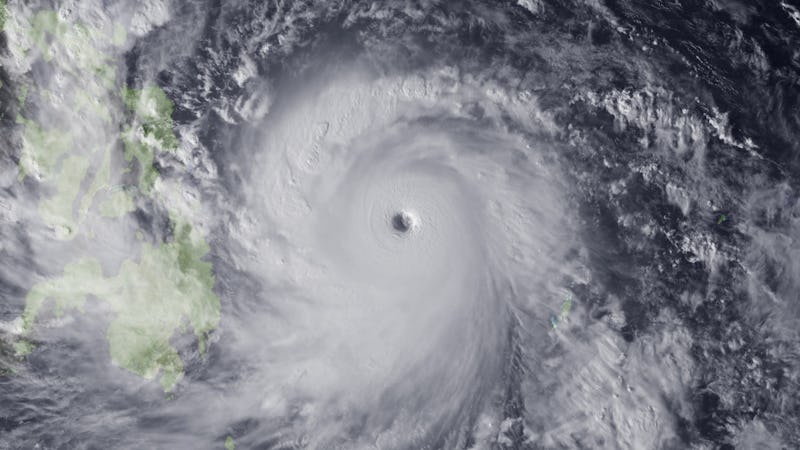 Handout/Getty Images News/Getty Images
Hurricane Harvey is storming toward Texas and is expected to reach the Texas coast on Friday. The National Hurricane Center has issued a hurricane warning, stressing that the Category 2 storm may be "life-threatening"; evacuations are already underway in several Texas cities. There are no two ways about it: This is an extremely dangerous storm, as the satellite and radar imagery of Hurricane Harvey makes very clear.
According to the National Hurricane Service's most recent advisory, Harvey's maximum sustained winds have reached 85 miles per hour, with hurricane-force winds extending up to 25 miles from the storm's center. Total rainfall is expected to between 15 and 25 inches, but some areas along the mid and upper Texas coast may face as many as 35 inches of rainfall during the hurricane. Water levels in port cities will rise, which could lead to "devastating and life-threatening flooding." As such, several cities and counties have issued mandatory evacuation warnings, including Mathis, Port Lavaca, Port Aransas, San Patricio County, Calhoun County, Ingleside, and Portland.
Reading a description of a hurricane is one thing, while seeing it in action is another thing entirely. Aerial views of the hurricane drive home how serious this is, and for those who live in the affected areas, they're worth viewing.
Hurricane Warning Issued
The head of the National Hurricane Service says that Harvey is a "grave risk to the folks of Texas."
Be Prepared
Potentially Life-Threatening
Tens of thousands of Texans in seaside cities have been ordered to move inland.
Intensifying Rapidly
As of this writing, 16 Texas counties have been evacuated. An additional 12 million Texas residents are currently under a tropical storm warning.
The View From Space
Unprecedented
Harvey is expected to be the first major hurricane since Katrina to make landfall in the region.
125 MPH Winds
"If you stay in an evacuation zone, you might not get help for days," Fox News' senior meteorologist said on Thursday.
A Possible Category 3 Hurricane
Texas Gov. Greg Abbott has declared a state of disaster for 30 counties in his state.
30 Inches Of Rain
The National Hurricane Center later updated the maximum inches of rainfall to 35.
"A Robust, Closed Eyewall"
According to the Associated Press, officials from Immigrations and Customs Enforcement are relocating immigrants who have been detained in locations in the hurricane's projected path.
Tracking The Wind Speed
The above website lets you see the hurricane's expected wind and trajectory. It is updated every 10 minutes.
Hurricane Harvey is big, bad, and could very well end up being fatal. If you're living in Texas, especially near the coast, heed local advisories and evacuation warnings, and check the National Hurricane Center for the most recent updates on Harvey's trajectory.