These Laws Target Women In The Worst Ways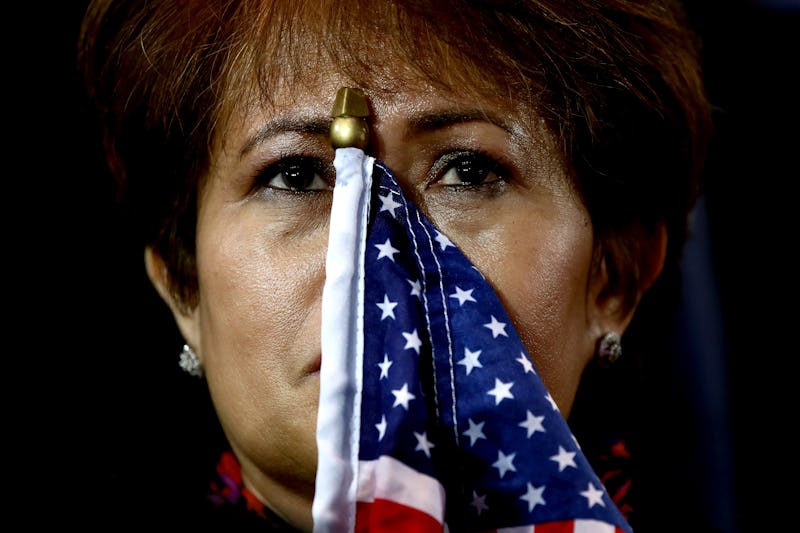 Win McNamee/Getty Images News/Getty Images
Dozens of bills aimed at restricting women's rights, activities, or opportunities are introduced each year by legislators across the country. Whether they're aimed at curbing reproductive rights, regulating what women wear, or making it harder to revoke consent during sex, there are a number of messed up laws targeting women in the United States.
History is full of laws written to control or limit women's rights. From gender-specific labor laws which barred women from working certain jobs to those that prohibited women from voting, pieces of legislation pertaining to women have come a long way over the years. But while it is now no longer legal to discriminate against women because of their gender, legislators around the country still continue to enact laws that unfairly target them.
In 2016, for example, legislators in 19 states enacted more than 60 laws focused on restricting women's access to reproductive healthcare, according to a report by the Center for Reproductive Rights, released in January. While some of these laws will be, or already have been overturned, advocates say they're still likely to have a lasting impact on women's reproductive rights.
"It will take years, if not decades, to undo the damage that has been done to abortion clinics and to evidence-based policymaking in recent years," the CRR report said.
1. Alabama's Chemical Endangerment Of A Child Statute
Alabama's "chemical endangerment of a child" statute was put in place in 2006 as a much-needed method of protecting children when methamphetamine use was sweeping the state. However, its language has led to discrepancies in its enforcement — specifically, the statute fails to distinguish between mothers with serious drug addiction whose babies are clearly found to have been harmed or at risk and those taking opioid painkillers under doctor-supervision, as ProPublica reported.
The state also criminalized the sale of sex toys in its 1998 Anti-Obscenity Enforcement Act; while perhaps not physically harmful to women, it still seeks to criminalize their pursuit of sexual pleasure.
2. Arizona's Delivered Alive Bill
In April, Arizona Gov. Doug Ducey signed one of the most restrictive anti-abortion bills in the country into law. Known as the "Delivered Alive Bill," the legislation requires any doctor performing a late-term abortion (no matter the reason) use "all available means and medical skills ... to promote, preserve and maintain the life" of any fetus or embryo that shows any signs of life, including breathing, heartbeat, umbilical cord pulsation, or any "definite movement of voluntary muscles." Under the new law, any facility that performs abortions past the 20th week of pregnancy is required to have someone with neonatal skills on hand.
3. Arkansas' Unborn Child Protection Act
Arkansas Gov. Asa Hutchinson signed the Unborn Child Protection from Dismemberment Abortion Act into law earlier this year, banning all dilation and evacuation (D&E) abortion procedures. The controversial law also enables a husband to get an injunction effectively blocking his wife from having an abortion or sue the doctor who performed the procedure for civil damages.
4. Carmel's High Heel Statue
In the tiny beach town of Carmel on California's Monterey Peninsula, anyone seeking to wear shoes with heels higher than two inches is first required to obtain a permit from the City Clerk.
The wearing of shoes with heels which measure more than two inches in height and less than one square inch of bearing surface upon the public streets and sidewalks of the City is prohibited, without the wearers first obtaining a permit for the wearing of such shoes.
To obtain a permit, one must agree to absolve the city of Carmel from "any and all liability for damages" falling on a public street may cause the wearer or others.
5. Idaho's Breastfeeding Law
According to the National Conference of State Legislatures, Idaho is the only state without a law that either exempts nursing mothers from indecency statues or allows them to breastfeed in any private or public spaces.
To be fair, breastfeeding is not illegal in Idaho, per say; however, without a law that officially sanctions public breastfeeding, some Idaho mothers have reported being harassed by onlookers and escorted out of public spaces by police.
6. Kentucky's Bathing Suits On The Highway Law
It was reportedly illegal in Kentucky for a woman to wear a bathing suit on a highway unless she weigh less than 90 pounds or more than 200 pounds, or is accompanied by at least two police officers armed with at least one club (though it appears to have eventually been repealed back in 1975). Talk about oddly specific. The state also reportedly makes it illegal for a woman to remarry the same man more than three times.
7. North Carolina's Restrictive Sexual Consent Law
North Carolina's current rape law is desperately in need of change and while bipartisan legislation aimed at doing just that was introduced to the state Senate in 2015, SB505 (know as the "Revoke Consent for Intercourse" bill) has yet to move out of committee for a vote. This means that, for the time being, sex must be consensual but is not classified as rape if consent given prior to the act is revoked during intercourse.
The law comes from a 1979 North Carolina Supreme Court ruling and has continued to result in rape charges being dropped on the basis that a person can't change their mind about consenting to a sexual act.
8. Cleveland's Law Against Underboob
In Cleveland it is illegal for women to expose either the areola or anything below the areola — aka "underboob" — as chapter 619 of the Cleveland City Code of Ordinances defines nudity to include "a female breast with less than a full, opaque covering of any portion thereof below the top of the nipple."
A separate city ordinance titled "Prohibited Conduct" also prohibits businesses from serving customers who have exposed "any portion of the female breast at or below the areola thereof."
9. Oklahoma's Abortion Laws
Under Oklahoma's restrictive reproductive health laws, abortion is banned at 20 weeks, while women seeking to have an abortion must undergo mandatory state-directed counseling designed to "discourage" them and then wait 72 hours. What's more, insurance policies obtained through private insurance providers or through the state's health exchange only cover abortion if it's a case of life endangerment or the individual has purchased an optional rider at added cost to themselves.
Currently, state legislatures are considering a bill from a Republican representative which describes pregnant women as "hosts" and requires them to obtain written consent for an abortion from the would-be father.
10. South Dakota's Contraceptive & Abortion Laws
In South Dakota, a pharmacist is legally allowed to refuse to dispense contraceptives and/or emergency contraception like the morning after pill. Moreover, women seeking abortions in South Dakota are required to undergo state-directed counseling which includes information specifically designed to discourage them from getting an abortion.
Women are then required by law to wait 72 hours (not counting weekends or holidays) before having the procedure. This mandated waiting period means women are forced to make two trips to one of the state's two abortion-providing facilities.
11. Wisconsin's Burdensome Abortion Law
In Wisconsin, women seeking abortions are required to make at least two trips to the doctor, which, given the lack of abortion clinics in the state, can sometimes result in an added cost for those having to travel from far away. State law requires women undergo an ultrasound and state-directed counseling in person before the timer starts on a mandatory 24-hour waiting period prior to being able to receive an abortion.
The lasting impact of anti-abortion legislation and other restrictive laws targeting women's rights mean it's important to continue to speak out against restrictive and discriminatory laws in the push for total equality.