The Selfies People Took Vs. The One They Posted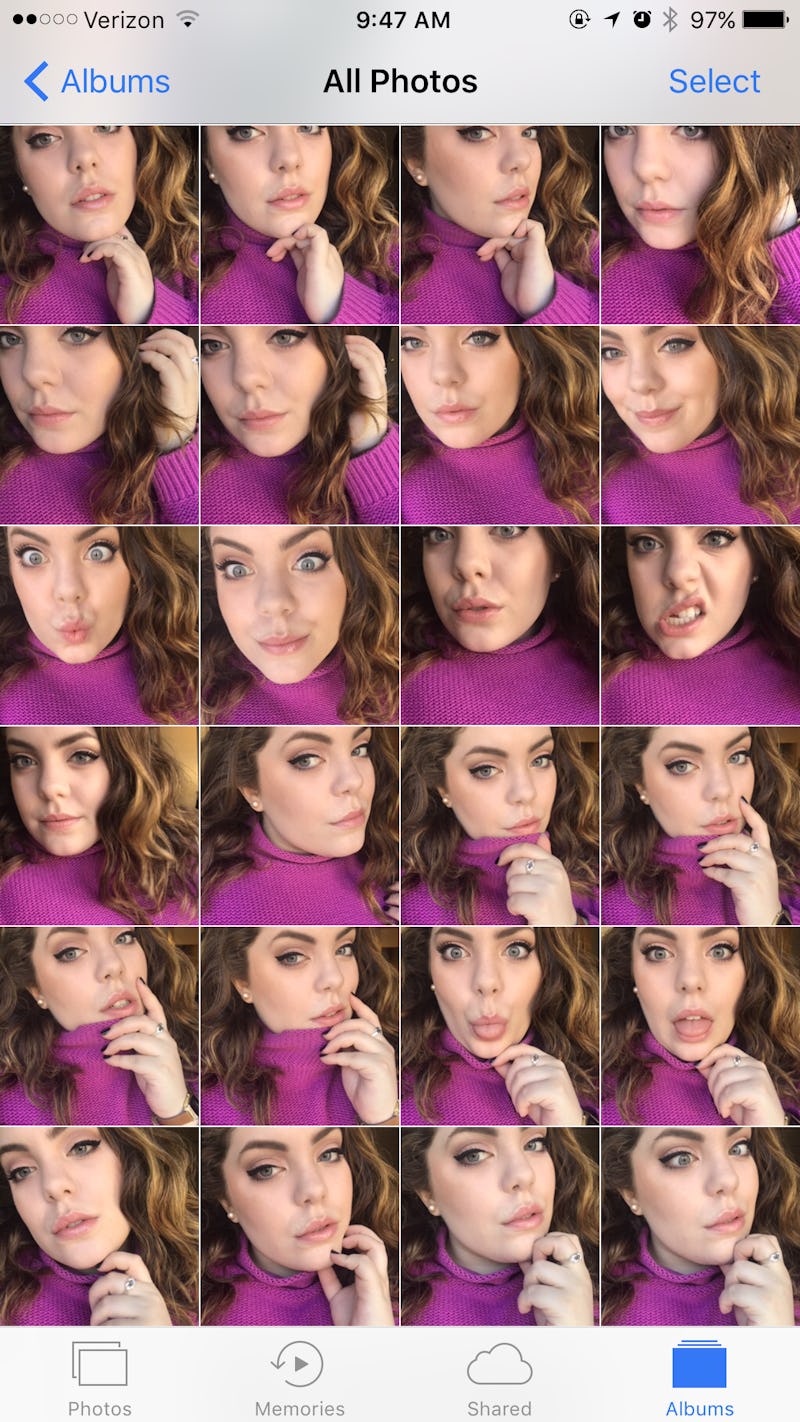 Bustle presents our Beauty IRL package, a tribute to our readers' love of beauty and the way they use makeup and skin care to express themselves, to embrace their identities, and to self-soothe. Check out more of those stories here.
When scrolling through an Instagram feed of flawless self portraits posted by your friends and favorite celebs, it can be easy to get down on yourself. How is their skin always so clear? Why isn't my posture that good? How is their hair shiny, their outfit unwrinkled, their smile bright and effortless? It takes me 30 tries to get a photo like that. These constant displays of perfection can make us wonder why we aren't as pretty, as poised, as stylish, or as photogenic as the people we follow online.
But the truth is, plenty of us share the same secret: That casual selfie we posted was one chosen out of dozens of shots. We choose the image that we think reflects the version of ourselves that we most want to present to that world. We choose the filters. The captions. Some people even strategically choose the specific time of day when they post. For many of us, there's nothing casual about taking a selfie at all.
I love to take a selfie or 20 when I'm feeling my best. When I spoke to 11 other millennial women about their selfie process and found out that it was so similar to mine, I felt comforted. We're all under the same pressure to look perfect online, but did we ever stop to consider the fact that we are putting that pressure on ourselves and on other women by presenting such a flawless facade? What if we pulled back the curtain and showed how many tries it took to get that pic? Here, those 11 women share the selfies they took versus the one they ultimately posted for all their followers to see.
Selfies Taken
Final Selfie
"I think on average I take between 5 and 30 selfies for each pose. I like to test out different lighting before I settle on a final one, you know? I've noticed that I usually end up using either the very first selfie or the very last selfie that I take."
Selfies Taken
Selfie Posted
"I take selfies whenever I actually bother to do my hair and makeup (so not that often actually) because that's the put-together image I want the world to see, not my i-haven't-washed-my-hair-in-5-days-and-am-wearing-no-makeup look. #internalizedmisogyny #feminism."
Selfies Taken
Selfies Posted
Selfies Taken
Selfie Posted
"Girls who say they take only one selfie are either liars, or have really amazing muscle memory for getting all the angles right in one shot. I'm quite the opposite, though, I tend to take a lot of selfies just to ditch them all to sit in my camera roll with zero intentions of using any of them."
Selfies Taken
Selfie Posted
"I usually take a lot when I'm picking one for Insta. Snapchat as long as it's not gross it's fine but Insta is more long-lasting so I put more thought into it. I gotta be sure my lighting and background and and caption are top notch. The whole process is really fun to me. I paint and it's kind of like when I'm working on a painting I could just change ONE more thing to express what I'm trying to say. Same is true for my instagram so for me it's a tiny art form. I know some people who obsess though. They only post once or twice every few months cause their pictures have to be PERFECT I'm not like that I think if it's like that what's the point anymore? Dont give social media that much control like my instagram belongs to me I don't belong to it."
Selfies Posted
Selfie Posted
"Most of the time I take several selfies, find the best light and angle. I try to think about what mood I'm in and which face most reflects that or I look the best in."
Selfies Taken
Selfie Posted
"While sometimes I take only a few takes of a selfie, if I'm taking if for the purpose of showing off my makeup or hair - like this morning - I always find my self taking way more. It's a combination of finding the right angle to highlight everything I want to (capturing winged liner effectively always involves some intricate angling) and trying to figure out what ~vibe~ I'm going for. I usually end up with a a few overly pretentious ones, a few silly ones, and some that fit the bill."
Selfies Taken
Selfie Posted
"I usually do take a lot. It's all about the lighting and finding my angles. Having options and taking a lot let me play around with those factors. If I take a lot with varying angles and light settings, I'm able to choose which one works best!"
Selfies Taken
Selfie Posted
"I usually take about 20 to 30 selfies before I find one that's suitable for the Internet."
Selfies Taken
Selfie Posted
"When I take selfies, I usually take a good amount before choosing one to post, probably about 10. But I almost always end up going with the first or second photo I took anyway, so maybe I should save myself the time and just post the first one!"
Selfies Taken
Selfie Posted
"The amount of selfies I usually take depends on how much I'm feeling my makeup. I've never taken just one, but I also usually cap it around 15. Don't want to let it get to my head!"