11 Photos Of Sonia Sotomayor That Tell The Tale Of Her Awe-Inspiring Career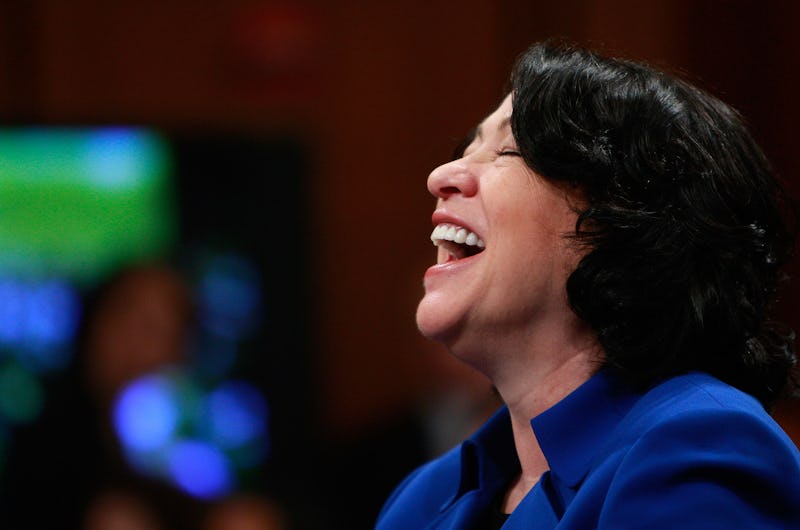 Mario Tama/Getty Images News/Getty Images
Exactly 64 years ago, one of America's most powerful and celebrated justices was born in the Bronx in New York City. Carrying the prestige of being the first justice of Hispanic descent, the incredible story of Sonia Sotomayor is best told in photos. She is one of the associate justices of the Supreme Court of the United States — a position she was appointed to under former president Barack Obama's administration in 2009. On June 25, countless people celebrated her birthday, online and offline.
Born to Puerto Rican parents in the Big Apple, Sotomayor graduated from Princeton University in 1976 and then went on to win her Doctor of Jurisprudence degree from Yale Law School. From 1979 to 1984, she worked as an assistant district attorney for New York County and then later on, in the early 1990s, became a partner for Pavia and Harcourt in New York.
Some may not know but Sotomayor was first appointed as an associate judge in the Southern District of New York by former president George H.W. Bush back in 1992 until 1998. Another interesting tidbit from her profile includes the fact that she taught as an adjunct professor at the New York University School of Law as well as a lecturer for Columbia University's Law School.
1. A Young Debater
Here, Sotomayor is pictured in eighth grade. According to her classmates and teachers, she had always been an observant, bold, and clever student. They told CNN that the future justice loved to debate and dominated discussion in the lunchroom.
2. True Yankees Fan
Clearly, Sotomayor is serious about her love for the New York Yankees. In 2009, right before the New York Yankees played against the Boston Red Sox, she tossed the first pitch in the Yankee Stadium.
3. Rallying NYU Graduates In 2012
Sotomayor, who is a New York University alumnus, delivered the commencement speech for the school in 2012. In her speech at NYU, she gave the year's graduating class a poignant reminder on celebrating life's ups and downs together. "Remember that no one succeeds alone," Sotomayor said. "Never walk alone in your future paths."
4. An Inspiration For Young Girls Nationwide
In this photo from 2013, Sotomayor signed copies of her autobiography titled My Beloved World. It's clear that Sotomayor is an inspiration to many girls and women seeking to make it in the tough and intimidating world of America's justice system. But in Puerto Rico particularly, Sotomayor is living proof that if you work hard and never give up, you can achieve your dreams.
5. Celebrating Women's History Month
In 2015, Sotomayor joined her colleagues, Associate Justices Ruth Bader Ginsburg and Elena Kagan, to celebrate Women's History Month in Washington, D.C., along with House Minority Leader Nancy Pelosi. They all took a (historical) selfie, too.
6. Showing Love For The Bronx
Proudly representing her childhood home, Sotomayor returned to the Bronx in 2015 to mark Dream Big Day, which aims to support educational initiatives for Bronx children. "I'm a kid at heart you know," Sotomayor said at the time, according to WABC. "I still like having fun. I loved learning, and what else guys? I still have dreams like they do."
7. At The Hispanic Heritage Awards
In 2016, Sotomayor won the Leadership title at the Hispanic Heritage Awards. But she told her audience that her award "is not about me. It's about the many mothers and fathers, abuelos and abuelitas, and all the others who have led our community, who have taught us all and carried us upward on their backs with hard work and determination." Cracking her fans up, Sotomayor added, "Mami, esto es tuyo porque te encanta la joyería." NBC News translated the line to "Mom, [this medal] is yours since you love jewelry."
8. On (Not) Belonging In The Supreme Court
Sotomayor can be seen pictured along with her colleagues in this photo from 2017. In 2015, NBC News reported that Sotomayor said she didn't feel like she belonged in the Supreme Court. "I'm very different from my colleagues," she said. But she added, "I don't think I'm really given permission, based on just being a Latina just being a woman, to make judgments. I have to take into account not only my life experiences but those of my colleagues who are explaining their positions to me."
9. Good Ol' Sport
Apart from being one of America's most popular judges, Sotomayor is also a big New York Yankees fan. In 2017, she sat in the field's "Judges" section in the New York's Yankee Stadium as she cheered for her team. In fact, here's a little video of an obviously overjoyed Sotomayor rooting the Yankees.
10. Meeting Donald Trump
In this photo from 2017, Donald Trump greeted Sotomayor along with Supreme Court Associate Justice Stephen Breyer. Sotomayor, ever the expert on subtle language, had advice for those unnerved by Trump's election victory in 2016. The justice told radio host Bill Press, "We can't afford to despair. And we can't afford to give up on pursuing the values that we and others have fought so hard to achieve. And so for me, this is a challenge ― Sonia, continue doing what I think is the right thing. And it's a challenge we all have to face and maintain."
11. At The DVF Awards
Sotomayor was the proud recipient of The DVF award for Lifetime Leadership, supported by the Diller-von Furstenberg Family Foundation, in April, 2018. The awards ceremony is known for highlighting the contribution and diligence of a variety of cultural, political, and fashion figures. When she received her award, Sotomayor gave a heartfelt shoutout to her mother and grandmother and said, "These two women set the example for how I lead my life and instilled in me a deep value of always striving to give to and uplift others."
Six decades ago, this icon was born in The Bronx and from the looks of her affirmative words in the press and in front of students, it looks like Sotomayor isn't going anywhere anytime soon.