11 Plus Size Sports Bras That Are Actually Comfy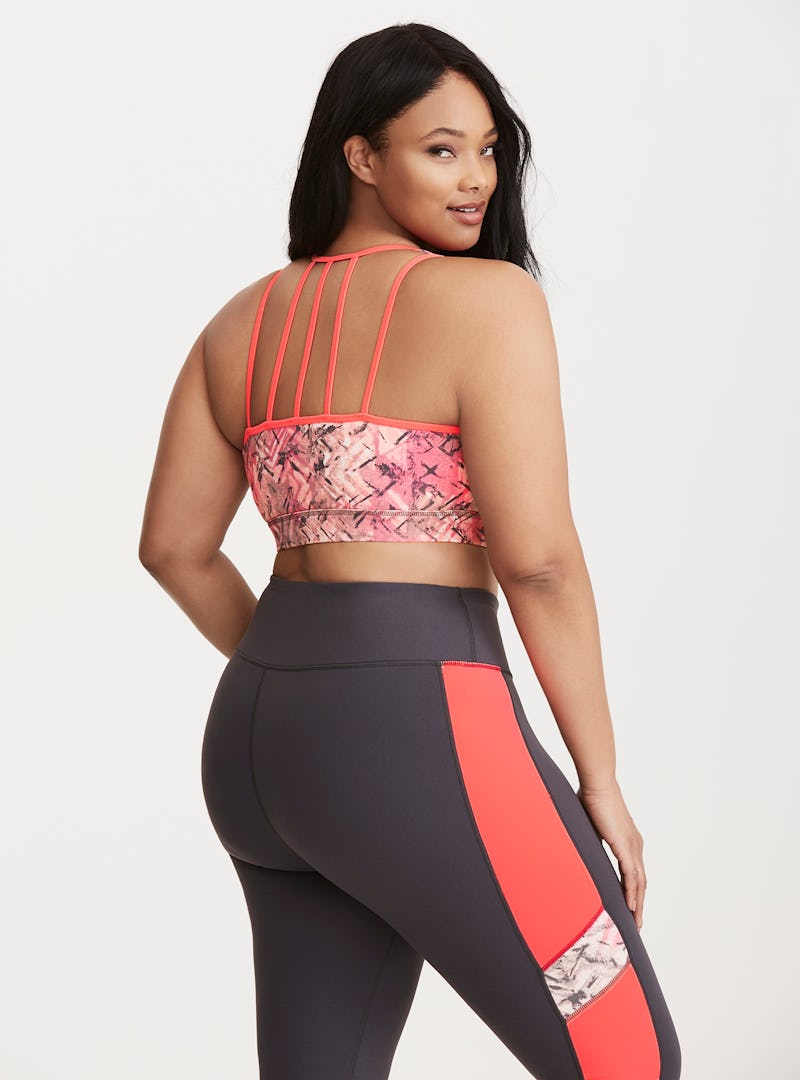 Every person who's ever had to shop for a plus size bra knows how tough it can be. Companies who make bras stop making them cute at around size D, leaving big-breasted people and us plus size folks hanging. And when you're looking for a sports bra as a plus size person, it can be even harder to find the triple threat: Cute, well made, and functional.
I was raised by a mom who, like me, has DD-verging-on-E breasts, but with our powers combined, we still couldn't locate cute bras. For most of my high school life, I wore white or beige options. They would inevitably pop an underwire after a couple of months, so I'd end up back at the store, gazing longingly at the cute B-cups while I grabbed my sad bra-in-a-box.
And of course, sports bras were a whole other nightmare. I was an avid horseback rider and played community soccer, so sports bras were a necessity. But the ones I found to fit me often didn't cover my breasts well enough at the top to keep them from making a great escape, and usually they were too tight around my underbust, causing rib pain.
Luckily some brands have stepped up, and finding plus-size sports bras I actually want to wear is no longer an impossibility.
Here are a few super cute options made for those of us bigger than D-cups.
Nola Printed Sports Bra, $62, Additionelle
I love this bra because it doesn't look like a typical sports bra — or even a typical plus size bra, really. Its pattern is adorable, and its underbust, neckline, and straps are all made from comfy and stretchy material, while the shape of the cups gives you more support than a typical sports bra. This is the kind of bra I would end up wearing outside of workouts. I will say that, though this bra is great for folks around my size, Addition Elle currently doesn't offer sizes larger than 42DDD.
Track Print Cage Back Sports Bra, $39, Torrid
If there's one thing I'm a sucker for, it's cage-style underwear. This bra sports (see what I did there?) a lovely pattern, and the cage back gives it that little pop of style so often missing from plus-size bras. Torrid makes this bra up to size 6X — a 66 to 70-inch bust.
The Ultimate Full Figure Sports Bra, $35, Amazon
The third best thing about this bra is that it doesn't have an underwire. The second is that it's made of moisture-wicking fabric and has non-stretch cups that won't wear out. And the best thing? It comes in band sizes from 34 to 48, and cup sizes from B to G.
If you just imagined a zipper pulling apart while you're working out and letting it all spill free, believe me: I am with you. But never fear — Rainbeau's sports bra comes with an auto-lock zipper that won't betray you at the worst of times. The brand says this bra is great for medium-impact workouts, and that it comes with a no-chafe side seam, which is pretty much all I want from a bra, ever.
Rainbeau offers this up to size 26/28 — a 52 to 55-inch bust.
Enell Sport, $64, Amazon
While it's not as glamorous-looking as some of the other bras on this list, the Enell Sport is made from Lycra, has great breast coverage with a high neckline to prevent too much movement, has wide straps to keep your shoulders from getting sore, and is offered for bust sizes up to 60 inches. If you current bra isn't cutting it during your tougher workouts, Enell's piece should be your go-to.
QuikWik Soft Control Bra Top, $45, Junonia
Juno is a generally excellent place to find sportswear if you're plus-size. Not only are their clothes modeled by plus-size models, but their designs are exclusively made for plus size folks. Most items are available in sizes beginning at XL, going all the way up to 6X. For this bra, which is extra-thick to offer bigger breasts the support they need, that's a 64 to 66-inch bust.
Cooling No-Wire Sports Bra, $60 , Lane Bryant
Lane Bryant was the first store I found that offered cute, durable bras in my size. While I wish they had a few more sports options, this no-wire bra has molded cups for compression, offers convertible straps so you can pick between regular or crossback, and is available in a huge range of sizes, from C-cups up to 44H.
Anita Women's Extreme Control Sports Bra, $10, Amazon
What I love about this bra is that it comes with side support. Too many times, I've bought a plus size bra that fits my cup and band sizes, is well made, and looks decently cute, only to have it moosh the fat in my sides up into my armpits, forcing me to keep my arms up or be in pain. There's nothing worse than trying to work out while you feel like a penguin.
But this bra is a three-piece with built-in side support, and it's a treat for folks with cup sizes up to H.
Torrid Active Disney Villains Sports Bra, $43, Amazon
This print is way too excellent to pass up. Like Torrid's cage back bra, it fits bust sizes up to 70 inches, but it offers more support with a racerback cut, four-way stretch material, and, of course, Ursula's dulcet tones telling you you're a poor unfortunate soul.
Panache Underwire Sports Bra, $70, Nordstrom
Available in cup sizes up to H, Panache's ubercute bra has a subtle lift-and-separate build, is tough enough to withstand running and cross-training, and doesn't compress your breasts, but still keeps them in place. The one downside is its band stretches with wear, which after a while may impact how well it fits you.
Elomi Energise Sports Bra, $66, Amazon
Elomi wins the award for largest size offered. I prefer my sports bras without underwires, and usually without seams, too, but this bra is built to handle anything — and the fact that it goes up to size 38K gets major kudos from me. Plus it separates breasts, offering better support and neatly avoiding the dreaded uniboob.
And there you have it! Eleven excellent plus size sports bras, ready and waiting for you to scoop them up. I wish I could go back in time, take 16-year-old me by the shoulders, and whisper, "In eight years, things will be better." Fortunately, when it comes to plus size sports bras, the future is looking pretty bright.
Images: Courtesy Brands