The Best Post-Gym Wipes & Face Cleansers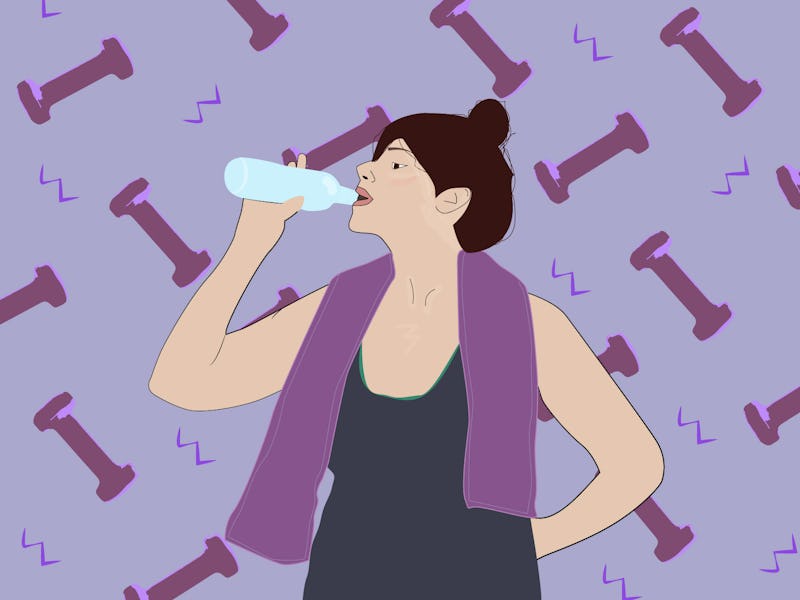 Dawn Foster/Bustle
Working out can actually be a great tool for getting the smooth, glowing skin of your dreams, thanks to the circulation benefits of exercise (oh hey, improved blood flow). But without the right post-sweat skin care, you might see more harm than good on your face from your exercise routine. Thorough cleansing helps prevent dead skin, bacteria, and leftover makeup from clogging pores, which leads to breakouts. But instead of letting skin woes derail your fitness habits (the mental and physical health benefits are worth sticking around for), effective makeup wipes and cleansers can help keep your skin clear.
If you notice your skin suffering from your sweat sessions, try taking a look at your routine to make sure you're keeping your skin cleaner than that badass workout playlist (we all have one). While wipes are effective on a daily basis for some people, they're better to have on hand for the occasional time pinch for others. On the other hand, heavy-duty cleansers can go overboard on dry skin, too.
Factoring in your skin type, your gym bag space, and the time you have to get from your workout to the next item on your jam-packed schedule (because sometimes a full shower just isn't an option), here are 11 cleansers and wipes to reach for after you crush your next workout.
ARROW REFRESH On-the-Go Cleansing Cloths, $12, Birchbox
These eucalyptus-scented textured wipes are designed to remove makeup and sweat after a workout, and soothe skin while it's at it.
GoodWipes Deodorizing Body Biodegradable Wipes 10-Pack, $10, Amazon
When you don't have time to shower right away after a super-sweaty workout, these thick, large cloths can tide you over till the end of the day. Plus, the individual packages say "goodwipes in my bag, swag." Can't argue with that.
3. The Body Shop Tea Tree Skin Clearing Facial Wash
The Body Shop Travel Size Tea Tree Skin Clearing Facial Wash, $5, Amazon
Tea tree oil is a natural antibacterial agent, so it's extra effective at keeping breakouts at bay. Plus, the travel size makes it easy to toss in a gym bag.
Sweat Cosmetics Skin-Balancing Cleansing Wipes 10-Pack, $7, Sephora
These individually packaged face wipes are easy to spot in your bag on the fly, so no need to root around when you're in a rush.
Clinique Redness Solutions Soothing Cleanser, $26, Amazon
If your skin is always beet-red after hot yoga or indoor cycling (hey, fellow rosacea sufferers), this cleansing formula tones it down.
Missha Super Aqua Perfect Cleansing Tissue, $8, missha.com
These K-beauty wipes are packed with moisture, leaving your skin feeling truly clean and refreshed without the sticky residue.
Josie Maran Travel Size Cleansing Oil, $10, Amazon
Cleansing oil might sound counterproductive if you have skin problems, but it's excellent for working away at leftover makeup if you walked into your workout with a full face. You'll be surprised at how clean your skin feels.
Ban Total Refresh Cooling Body Cloths 10-Pack, $3, Amazon
These shower shortcut wipes were all the rage a couple years ago, and they've stuck around for good reason. They cool you down while wiping away sweat and don't leave a sticky finish, so you'll be on with your day (and feeling comfortable) in no time.
Paper Shower Body Wipes 10-Pack, $9, Amazon
Or, if you want to dry off after using a shower-replacement wipe, these two-in-one packages come with one wet cloth to clean you off, and one dry one to wipe off the cleanser.
Biore Blemish Fighting Ice Cleanser, $6, Amazon
This double-duty cleanser brings on the fight against acne with salicylic acid while reducing post-workout redness with a seriously cooling formula.
EmerginC Scientific Organics Facial Cleansing Wipes, $19, Amazon
These organic wipes are made with aloe vera, a proprietary fruit extract blend, witch hazel extract, lacto-fermented radish root and honeysuckle, all of which are great for soothing your post-workout face.