11 Reasons Why 'Newsies' Is An Actual Disney Masterpiece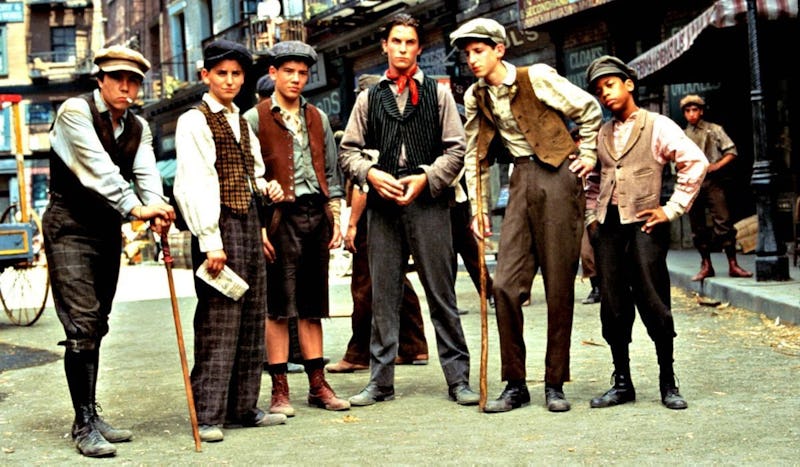 Walt Disney Pictures
The first time I saw Newsies on a VHS rented from my local Blockbuster, it was a few years after the movie had come out. I watched it, and I couldn't believe I'd never heard of it before. How could a live-action musical featuring dozens of cute young actors singing and doing backflips in period costume not have taken off? Yet, it didn't. Newsies was a flop when it came out in 1992, or at least a disappointment for Disney. But these moviegoers and critics were flat-out wrong about this musical. Because Newsies is the most underrated Disney movie ever.
Granted, Newsies made just over $2.8 million at the box office. To compare, Disney's animated feature that year — Aladdin — took in $504.1 million. Newsies was also nominated for four Razzie awards, including Worst Picture, Worst Director, Worst Supporting Actor and Worst Supporting Actress (for Robert Duvall and Ann-Margaret, respectively.) And it won one Razzie: Worst Original Song for Ann-Margaret's vaudeville number, "High Times, Hard Times." With that kind of response, it's no wonder Newsies fell off the radar.
I take the Newsies resurgence that happened in my small Pennsylvania town as a kind of a case study. We shared copies of the video and its out-of-print soundtrack; watched it at sleepovers; and sang the songs to each other while our parents drove to games and school dances. Kids all over the country must have been doing the same. Soon enough, the soundtrack album was put back in print, the movie was released on DVD, and Disney had even registered a suspicious domain name: newsiesthemusical.com. A full-scale stage musical adaptation of the movie opened on Broadway in 2012 after an out-of-town try-out. Now I know every word to two Newsies soundtracks.
Now new fans and former non-believers are discovering what I've known since age 13: that Newsies has always deserved way more love than it's received. Here's why:
1. Christian Bale As A Dreamy Union Activist
Before he was Bruce Wayne, Patrick Bateman, or an Academy Award winner, Bale was 17-year-old revolutionary Jack Kelly, the charismatic leader of the newsies strike. I don't know how the actor feels about this movie now, but it's honestly one of my favorite performances he's ever given. Jack is idealistic but vulnerable — the perfect representative for a bunch of scared kids who still know injustice when they see it.
2. Ridiculously Athletic Choreography
Newsies was directed and choreographed by Kenny Ortega, who not only dreamed up all the moves made by Baby and Johnny during their Catskills affair in Dirty Dancing, but also helmed all three High School Musical movies. His vision for the newsboys of New York included boyish, explosive choreography that expresses a youthful restlessness and lust for life, besides looking pretty damn impressive.
3. A Relevant Story About Workers' Rights
The newsies' strike represents a larger capitalist crisis in the movie. With no unions and lax labor laws, companies were free to take advantage of workers with long hours, poor conditions, and no job security. When the newsies push back against powerful men like Joseph Pulitzer and William Randolph Hearst, they're showing other laborers that they can do the same.
4. The Backlot "City" Set
No frame of Newsies looks like it was actually shot in New York City, and I love that about it.
5. Questionable "New Yawk" Accents
The young cast of Newsies did not hold back with their old-timey New York City accents. They're not at all accurate, but they sure are adorable.
6. A Very Singable Soundtrack
Newsies composer Alan Menken is also responsible for your favorite songs from The Little Mermaid, Aladdin, Beauty & The Beast, and so many more movies and musicals. He collaborated with lyricist Jack Feldman for this soundtrack, with total bangers such as "Carryin' The Banner," "King Of New York," and "The World Will Know."
7. The "Seize The Day (Reprise)" Breakdown
Sometimes I just put on my Newsies DVD and fast-forward to this perfect combination of choreography, song, and righteous teen anger.
8. Kids Supporting Each Other
Friendships are made and tested through the newsies strike. It's not only an blueprint for political organization, but a story about kids deciding who they want to be and who they want to stand with as they grow up.
9. It Celebrates Freedom Of The Press
The boys are on their own until a reporter from another paper takes interest in their story. The coverage of their fight leads to more awareness and support. A free press keeps the powerful accountable, as modern-day audiences can definitely attest.
10. Davey & Jack's Beautiful Friendship
The cocksure orphan and the boy next door make an unlikely but lovable pair. I still get emotional every time Davey invites Jack home for dinner and introduces him to his parents as his friend.
11. A Happy Disney Ending Based On A True Story
When the boys win their battle at the end of the movie, it's not just a victory for the characters. Newsies is based on the real Newsboys Strike Of 1899 — an organized effort that was a success for real New York City child laborers.
Newsies is out of Disney's doghouse now, but it's still an underrated triumph.